15 Best Sex Education Love Making Scenes
'Sex Education' may appear to be just another enjoyable adolescent comedy show, but if you dig a little deeper, you'll find a much larger-themed show that covers a variety of themes that affect both teens and adults. The British coming-of-age drama merits accolades for instilling ideas like body positivity, feminism, sexuality, LGBTQ+ partnerships, and pretty much everything else. This filthy yet realistic comedy will send you on an emotional roller coaster, and if you haven't watched it yet, you should definitely do so. For such content in Hindi you can checkout Hotshots
With that in mind, and because sex is such a key subject in the program, we've compiled a list of all the best sex scenes from Sex Education for you to enjoy. So, here's a ranking of the top 'Sex Education' lovemaking sequences.
A Climactic Beginning (Season 3 Episode 1)
One of the most complete displays of the show's vivid sexual variety may be found in the season 3 opening sequence. The season begins with scenes of practically every regular character engaging in their chosen ways of pleasure, as is traditional for a recap of the previous summer. Season 3 opens with the students of Moordale at their hormone-fueled, unsupervised finest, whereas season 2 opens with Otis in the throes of newly discovered self-pleasure.
Scenes of Otis and Ruby's secret couplings are quickly replaced by a slew of familiar faces from their classmates, all equally immersed in their separate lovemaking. Of course, the montage concludes with the kind of post-coital awkwardness that 'Sex Education' so expertly conveys. This time, Dex's triumphant screams are quickly drowned out by his girlfriend, who implies that he is not doing what her former boyfriends did. Dex does get an opportunity to make amends before the end of the episode, for those who are interested.
A Lot More Than Just Physical Intimacy (Season 1 Episode 2)
Episode 2 introduces two new characters, Kate and Sam, who aren't particularly important in the long run but are crucial in the context of the episode's didactic themes. Kate and Sam begin having intercourse in the first scene, and Kate asks Sam to turn off the lights. Things don't go as planned when the lights are turned off, and what started out as a steamy make-out develops into something unbelievably unpleasant. Kate's parents walk in on them and break Sam's arm, causing their relationship to fall apart.
"If you don't like yourself, how are you meant to believe that Sam likes you?" Otis (Asa Butterfield) helps them cope with their situation later in the episode. Another scenario depicts Otis and Lily, who decide to have sex only for the sake of losing their virginity. While it begins on a lighthearted note, Otis' past trauma later resurfaces and has a devastating effect on him. This episode focuses further on the plural notion of sex and depicts how emotional issues may frequently manifest itself in bodily actions.
Later in the same episode, Maeve (Emma Mackey) became pregnant after sleeping with Jackson. Following this, she is obliged to go through the arduous procedure of having an abortion, but she eventually receives much-needed assistance from a stranger.
A New Beginning, Same Old Dilemmas (Season 2 Episode 1)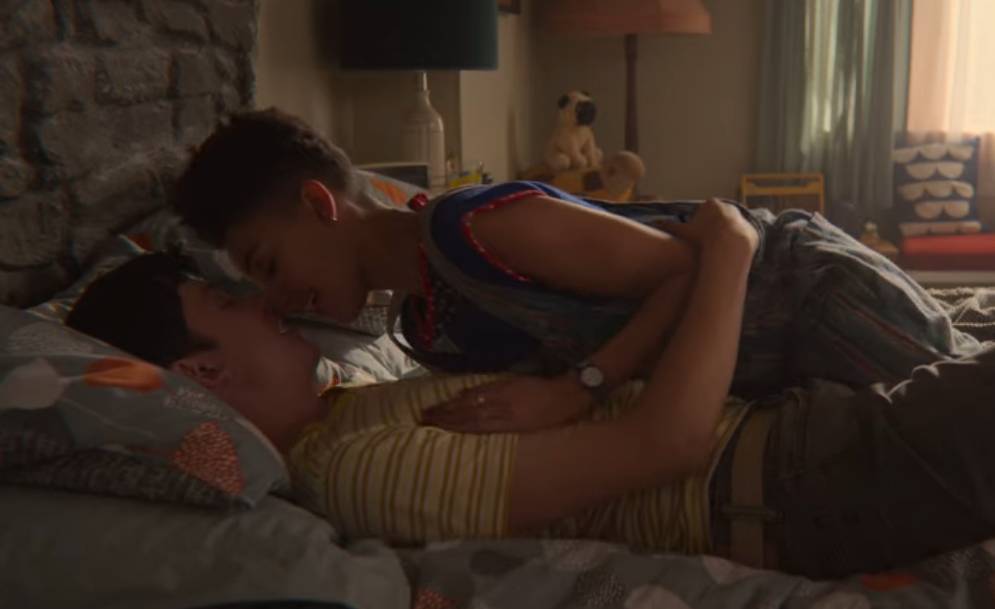 A Chlamydia outbreak, a "masturbation talent," and some juvenile shenanigans are the kind of stuff you'd expect from a show like 'Sex Education.' The eight-part comedy returns for a second season, and based on the first episode, it looks to be just as amusing as the first. Otis, the series' primary character, who had previously been giving sex advise to all of his classmates, had his own sexual problems. However, despite being a late bloomer, he is ultimately able to "get it up" in the second season. Even so, life isn't all sunshine and rainbows for him, much to his dismay. According to the Netflix synopsis of the first episode, Otis finds a "hidden gift," but it appears to be more of a curse for him. Even when the wind blows, he "gets hard."
A supposed Chlamydia outbreak causes mayhem at Moordale High. Otis sets off to save the day, despite being a little hesitant about it this time. Meanwhile, back at the Milburn house, things become even more confusing when Otis begins dating Ola seriously and his mother begins dating Ola's father. In the first episode, Otis makes out with Ola in his bedroom, while Miss Jean and Ola's father get into it in the living room while they're at it. Otis is unable to obtain a boner for some unexplained reason. When he emerges from his bedroom, he discovers Jakob and his mother having sex on the couch. As a result, Otis feels deceived by his mother once more.
Unlike most of the show's other sex scenes, which are innovative and likely quite cringe-worthy, this one does not. It normalizes sexual dysfunction to some level while also providing a nice and amusing start to the second season.
A Surprising Twist (Season 1 Episode 8)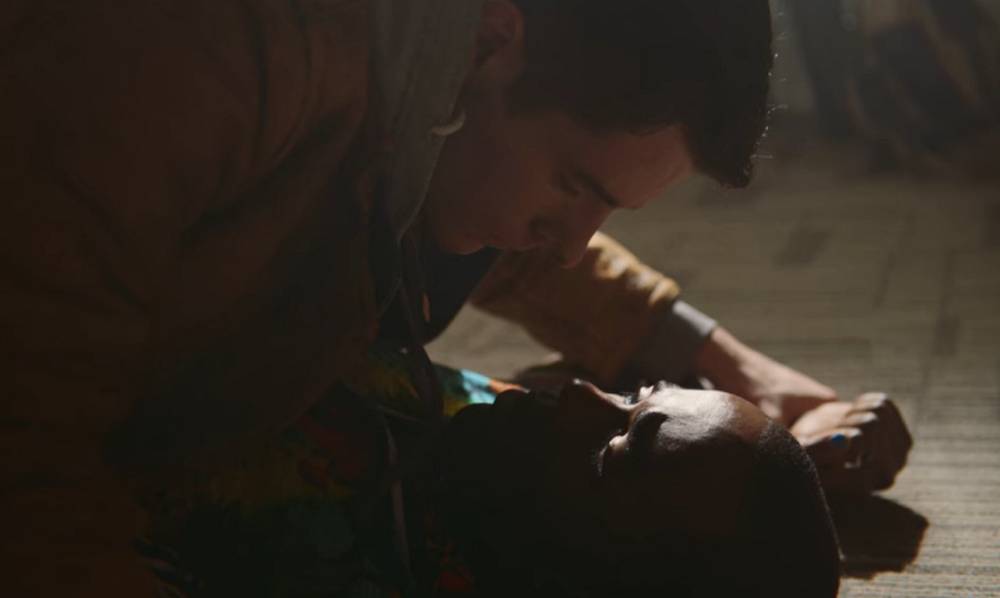 In the first season's finale, Lily finds a new sex partner and attempts to reclaim her virginity. Her body, however, "betrays" her this time, much to her dismay. In the second season, it is revealed that she has a medical problem that prevents her from having intercourse. Meanwhile, the episode has a major plot twist in which Adam is revealed to be bisexual.
Adam (Connor Swindells) and Eric (Ncuti Gatwa) get into a fight during detention, and before they know it, they're kissing and having sex. Except for Lily's penchant of cosplaying while having sex, the sex scenes in this episode aren't particularly novel or graphic, but they might very well pave the way for a whole new season.
Awkward Yet Necessary (Season 2 Episode 2)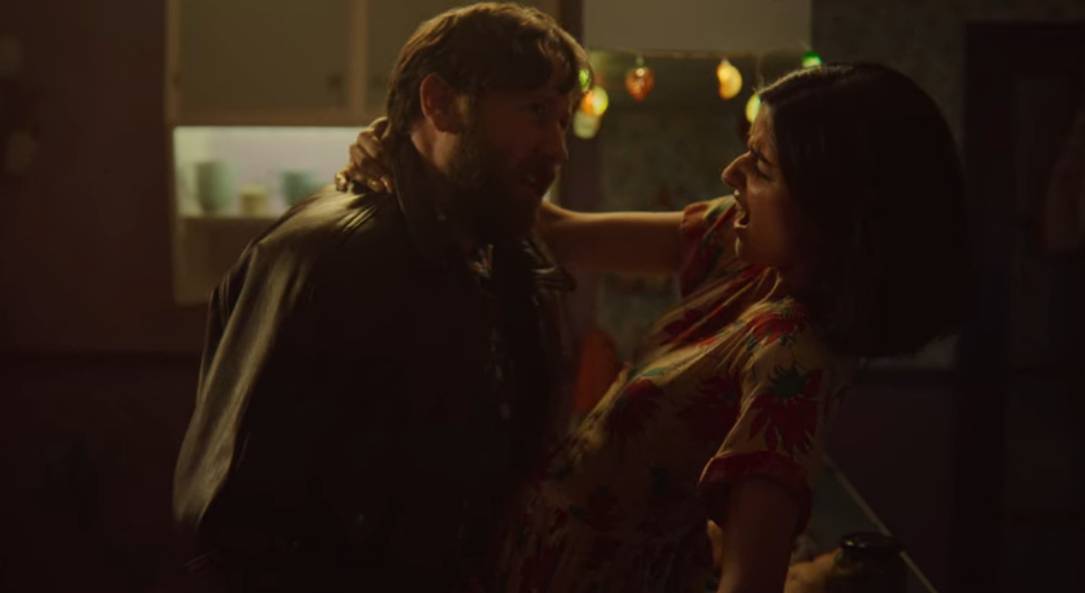 The first season of 'Sex Education' revolves almost entirely around embarrassing sex talks and situations among the students at Moordale High, while the second season adds a minor twist by focusing on the sexual exploits of two of the school's instructors. Miss Sands and Mr. Hendricks of Moordale High School start the third episode with a sex scene. Mr. Hendricks, a hapless teacher, strives to be a good boyfriend to Miss Sands. Unfortunately for him, the two of them don't have the sexual chemistry that Sands expected, so Hendriks sets out in search of assistance. He plainly approaches Otis with his problems out of all the others in the school.
In the meantime, Otis tries his hand at "pleasing" Ola but has no idea how. This episode underlines the human challenge (particularly for women) of finding what we like in bed and how we often shy away from expressing it with its forthright portrayal of unwelcome (but important) dialogues and moderately cringe-worthy sequences.
Body Positivity (Season 2 Episode 3)
Episode 3 opens with one of the season's most odd sex scenes. Olivia, a Moordale High School student, hails from an orthodox Indian household. Even after lying to her mother about his race and stating that he's only there to practice classical dance with her, she manages to sneak her boyfriend into her bedroom. They had sex while listening to loud music in the background. Olivia, on the other hand, covers her boyfriend's face with a pillow as soon as she climaxes. First, the worried boyfriend approaches Otis' mother and tells her about his predicament. However, she misinterprets it and concludes that Olivia has a "ghost fetish."
The boy becomes enraged and expresses his concern for Olivia's fetishes publicly. Olivia reaches out to Otis at this point, explaining that she merely hides his face because she feels self-conscious about her own "orgasm face." Despite being a self-proclaimed expert, Otis' mother fails to assist the young couple, but Otis rescues the day once again. While this scenario underscores the significance of body positivity, it also highlights how miscommunication and a lack of information may lead to unwanted outcomes in one's sex life.
Everything Ends Well (Season 2 Episode 7)

After all of the craziness during his party, Otis becomes the famed "sex child" of his school in the penultimate episode. He even sleeps with Ruby after becoming intoxicated and has no recollection of it. Ruby initially says that they took contraception during sex, but she later admits that she is skeptical. They go on a humiliating "adventure" in which they try to purchase her a "morning pill" to prevent conception.
In the meantime, Ola and Lily become closer and even kiss. However, Lily appears to be unwilling to be upfront about her sexuality and dismisses her at school. Lily finally resolves not to be ashamed of her sexuality and invites Ola to come home with her later in the same episode. They don't have sex since Lily has vaginismus, but they get creative and find a way to enjoy their sex life without even touching. The concept of "pleasuring yourself" (particularly for women) is either completely ignored, viewed as a threat, or simply offered as a replacement for the opposing gender in popular culture. However, with this sex scene, 'Sex Education' shatters the silence and welcomes it.
Glenoxi Returns (Season 3 Episode 7)
Season 3 episode 7 features a well-deserved Lily-inspired sex sequence, and if you've seen any of Lily's earlier reveries or artwork, you'll know that normal humans can't satisfy her fantasies. The animated short is set on a faraway planet and depicts the discovery of two meta-human female beings and their explosive lovemaking. Lily (Glenoxi) is brought to life in an animated erotic sci-fi form, and the epic tone of the story is reminiscent of Lily's own difficult quest for sexual experiences.
The scene represents Lily's discovery of her attraction to women, as well as how Ola (the other character) has aided her (Lily) in overcoming some of her inhibitions. The animated scene is also constructed in the same visual style as the curious Moordale Secondary student's comics, and Glenoxi's steampunk glasses are actually replicas of a real pair worn by Ola in the raunchy season 3 opener.
Hammering Down the Myths (Season 1 Episode 1)
The show's first sex scene is by far one of the more graphic sequences throughout its two-season run. It could make you feel uneasy, but it's relatable and realistic. Adam and Aimee, who are both secondary protagonists in the program, have sex at Adam's house in this scene. Even Adam fakes an orgasm to get it over with, while Aimee appears to be overly performative in bed. Aimee realizes he's faking it and confronts him about it. Adam, it turns out, was just too self-conscious about his penis and the rumors about its size.
Onscreen, sex is distorted in many ways, but one thing that almost every film or television show gets wrong is the glorious moment of "climaxing together." 'Sex Education' shatters this unrealistic parameter with this scenario, demonstrating the utter actuality of how awkward sex can be at times.
Inclusive and Intersectional Sex Education (Season 2 Episode 6)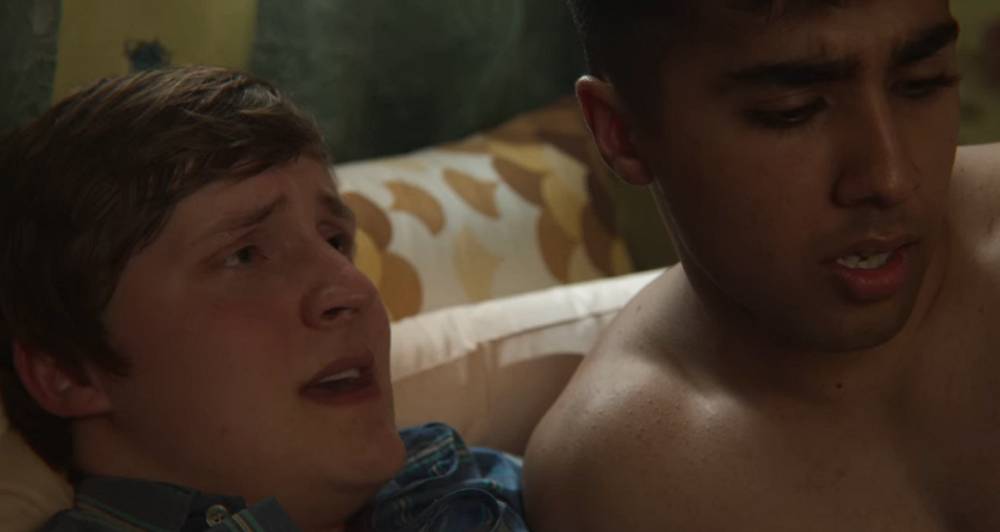 Even when it comes to depicting LGBTQ+ relationships, 'Sex Education' does so with a level of wit and sensitivity rarely seen in other television shows. The season's sixth episode opens with a scene featuring Anwar and his boyfriend. Anwar advises that while the two of them are making out, they should go all out and have sex. His guy then asks if he's ever heard of "douching" before gay sex.
Anwar lies to him and says yes because he is ashamed by his lack of sexual experience. But he simply makes up an excuse to get out of there and walks away. Throughout the episode, Anwar searches for solutions and even contacts one of his homosexual classmates who claims to know everything there is to know about douching, but nothing seems to help. Finally, he tells his partner that he was too ashamed of his ignorance, and his boyfriend, to his surprise, acts cool and even "educates" him.
The nicest part about 'Sex Education' is that it goes all-in when it comes to diversity, sexuality, and one's identity, rather than taking a tokenistic approach. And, as risqué as some of its sex scenes may appear, it serves as a cautionary tale for the television industry. This sex scene also serves as a reminder that everyone has their own tale to tell and that no one can be understood as a distinct entity. Otis does his hardest to comprehend his classmates' sexual problems, but he, too, frequently fails to provide the assistance they require. But it is his ability to comprehend, not to judge, and to always try to help that makes him such a significant person.
It's a Two-Way Street (Season 1 Episode 4)
The fourth episode of Season 1 begins with an embarrassing sex scene involving a homosexual couple. One of the two girls tries her hardest to have a good time in this scene, while the other just sits around and wonders why they're being so "vigorous" about it. They become very anxious about their relationship after realizing that sex is a two-way street and seek Otis' aid. He attempts to assist them in whatever way he can, but nothing works out. It was eventually discovered that their lack of chemistry was due to one of them no longer being interested in the relationship.
Otis' Cheap Cologne (Season 3 Episode 1)

Otis and Ruby's passionate (and comically mismatched) romance provides a lot of the raunchiness in Season 3. The guilty connection between the two continues after a drunken hookup at Otis' out-of-control house party. On the first day of school after the summer, they gather at the old restroom block, as seen in episode 1.
As is typical of the two, the scene is brief and frenzied. Ruby is about to say something about how Otis' poor scent turns her on when they are interrupted by a voice from the next stall. It is later discovered that someone impersonating Otis is dispensing appallingly awful sexual advise in the restrooms.
This isn't Ruby and Otis' first encounter, by any means! We witness a flashback of the two hooking up at a Halloween party a few minutes later. We recommend watching it if you've never seen a frenetic interaction in a tiny stall between a tub of mac n cheese (Otis) and a Christina Aguilera lookalike from the early 2000s (Ruby).
Sex Education, Indeed (Season 1 Episode 6)

Aimee (Aimee Lou Wood) subsequently dates a great guy who appreciates her and treats her well after her breakup with Adam. When they have sex, she attempts to seem normal again by saying what she thinks he wants to hear from her. However, her new lover, Steve, is turned off by this and, to her astonishment, asks her what she wants.
Aimee, who has always been OK with just pretending to be in bed and doing what is required of her, appears to have no idea what she likes. When Otis "prescribes her a wank," she finally realizes what she really wants from sex. Later on, she even walks her partner through the entire process. This scene depicts the irrational expectations that might arise as a result of pornographic influence. 'Sex Education' is rather graphic in its depiction of sex, yet it is ultimately informative.
Sorry, Jonathan! (Season 3 Episode 3)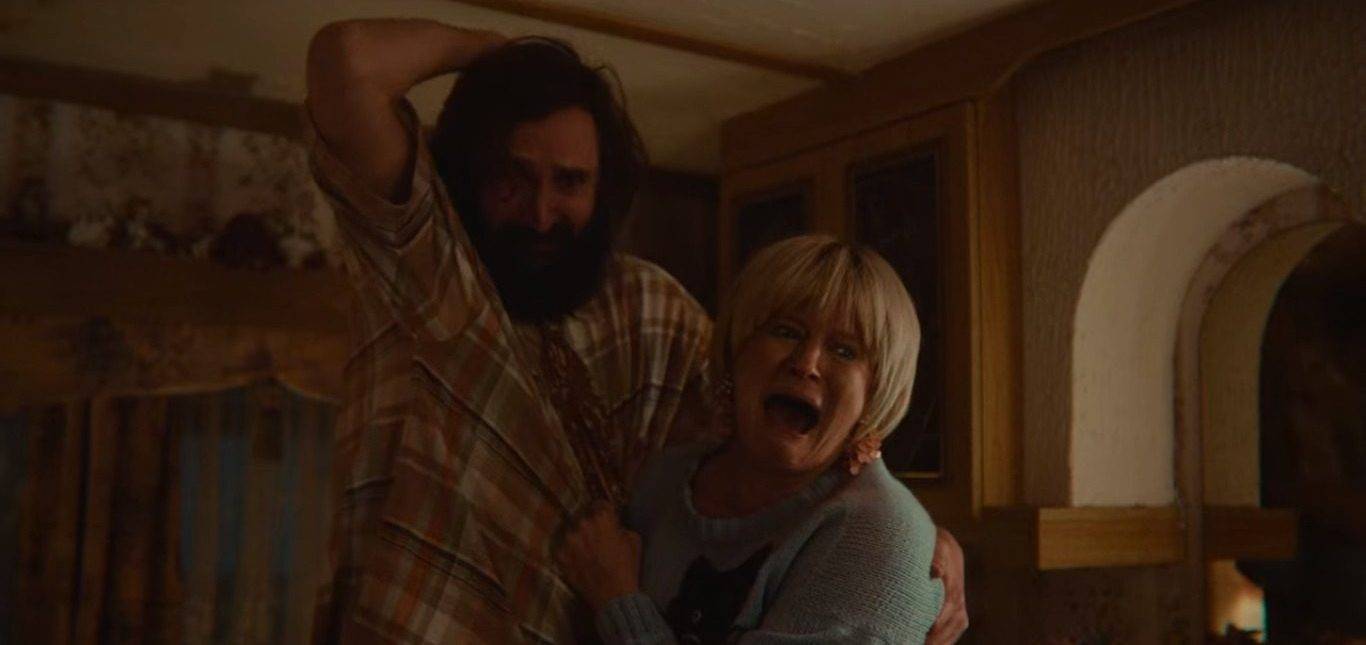 This scenario sparked a lot of discussion among followers on social media, and it has a surprising ending. Cynthia and Jeffrey, Maeve's odd trailer park neighbors, decide to spice up dinner with some lovemaking in Episode 3. The trailer begins to shake, the furniture begins to creak, and the couple is too preoccupied to notice their cat sitting nearby, watching them. The trailer's violent shaking loosens a heavy appliance from a high shelf, which begins to creep forward and invariably crashes on Jonathan, the unlucky cat.
Despite all of the bawdy humor crammed into the scene, it also introduces a new plot line. Cynthia develops a voracious lovemaking appetite after Jonathan's death, and we find Jeffrey later on, with his pants about his knees, weeping because he is too fatigued to have any more sex.
Yes. No. Yes! (Season 3 Episode 2)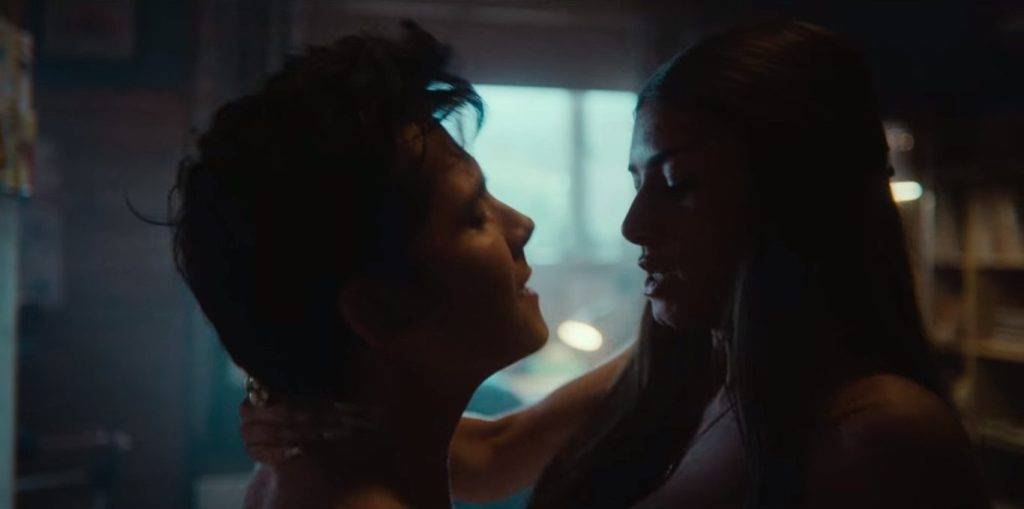 Ruby and Otis make an appearance on this list once more, and appropriately so! They're all over the first half of Season 3, and Otis is ready to put up with a lot (even being clothed by Ruby) in order to keep their physical relationship going. This early sequence brilliantly establishes the tone for their relationship, revealing who wears the pants (even when they aren't wearing any).
"The sex is great," Otis says, but the scene also shows us all the other mediocre interactions that occur between the lovemaking. Ruby prepares to depart as soon as they are finished, but not before telling Otis that tomorrow is "Purple Day," and he must wear something purple to school. The contradictory emotions on Otis' face are amusing, and the moment reminds us that even the best sex encounters may have very unpleasant endings.
Our Team DCS includes 5 different writers proficient in English and research based Content Writing. We allow them and encourage them to follow the Entertainment news all day long. Our posts, listicles and even the exclusives are a result of their hard work.