The comedy-drama film "The Beanie Bubble" on Apple TV relates the tale of Ty Warner, the proprietor of Ty Inc., the business responsible for the enormously well-liked Beanie Babies. In the 1990s, these charming and distinctive pocket-sized soft toys became extremely popular, with almost everyone possessing at least one. While the film explores Warner's journey, it focuses mostly on the stories of three women who profoundly alter his life and the course of his business. This includes Robbie, whose dedication and talent for marketing make Ty Inc. one of the major figures in the toy business. Many have questioned whether Robbie is based on a real person given that certain characters in the film are loosely based on real individuals. If you share our curiosity, read on to learn what we know!
Is Robbie Based on a Real Person?
According to reports, Robbie from "The Beanie Bubble" is based on a real person. Many people, including Elizabeth Banks, who plays the part, claim that Patricia Roche, Ty Warner's ex-girlfriend, served as a major inspiration. She was one of Ty Inc.'s first employees in the 1980s and was essential in helping the entrepreneur launch and expand his company. He affectionately referred to her as "Patti." In reality, the only coworkers at Ty Inc. in the beginning were Warner and Patricia.
According to Zac Bissonnette's book, "The Great Beanie Baby Bubble: Mass Delusion and the Dark Side of Cute," which served as the inspiration for the film, Patricia encouraged Warner to partner with small businesses in order to help him gain his first consumers at toy fairs and conventions. Later, when he developed and introduced Beanie Babies in 1993, she collaborated with him as well. According to sources, she was essential in marketing the products and bringing them to their degree of success.
Patricia must have had a significant impact on Warner's life and the Beanie Babies business because he gave "Patti the Platypus" – one of the first nine Beanie Babies — her name. Bissonnette revealed in an interview that the billionaire was quite picky about the picture shoots for the new products and would frequently spend hours acquiring the ideal shot. When Ty would see it, he would reply, "Nah, that's not right. Take yet another photo. It's improper. I don't like it,' Patricia recalled. Later in the 1990s, she relocated to England, where she oversaw Ty England, the company's distribution branch for the UK.
Warner continued to work closely with Patricia even though he was at the time engaged to his then-girlfriend, Faith McGowan. This apparently did not sit well with the former, and according to Bissonnette's book, Faith was even reportedly concerned about her partner's ongoing friendship with his ex. Patricia and Warner were frequently spotted together at business gatherings and conventions, although Patricia generally kept her private affairs out of the spotlight. Fewer facts about her ever surfaced, despite the fact that it is well known that she was effective in securing Ty Inc.'s position in the UK market.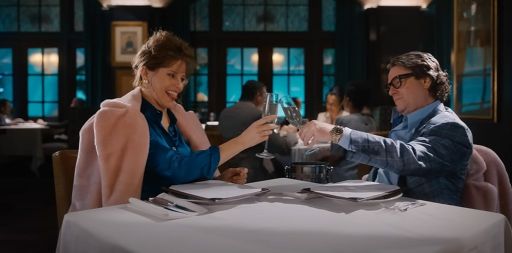 According to sources, Patricia currently resides in Whiteley, England, where she maintains a quiet life while serving as the Chair of P.A. Roche and the first American woman to serve as President of the Gosport/Fareham Rugby Club since 2005. Though she serves as a major source of inspiration for Robbie's role in the film, numerous fictional components have been added for fun. Patricia hasn't explicitly stated it, but Robbie in "The Beanie Bubble" probably combines some elements of truth and fiction. In a conversation with Marie Claire Australia, Elizabeth Banks went into further detail on the same.
There were numerous parallels, but the actress added, "As an actor, I also felt extremely liberated by the thought that we were dramatising so much of it, and that Patty was an inspiration and a jumping-off point, but Robbie, I had to construct a real character out of what Kristin Gore's script handed me…However, I didn't really do much research on Patricia because I didn't want to feel obligated in any way to the real Patricia and because I knew that, in the end, I wanted the flexibility to develop a character that I could really connect with and that could truly be my own.