The Upshaws, a Netflix series, return to their crazy family in the fourth season as they struggle to survive while overcoming a variety of obstacles. Some characters get the shaft in the new season, while others get a chance to discover who they really are and what they want out of life. The story opens with Lucretia caring for the children of her sister, Regina, while Regina takes a break to focus on herself.
Even though it seems like her family is having a hard time without her, Regina is aware that she needs to take care of the pressing matters before she returns. She receives counselling for this reason. Here's what you need to know about Regina's decision-making process and her goals for treatment if you need a reminder. Spoilers follow.
Why is Regina in Therapy?

No matter how difficult things become, Regina is the only one who manages to keep the Upshaw family together through all of their ups and downs. She works a full-time job and takes care of the entire family while studying for the GMAT and attending college because she wants to enhance her education and advance her profession. In the third season, Regina ultimately enrols in college after putting in a lot of effort and experiencing a few setbacks. She ought to have been delighted to receive the acceptance letter and eager to begin the project for which she had been striving for so long. She doesn't, however, experience anything similar.
She ignores the problem when confronted by Lucretia and Bennie. She breaks off the talk in the middle, claiming that nobody needs to know why she made the decisions she did. Eventually, though, she concedes that this might be related to the grief she has been experiencing recently. The psychiatrist who works with Regina reveals to Lucretia and Bennie that she might be sad. In the end, Regina realises that if she doesn't deal with her issues, she will not be able to move on in life and support her family. She makes the decision to spend some time apart from her family and attend therapy.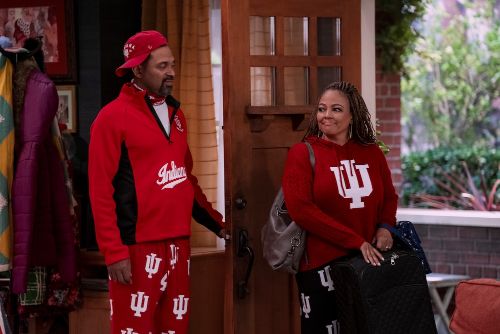 Regina's family finds it difficult to comprehend her grief and the reasons behind it, despite Lucretia's support. Regina tells Bennie openly in the fourth season how everything has been stacking up on her ever since she was a teenager. She first met Bennie at school, and Regina later became pregnant with Bennie Jr. She realises that her pregnancy affected everyone in her immediate vicinity and that this was not part of her life's plan. Regina saw it as a mistake on her part and promised to never let it happen again.
Regina felt that the only way to atone for her error was to be the ideal wife and mother and to fulfil the needs of her loved ones. She pushed herself to the limit, never stopping to think about her happiness or what she really wanted out of life. With these decisions in life, she ran herself ragged and even suffered a heart attack. Even so, she remained upbeat despite her health concern. She started crying when she realised she had passed the GMAT and would have to enrol in college. She felt as though she had a lot of additional pressure to be great at everything. She reached her breaking point and made the decision to take the break she had long overdue.