Tyson Fury, the famed heavyweight boxing champion, is featured in Netflix's "At Home With the Furys," a show that takes viewers behind-the-scenes and away from the high-stakes circumstances that keep sportsmen in the ring. The reality television series centres on their daily activities at home as the athlete gives up his life in the sport and accepts his roles as a husband and father. The show sheds light on various aspects within the family, from accepting the quirkiness of his six children to emphasising their appropriate upbringing.
The renowned athlete finds it challenging to navigate his life after retirement, despite his championships and widespread accolades. The series also explores Tyson and his wife Paris' reactions to the ups and downs of marriage. Fans have naturally wanted to know if the couple is still getting along harmoniously. Therefore, if you're interested in learning more about the couple as well, look no further since we have all the details right here!
Paris and Tyson's Journey Together
Paris, 15, and Tyson, 17, met at a mutual friend's wedding and it was serendipity that brought them together. Paris and her family believed Tyson was much too old for her, but the Manchester-born boxer persisted in his pursuit and persuaded them otherwise. Paris and Tyson started dating close to Christmas after meeting in 2005. But it didn't take long for their friendship to develop into something more. After only a few months of dating, they were head over heels in love. Even their marriage proposal was hastily arranged when Tyson accidently revealed his future plans to Paris while the two were enjoying a picnic.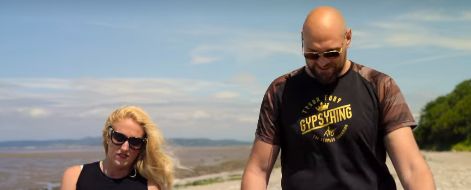 At the age of 19 and 21, respectively, Paris and Tyson were married in 2008. The couple has since welcomed six children and established a family. Their story hasn't exactly been a bed of roses, though. After winning all four of the world championship belts in 2015, Tyson fell into a worrying depression and began abusing drugs and alcohol, which caused him to gain a lot of weight. The problems had gotten so bad that Tyson considered committing suicide and self-harm. The two also discussed the moment Tyson warned Paris he would never come back after driving his Ferrari off the road at high speed.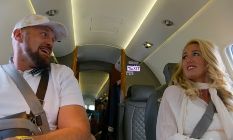 Paris considered breaking up with Tyson because their relationship was so rocky. The couple's struggles may be observed even during their time on "At Home With The Furys." Despite Tyson's unwavering commitment to maintaining good mental health, the heavyweight boxer struggled with a number of problems. Naturally, Paris also saw a growing communication gap. Many people therefore ponder whether the marriage has been able to persevere through these problems over time.
Are Paris and Tyson Still Together?
Yes, Tyson and Paris are still wed. Despite the difficulties and difficult times that have afflicted their love, the pair lets their problems come before their union. Paris and Tyson continue to support one another when times are tough, whether it is with regard to mental health issues or the rising stress brought on by a demanding work. The difficulties that strained their relationship over the years only served to strengthen it, but the two are now eagerly anticipating the next phase of their life.
View this post on Instagram
The couple just announced their second pregnancy. The seventh child of Paris and Tyson will be born soon, bringing the Fury family's total to seven. With their six children, Venezuela, Valencia, Athena, Prince, Tutty, and Adonis, as well as their dog, Cash, the family, who is based in Morecambe Bay, continues to go on new experiences and face problems. While caring for six children is challenging, Paris and Tyson split the work to provide their children a well-rounded childhood. Along with this, the pair thinks it's important to instill in children early Gipsy and Traveller values.
View this post on Instagram
Venezuela, the couple's oldest child, was immediately taken out of school at the age of 11 and has since been homeschooled in accordance with Traveller customs. The family's other children will experience the same thing. As a result, Tyson and Paris uphold their family's cultural values while also growing their ever-evolving success.
Tyson continues to take on athletic challenges for his career while setting objectives for his physical and emotional well-being. In a similar vein, Paris has also established herself as a television personality and has released her second book, How Does She Do It? The Children, Tyson, and I." Of course, we look forward to the achievements the pair will achieve in the years to come!
Our Team DCS includes 5 different writers proficient in English and research based Content Writing. We allow them and encourage them to follow the Entertainment news all day long. Our posts, listicles and even the exclusives are a result of their hard work.