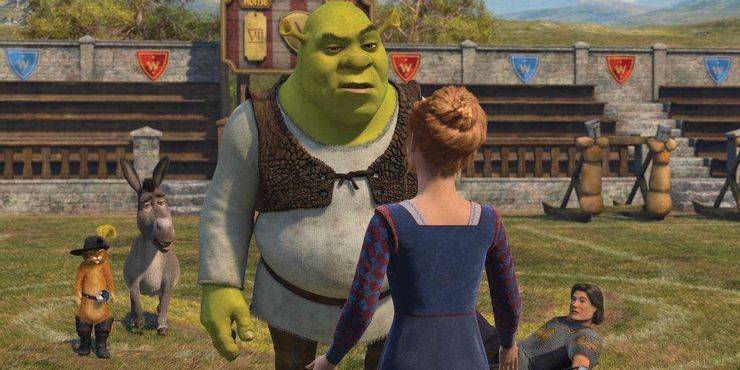 Where To Watch The Shrek Series ? Is Shrek on Netflix, Hulu, Prime, Disney+, or HBO Max,?
'Shrek,' the Academy Award-winning animated comedy picture, is beloved by almost everyone. Andrew Adamson and Vicky Jenson directed the film, which was so well received that it was followed up by three more instalments. It's a satire of a number of different fairy-tale versions, and it chronicles the exploits of the titular green monster.
Shrek sets out on a mission to save Princess Fiona from a tower guarded by a fearsome dragon, accompanied by his chatty buddy Donkey. A superb voice ensemble, including Mike Myers, Eddie Murphy, Cameron Diaz, and John Lithgow, brings the popular characters to life. If you're interested in seeing this fun-filled classic, we've got all the information you need.
What is Shrek About?
Shrek is based on William Steig's eponymous fairytale picture book, and is considered one of the best animated films of all time. The story follows Shrek, whose tranquility is disturbed when his swamp is overrun by many mythical animals banished by Lord Farquaad of Duloc. Shrek makes a pact with Farquaad to go and rescue Princess Fiona, who is imprisoned in a dragon-guarded tower, in order to reclaim control over his swamp.
Shrek is followed by the rambling but loyal Donkey, and the two work together to save Fiona after a series of misadventures. Farquaad desires to marry Fiona in order to ascend to the throne, but fate has other ideas when Shrek and Fiona fall in love. Fiona's life-changing secret, though, puts their love in jeopardy. Shrek is a funny story about love, friendship, and courage that also teaches the importance of self-love, making it a hit with audiences of all ages. Here are the details you'll need if you're planning on seeing the movie!
Is Shrek on Amazon Prime Video?
'Shrek' is available on Amazon Prime Video for rent or purchase. Click here to view the film on the service. Subscribers can still watch a variety of free animated films, including 'Gnomeo and Juliet' and 'Dr. Seuss' Horton Hears a Who.'
Is Shrek on Disney+?
Disney+ is home to some of the most well-known animated films, but 'Shrek' isn't available on the platform. Subscribers can instead view other animated comedy films such as 'Frozen,' a musical adventure, and 'Finding Nemo.' The latter film follows Marlin, a clownfish, on his quest to find his kidnapped offspring Nemo.
Is Shrek on HBO Max?
No, you won't be able to see 'Shrek' on the streaming service. Viewers can choose from a large selection of films and television shows, including animated classics such as the musical 'Happy Feet' and the fantasy action-adventure 'Epic.'
Is Shrek on Hulu?
Those who have a Hulu subscription can see this animated film on Hulu.
Is Shrek on Netflix?
Netflix boasts an incredible selection of movies and TV series, but 'Shrek' is currently unavailable. Animated flicks such as 'Kung Fu Panda: Secrets of the Scroll' and 'The Willoughbys' are available to customers of the streaming service.
Where to Watch Shrek Online?
Vudu, Google Play, Spectrum, iTunes, AMC Theatres, YouTube, Movies Anywhere, and Microsoft Store all have the evergreen 'Shrek' available on VOD. The movie is also available on DirecTV and Xfinity Stream as a streaming option.
How to Stream Shrek for Free?
With their one-month free trial offer, new Hulu users may watch 'Shrek' for free. As a method of supporting the cinematic arts, you may also choose to pay and watch the movie on the above-mentioned platforms.