Netflix's "Heart of Invictus" can only be defined as equal parts intriguing and inspiring as a documentary series that lives up to its title in every way imaginable and was directed by Orlando von Einsiedel. That's because the story revolves around a group of international military veterans who compete in the Invictus Games with the express purpose of sincerely attempting to cure their traumas. Yuliia "Taira" Paievska, a former Ukrainian servicewoman, was in fact one of them; hence, if you just want to discover more about her, we have the pertinent information for you.
Who is Yulia "Taira" Paievska?
Yulia's interest in the medical sector first shown itself purportedly when she was a little child growing up in Kyiv, only for it to increase as the years went by. She even learnt the fundamentals of bandaging and tourniquet application while still a teenager under the guidance of her ex-World War II medic school nurse. Then, however, she made the choice to broaden her horizons, which prompted her to enlist at the National University of Physical Education and Sport before pursuing psychology at Berdyansk State Pedagogical University.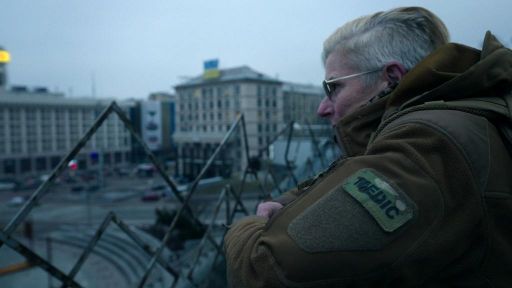 By 2013, however, Yulia had reportedly spent 20 years training students in the modern Japanese martial art of Aikido while dabbling in design and ceramics. She once served as the President of the Mutokukai-Ukraine Aikido Federation, which is what finally inspired her to go back to school for medicine because she was aware that sports and injuries go hand in hand. Therefore, it should come as no surprise that she eventually decided to work part-time for ASAP Rescue Service as a paramedic, which was then followed by her decision to volunteer at the Euromaidan demonstrations in late 2013.
At that point, Yulia took on the call sign Taira and repeatedly made the decision to stay on the battlefield in order to provide medical attention to everyone who had been hurt while also instructing her comrades in tactical first aid. Because she continued to work in this capacity in eastern Donbas during the Russo-Ukrainian War, her group of like-minded volunteers came to be known as Taira's Angels. They didn't hesitate to treat citizens, separatists, or military people from both sides, and she alone is credited with saving more than 500 lives over the course of four years.
We really mention four years because Taira proudly served as the Head of a Military Hospital in Mariupol for the Ukrainian Army from 2018 till she was partially demobilised in 2020. Despite this, she tenaciously kept up her volunteer paramedic job and even recorded a good deal of it during Russia's invasion in 2022, only to slip the tape to reporters on March 15. Little did this front-line servicemember realise that she would be apprehended the following morning while attempting to help a civilian, and that a month later she would begin to appear in Russian propaganda movies.
Taira's account states that she was initially placed in solitary confinement, where she received only a half-glass of water daily and was denied treatment for her thyroid and asthma. Her experience in the cell with the other 20 ladies wasn't much better as they were frequently beaten or subjected to electric shocks while being mentally coerced into quitting. However, according to the original, they ceased pursuing her after two months, when her country had all but guaranteed a global spotlight on her case thanks to the Invictus Games, and they eventually freed her on June 17, 2022.
Where is Yulia "Taira" Paievska Now?
Taira was supposed to represent Ukraine at the 2022 Invictus Games in the sports of swimming and archery with the intention of unflinchingly inspiring other injured warriors, but it is clear that she was unable to do so. As a result, her 19-year-old daughter Anna-Sofia was given the opportunity to compete in her place and bring attention to the overall state of their country, all of which unintentionally assisted her return home. She even received the International Women of Courage Award, Order of the People's Hero of Ukraine, Badge of Honour, and Defender of the Fatherland at that point, turning into a poster child for bravery and selflessness.
As far as we know, Taira has since proudly resumed her volunteer paramedic job and is presently working to assist in the release of Ukrainian POWs held in Russian captivity. The 54-year-old undoubtedly struggled at first to settle back into her Kyiv home after her release, but Prince Harry called her about a week later and encouraged her to persevere. He merely motivated me to keep fighting, she said."He said that the Invictus Games family always looks out for its members," I quote, "and that he supports Ukraine and all of us."
It's important to note that Taira has since shared details of her time in captivity. She frankly stated, "The Russians advised me it was preferable to commit suicide because they would murder me anyhow, but I tried to think I would survive. "I was completely ignorant of what was going on in the world. Since the Russians had already arrived in Kyiv by the time we departed, I had no idea whether my family was still alive or if my home had survived. They claimed that nobody backs us and that other nations simply provide us with outdated, rusted weapons. They claimed that nobody needed us and that Ukraine had long since been forgotten.
Taira tried her best to stay in shape despite the unpleasant circumstances by practising "ab crunches, yoga, and meditation." "I tried to stay fit in jail," she continued. I believe you will survive if you can persuade yourself to do so. They were determined to shoot me and kill me, so there was no reason for me to believe that I would escape. But for some reason, I knew and had faith in my ability to endure. As for her current situation, she admits that she still gets fatigued easily and occasionally collapses, but because of her family, she is absolutely inspired to continue serving her country and to represent it at the upcoming Invictus Games.
Our Team DCS includes 5 different writers proficient in English and research based Content Writing. We allow them and encourage them to follow the Entertainment news all day long. Our posts, listicles and even the exclusives are a result of their hard work.