The 2017 murder of Taylor Wright by a friend, Ashley McArthur, was one of many painful and horrible crimes that have occurred in the United States throughout the years. This was a cruel display of cold-bloodedness.
The investigational series' episode airing on April 23 will focus on Taylor Wright's disappearance in 2017.
Wright's family members and coworkers will hear from correspondent Keith Morrison about the private investigator as a person. He will also go into detail about everything that transpired after she vanished.
Taylor Wright, who almost immediately became a person of interest in the investigation, was last seen with Ashley McArthur. She was taken into custody for Wright's murder after her body was found.
Continue reading to learn more about Ashley McArthur 8217;s current whereabouts and what precisely happened to Taylor Wright.
Who is Ashley McArthur?
According to reports, Ashley worked as a crime scene technician and was best friends with the murder victim.
The 33-year-old ex-police officer and private investigator Taylor was going through a divorce.
She took $100,000 out of the joint account she shared with her ex-husband Jeff Wright.
She then handed McArthur more than $30,000 to act as her agent in protecting.
What happened to Taylor Wright?
Taylor was initially only thought to be missing. Her live-in girlfriend, Casandra, told authorities that she hadn't seen her partner since September 8, 2017, at the time.
Taylor had been responding to their texts until 11:20 a.m.
Around 8 o'clock in the evening, Taylor sent Casandra a text stating that she needed some time to get her life back on track.
A text message from Ashley McArthur asking her cousin if he will be visiting the farm that day was noted by authorities. (He was absent attending a funeral).
McArthur said in a police interview that she and the victim had both gone to her family's ranch to ride horses. After an hour, they returned to McArthur's home, where Taylor most likely hopped in an Uber to head to a bar.
Taylor hasn't been injured, the former technician continued. While I believe Taylor is acting in accordance with her usual behaviour, you know. She has always presented herself as tough and has never concealed the fact that she always carries weapons, be they knives, firearms, or other contraband. She is a difficult target.
Yet, data from cell phones suggested the reverse. As a result, when the police pursued this tip, they discovered Taylor's body hidden on a different property owned by the McArthur family on Britt Road in North Pensacola.
The victim, who had been shot in the back of her head, was cruelly buried under a layer of potted soil and concrete. The picture was also properly depicted in McArthur's bank records.
Taylor's name was on a $34,000 cashier's check that was deposited into the offender's account. Following that, McArthur spent the money, potentially even purchasing a boat for Brandon Beaty, the subject of her affair.
The last time the victim was mentioned, according to the prosecution, was when Taylor questioned McArthur about the money.
The former crime scene technician was also captured on camera on September 9, 2017, leaving a Home Depot with bags of concrete and potting soil.
The change in McArthur's behaviour in two separate police meetings, according to prosecutor Bridgette Jenson, was significant. "If you look at the first interview, she was friendly, maybe even a bit cheeky with law enforcement. She behaved differently in the second interview. I believe she was aware of her capture.
Others said throughout the court that McArthur had also mentioned killing Taylor in earlier situations.
One of McArthur's pals and local barmaid Audrey Warne testified in court: "She stated she was going to put it [cocaine] in Taylor's beer. She claimed that Taylor wasn't a decent person, that she was too small to harm anyone, and that she would simply shoot them if they got in her way of improving the world.
Yet, McArthur's solicitor, John Berose, asserted that his client had no money problems.
"There will be no physical evidence brought in this trial to show you that Ashley McArthur had any involvement with the death of Taylor Wright," he said in his opening statement.
According to him, there was less evidence that McArthur had a murder weapon in his armoury because the kind of bullet that killed Taylor could not be linked to any of the firearms that had been filed as evidence.
He also discussed Taylor's alleged drug use and the victim's mental state in addition to the foregoing.
Where is Ashley McArthur Today?
Ashley McArthur had a financial motive, Bridgette Jenson told the jury, "Ladies and gentlemen, Ashley McArthur had the opportunity, Ashley McArthur murdered Taylor Wright and then she tried to cover it up with lies, concrete, and potting soil." The prosecution repeatedly emphasised this point throughout the trial.
It was noted that Taylor's phone had ping-ed off a tower nearby when the defendant was at a wedding in Alabama, proving that McArthur had kept her friend's phone.
She Was Found Guilty of 1st-Degree Murder & Sentenced to Life in Prison.
On August 30, 2019, McArthur was found guilty of first-degree premeditated murder and received a life sentence. Public documents reveal that the 43-year-old is serving out her term at the Lowell Correctional Institution, also known as the Lowell Annex.
The Annex is a women's prison near Ocala, Florida, about 150 miles northwest of Orlando, with a 1,500-inmate capacity.
Throughout the week-long trial, the prosecution argued that McArthur killed Wright in order to profit financially and provided the jurors with a motivation and an opportunity, according to the Pensacola News Journal.
She Was Also Sentenced to 7 Years in Prison for Other Unrelated Crimes, Including Fraud
According to CourtTV, McArthur was charged with arson, racketeering, and fraud in March 2018 while she was out on bail awaiting her trial for the murder of Wright. These charges related to other occurrences that happened before Wright's murder. Investigators claim that between 2015 and 2017, McArthur stole thousands of dollars from neighbourhood businesses while running her family's business, Pensacola Automatic Amusement.
A fire broke out on the day McArthur was supposedly going to speak with the companies about their lost revenue at Pensacola Automatic Amusement, which is what prompted the charges of arson against McArthur.
According to publicly available data, McArthur was sentenced to seven years in jail in January 2019 after being found guilty of racketeering and organised fraud but not arson.
McArthur Appealed the Verdict, but the First District Court of Appeal in the State of Florida Upheld Her Conviction
The First District Court of Appeal in the State of Florida heard an appeal from McArthur regarding her guilty verdict, but on April 16, 2021, the court upheld the verdict and sentence.
Ashley claimed that when a picture of herself holding and aiming a shotgun was unintentionally shown, it unduly influenced the jury. Additionally, she argued that the testimony she provided to investigators and her mobile phone data were improperly accepted as evidence.
The shotgun photo "wasn't so prejudicial as to vitiate the entire trial," the appeals court wrote in its ruling, adding that the trial court did not err in allowing those pieces of evidence to be heard. It also explained that additional testimony during the trial showed McArthur owning and holding firearms as well as dressing in camouflage.
Whether McArthur's defence team will attempt a second trial of her verdict is unknown at this time.
Is Ashley McArthur still married?
Ashley McArthur watched with a glimmer of hope as her adored husband, Zachary McArthur, testified in support of the prosecution.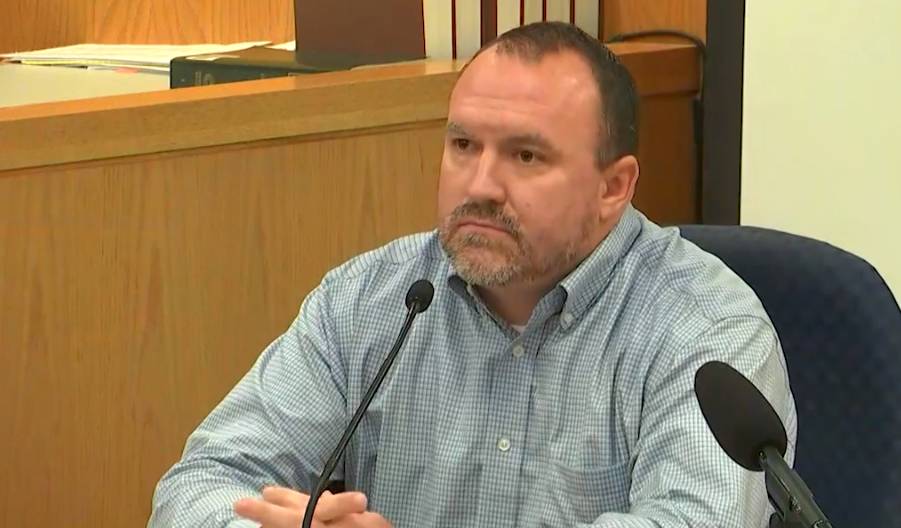 Despite his initial denial that he knew where the victim Taylor was, his unyielding devotion to the truth won out in the end.
Brandon Beaty, Ashley's ex-boyfriend, entered the courtroom to present crucial information that would help disentangle the complex web of lies and deceit that enveloped the accused, further electrifying the atmosphere.
The stakes were enormous, but those pursuing justice were steadfast in their resolve and promised to shed light on even the most mysterious aspects of this case.
Keynotes
In Pensacola, Florida, Taylor Wright—a former police officer turned private investigator—went missing.
She had recently relocated to Pensacola following her divorce and was engaged in a custody dispute when she vanished.
In defiance of court orders, Taylor took $100,000 from her joint bank account with her ex-husband and divided the money among acquaintances to conceal it.
One of the friends Taylor handed money to was Ashley McArthur, who promised to store it in a safe deposit box and retrieve it for Taylor whenever she was ready. Taylor asked McArthur for the money back, but he never did.
Taylor and McArthur had intended to pick up the money from the bank on September 8, 2017, but McArthur called to say they would ride horses in east Milton instead.
Cassandra Waller, Taylor's girlfriend, texted Taylor out of concern but didn't hear back from him until 7 o'clock that evening. when Taylor stated that she needed time to plan her life and do some thinking.
After a few days, Waller became increasingly worried and called the police to report the missing person.
After analysing McArthur's texts and whereabouts, police opened an investigation and developed a suspicion of her. McArthur was caught lying about her whereabouts and cashing counterfeit checks.
Taylor's body was eventually discovered on a farm, wrapped in a hammock and suffering from a head wound caused by gunfire.
After being detained, McArthur was accused of first-degree premeditated murder. Notwithstanding her plea of innocence, she was judged guilty and given a life sentence with a minimum of 25 years in jail.
Being a binge-watcher himself, finding Content to write about comes naturally to Divesh. From Anime to Trending Netflix Series and Celebrity News, he covers every detail and always find the right sources for his research.