The focus of Oxygen's "Buried in the Backyard" hour-long episodes is on cases where the body is discovered in unusual locations. It also describes how the victim receives justice and the subsequent police investigations. One of these episodes talks with Taylor Wright's murder, which was also covered by NBC's "Dateline: The Necklace." Let's now examine the sequence of incidents that lead to the sad tragedy.
How Did Taylor Wright Die?
At the time of her murder, Taylor Wright, a 33-year-old private eye, was employed. The mother was going through a divorce and had previously worked as a police officer. She had been shot in the back of the head and her body was discovered on a secluded property in Florida. Then, on Britt Road in North Pensacola, she was buried in potting soil and concrete near a farm. It is interesting that the culprit's family owned the property.
The Pensacola Police Department had also acknowledged that Taylor was missing a few days before her body was found. Since she allegedly texted a friend to say that she needed some time to sort out her life, they did not suspect foul play. PPD Public Information Officer Mike Wood stated, "At this moment, we believe she went on her own accord. To confirm that she is doing well, we need to hear from her.
The authorities were alerted by Casandra, the investigator's live-in partner, who said she hadn't seen Taylor since September 8, 2017. Up until 11:20 a.m., the two were texting back and forth; however, after that, the victim stopped replying. Then, at around eight o'clock in the evening, Casandra received a text from Taylor's phone stating that she needed some time to assess her life and get it back on track.
Who Killed Taylor Wright?
In the end, Ashley Britt McArthur was found guilty of the crime. She had worked as a crime scene analyst before. The two were allegedly close buddies. What had actually happened was that Taylor had taken $100,000 out of a joint account she held with her ex-husband, Jeff Wright. She then gave McArthur more than $30,000 to protect.
Taylor approached McArthur the day before she vanished after she refused to return the money. According to the prosecution, the defendant informed Taylor she would place a cashier's cheque for the same amount in a safe deposit box. However, Taylor had no access to the $34,000 because McArthur had put it in her personal account. Additionally, media sites reported that the funds had been used since then. She reportedly purchased a boat for Brandon Beaty, with whom she had an affair.
Security footage showed McArthur the very next day, on September 9, 2017, in a Home Depot. She was observed buying concrete and potting soil. Taylor and the former crime scene technician went to a number of places before going to her family's property to ride horses, according to the former crime scene technician's initial interview with the police. Following this, McArthur claimed that they went back to her place and that Taylor arranged to take an Uber to a pub. She added that the victim was tough as nails and not a target easy to hit.
However, the phone records revealed a different picture. Authorities investigated this and ultimately discovered Taylor's remains in another farm owned by the offender's family. Numerous witnesses testified at the trial that McArthur made clear preparations to kill Taylor, particularly by using cocaine. The former technician's friend and local barmaid Audrey Warne stated in court, "She said she was going to put it [cocaine] in Taylor's beer. She claimed that Taylor wasn't a decent person, that she was too small to harm anyone, and that she would simply shoot them if they got in her way of improving the world.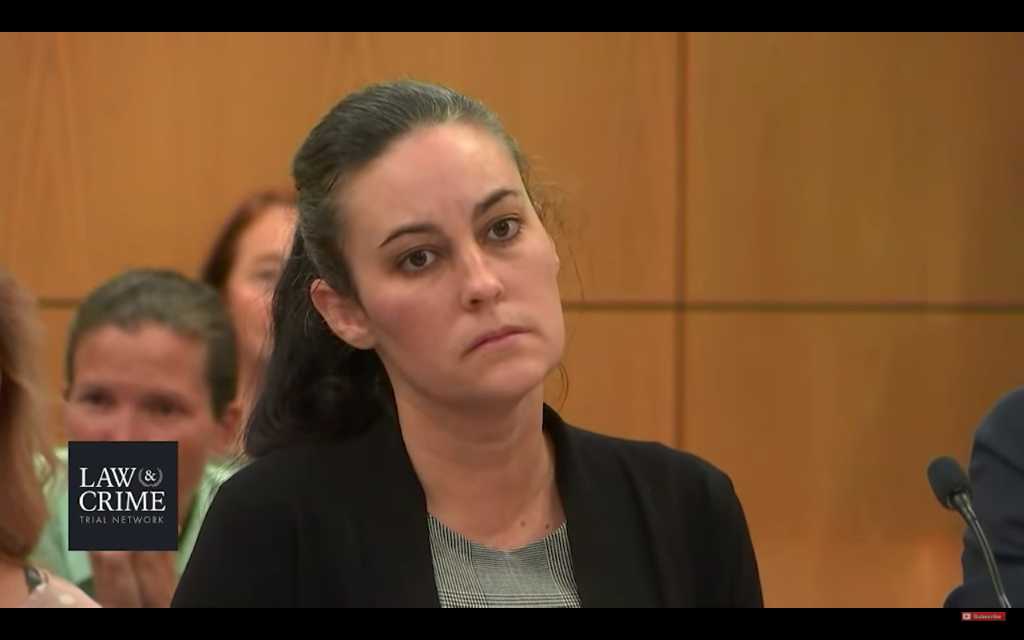 McArthur's motivation, according to the prosecution, was commercial in character. They said that because she worked as a crime scene technician, she would be aware of common mistakes. After the murder, McArthur had gone to a wedding in Alabama, and Taylor's phone buzzed close to that tower. This suggested that she was carrying the victim's phone. However, McArthur's attorney denied the charges and insisted that his client had no need for money.
Ultimately, a jury determined that the defendant had committed first-degree premeditated murder. The mandatory minimum punishment in this case was life in prison, therefore she received that. She was also found guilty in a different instance of racketeering and fraud, thus this wasn't her only conviction. She received a 7-year sentence with 3 years of probation as punishment for this.