Ballers is an HBO sports comedy-drama programme created by Stephen Levinson that centres on the private lives of football players and how they interact with the complexities of the industry. The show chronicles Spencer Strasmore's transition into working as a financial manager for NFL players after he retired as a former standout player. As a team with seasoned advisor Joe Krutel, Spencer preaches the value of financial security for sportsmen while using his former contacts to grow his firm. The show explores a variety of various storylines as it goes along, showing the experiences of both former and current football players.
Five seasons of the programme were produced, and it quickly won over audiences of all types. The principal actor Dwayne "The Rock" Johnson, John David Washington, and Rob Corddry all give standout performances in the episode. The show highlights many different areas of life through a wide variety of characters while keeping a lighthearted, comic core. How much of the show "Ballers" is actually true, despite its realistic depiction of NFL glory and its aftermath? Let's investigate!
Is Ballers a True Story?
'Ballers' is not based on a genuine story, to be clear. Although the show's focus on the world of football and examination of athletes' careers within it plainly draws inspiration from reality, neither the characters nor the events are directly related to the facts. The narrative of the show is therefore based on fictional plotlines and character arcs written by the creative team.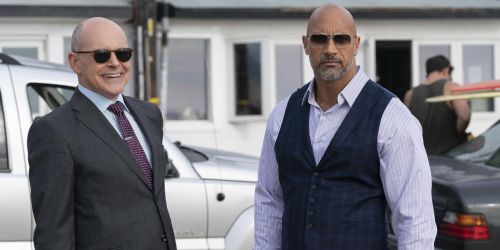 Despite this, it would not have been feasible for the drama to tell an interesting tale without a foundation in reality given the series' acute observation of this environment and the analysis of the experiences of various players inside the industry. For instance, Spencer Strasmore's decision to become a manager after retiring from the field serves as the show's jumping-off point and offers a scenario that has occurred occasionally in real life.
The most frequent parallel that people make for Spencer is Chafie Fields, a former NFL player who later transitioned into a sports agent. Several other former athletes who are now managers, like Bill Duffy, Tory Dandy, and Jason Fletcher, also make references to Spencer's persona and his professional career in real life.
Similar ties may be made between a number of other characters, including Charles Greane, Vernon Littlefield, and Ricky Jerret. These people may be comparable to some real-life individuals due to certain character qualities or plot threads, but those similarities are sporadic and weak. The show is still able to highlight the challenges that NFL players and other athletes in general face in real life thanks to these roots in reality.
The "Athlete vulnerability issue" is a genuine financial issue that many people encounter, claims Sports Financial Literacy Academy. Athletes frequently experience financial instability after their retirement, which occurs earlier for them than for other people, due to the nature of their profession. According to statistics, 78% of NFL players are still jobless and insolvent. In the same way, 25% of them run into financial problems in the first two years after retirement.
As the plot of "Ballers" develops, this similar topic is discussed, exposing the serious harm that financial insufficiency can do to athletes. As a result, a key aspect of the programme reflects a genuine issue that exists within the NFL and other professional sports leagues.
A significant component of the show's authenticity is also informed by how its array of people and their interpersonal relationships are depicted. Given the mystique that surrounds sports, particularly NFL stars, "Ballers" effectively offers a glimpse into their everyday lives while giving them sympathetic characteristics to draw viewers in. "Ballers" provides a glimpse behind the scenes of how that world—the sports world—operates, according to Rob Corddry, who was speaking with The Guardian about the subject at hand. You don't visualise the drama that goes into every small statistic when you read the articles about this or that agreement, the author claims.
Similarly, Donovan W. Carter, who plays Vernon Littlefield, talked about his own connection to the programme and how it made him think of his time as a former football player. The actor stated, "With Omar Benson Miller's character Charles, you get to experience his transformation from leaving the game, in an interview with The Sportster. It was somewhat comparable to when I had to decide what to do after leaving the game.
These stories allow us to conclude that, although not being a factual narrative, "Ballers" stays faithful to the field it symbolises. The comedic series occasionally exaggerates events and even emphasises the harshness and glamour of the industry. However, the narrative has an element of genuineness that audiences have grown to appreciate over time. In the end, the programme solely draws inspiration from the football environment in which its plot is set and is not based on actual occurrences.
Our Team DCS includes 5 different writers proficient in English and research based Content Writing. We allow them and encourage them to follow the Entertainment news all day long. Our posts, listicles and even the exclusives are a result of their hard work.