2017's "Beatriz at Dinner," which was directed by Miguel Arteta, is a drama movie that contributes to the important cultural discussion concerning society's class division. The movie follows Beatriz, played by Salma Hayek, a genuinely sympathetic Mexican health therapist who is steadfast in her holistic convictions that everything in the universe is interconnected. Beatriz is invited to stay for supper when Beatriz's car breaks down at the home of wealthy client Kathy because the woman wants Beatriz to feel like a close family friend. Once Kathy's guests start to arrive, though, Beatriz quickly realises that this is the last location that would be appropriate for her since she unwittingly gets into a fight with Doug Strutt, the real estate tycoon who personifies everything Beatriz is opposed to.
The story revolves around a group of individuals having dinner, with Beatriz and Doug's divergent worldviews at its core. For a while, the plot is rather simple, but towards the end of the movie, the narrative adopts a more symbolic tone. The movie's ending might have confused some people because of this. If so, this article will tell you everything you need to know about "Beatriz at Dinner's" conclusion. Spoilers follow!
Beatriz at Dinner Plot Synopsis
Beatriz Luna is a dedicated health therapist who serves patients at the Arendale Cancer Centre by providing massage, aromatherapy, Reiki, and other complementary therapies. Beatriz travels amid rush hour traffic to the Birkhofers mansion for her massage appointment with seasoned client Kathy Birkhofers the day following her shift at Arendale. The latter is in desperate need of a massage before facing her husband's important work dinner and is hours away from a dinner party.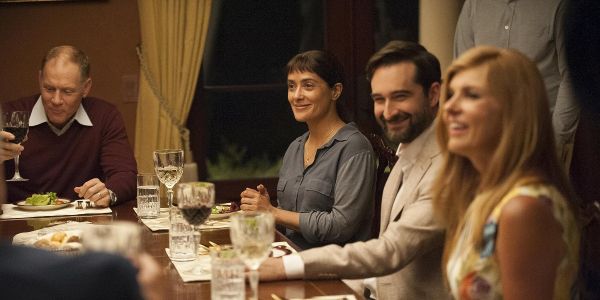 However, Beatriz discovers her car is broken down when she attempts to depart after the appointment. Even worse, it would be many hours before her mechanic buddy could drive to the neighbourhood to assist Beatriz. As a result, Kathy persuades her husband Grant to agree to let her bring Beatriz to the dinner since she will always be appreciative of Beatriz's contribution to her daughter Tara's post-cancer rehabilitation.
The first of the night's guests arrive, and Beatriz's strange presence starts to be felt. Young Alex and Shannon are eager to establish themselves in the business world. In contrast, Doug Strutt, who attends the party with his third wife Jeana, is a legend in his field and is accustomed to having people look up to him. Beatriz first tries to socialise with the visitors while putting up with their disgusting rumours and Doug's prejudice. However, things take a turn for the worst after Doug starts talking to Alex and Grant about his most recent endeavour, which involves defeating activists who are protesting and acquiring a contentious legislature.
Beatriz is frequently struck by a recurring memory from her past in Doug, but she is unable to identify it. Eventually, as Doug drones on about the joy of killing animals, his hunting pastime takes conversational centre stage. In light of this, he posts images of his most recent African excursion, during which he killed a rhinoceros in the wild. When Beatriz sees the image, she is appalled by Doug's brutality.
Due to the recent cruel death of her cherished goat, Jeronimo, and her mild intoxication, Beatriz is unable to control her rage and loses it, throwing Doug's phone at him and calling him nasty. After that, she apologises to Kathy for her outburst; however, despite her sympathy, Kathy advises Beatriz to spend the rest of the evening in Tara's room. Beatriz uses the break from the group to research Doug Strutt on the internet and find out about his several awful business practises, such as habitually hurting the environment and abusing his employees while only thinking about making money.
The same forces Beatriz to go back to the party, where she is unable to read the room or chooses not to. Beatriz rejoins the group and fulfils her promise to Kathy to sing a song for them. Beatriz criticises Doug's way of life after singing the Spanish ballad "Las Simples Cosas," which laments the desire to go back to a time that is no longer present. An debate between the two starts, with Doug adopting a hedonistic mindset and showing little concern for his negative impact on the world around him. When the Birkhofers can no longer take Beatriz's barbs at Doug, Grant finally drags Beatriz away from the party and gets a tow truck for her to depart.
Beatriz at Dinner Ending: Does Beatriz Kill Doug?
The main conflict of the story is the intense fight between Beatriz and Doug. Early on in their contacts, Beatriz develops a natural mistrust of Doug while Doug develops a cavalier and blatantly racist impression of her. When Beatriz was a small girl, a large American hotel company established a facility close to her hometown of Tlaltecuhtli, which caused severe harm. The hotel illegally took possession of the land and evicted the locals from their homes. Therefore, Beatriz worries if Doug has a connection to the tragedy when she hears about the opposition to Doug's land purchase.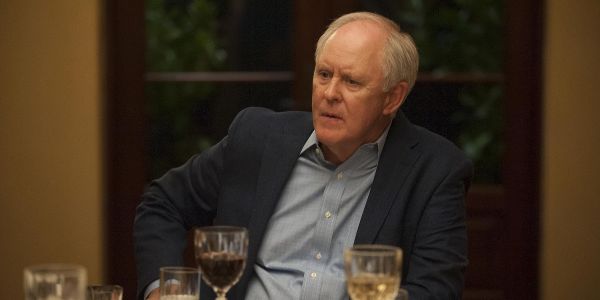 Although Doug, who despite repeated instruction can't even pronounce Tlaltecuhtli, admits he has never opened a hotel in that region of the country, the theory quickly disproves itself. Beatriz learns of the man's various unfair crimes throughout the course of his career, so the same is little comfort. Doug chooses to deprive his employees of their wages despite having amassed his money at their expense. Doug's "business" has used illegal means to amass a significant overall bad influence.
Doug enjoys the same as well, in fact. He is careless of the numerous people he crushes on his route to the top, much as how he relishes the excitement of hunting. His persona stands in stark contrast to Beatriz, who connects with everything around her. At the conclusion, Beatriz decides the party, which is full of obnoxiously wealthy people, is not the place for her, so she waits by the front door for the tow truck to come.
After having a business call during the same time, Doug meanders over to Beatriz and makes a point of approaching her and offering his ill-advised advice. Doug talks on life's fatalism and tries to justify his behaviour by saying that since death is inevitable, he should enjoy himself while he still has the chance. His view that life has no purpose because death would always come drives the last nail in Beatriz's coffin.
As a result, Beatriz comes to the house with a letter opener in hand and stabs Doug in the neck just as Beatriz is ready to depart in the tow truck. The murder is merely a fleeting illusion, though. Beatriz portrays an incredibly serene woman who can't even harm animals for food throughout the entire movie. Consequently, Beatriz's mere desire to kill Doug shows how the man literally pushes Beatriz to the brink.
Beatriz doesn't, however, actually end Doug's life. She abruptly comes to her senses, drops the letter opener, and walks out of the house without saying a word. Beatriz ultimately decides to uphold her integrity in the face of Doug's crimes. Her contact with Doug alters a fundamental aspect of her.
What Happens to Beatriz?
Beatriz stays affected by the experience after leaving Kathy's home. Throughout the entire night, Beatriz can be seen to be uncomfortable since she is clearly aware of the depraved behaviour of those around her. She sees a completely different side of Kathy as she viciously criticises a young actress for disclosing her personal photos. She also observes as Doug and the others demonstrate how their affluence has cut them off from reality.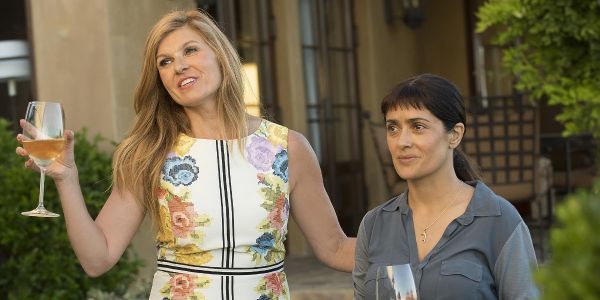 The group also frequently ignores Beatriz by chatting over her and only paying attention to her when she says something they don't like. Given her out-of-character violent fantasy, the entire evening exposes her to the darkest aspects of humanity and even herself. In order to go to the beach on her way home, Beatriz commands the tow truck driver to stop in the middle of the road and climb down the side.
Beatriz enters the water and plunges under while swimming towards the horizon. A short while later, the picture fades out and we see a young woman rowing a boat across a mangrove-lined river. Although the film's finale is unsettling and puzzling, Beatriz's narrative seems to be building towards this resolution the entire time.
Beatriz occasionally leaves numerous voicemails for Naroli, a former childhood friend. In one of these voicemails, Beatriz states that she longs for the days when she and Naroli were carefree in their Mangrove and content in their house. Similar to this, Beatriz decides to sing a song about being unable to go back to a comforting past when the time comes.
As a result, the movie's climax depicts Beatriz attempting to "swim back" to a simpler time. Beatriz longs to go back to the time before Doug, when everything looked brighter and better. Even while the analogy presents an idyllic picture, the reality is much more sinister. In the end, Beatriz drowns herself in the ocean because she has had enough of the world. Intentionally leaving the viewer's interpretation of Beatriz's story open-ended, the movie's conclusion. However, a conclusion in which Beatriz has a happy ending is significantly beyond the spectators' comprehension.
Did Doug Kill Beatriz's Goat?
When Beatriz offers Kathy a massage in the beginning of the film before the meal, the massage therapist talks about the passing of her goat, Jeronimo. Being a holistic individual, Beatriz has a number of pets, including two goats named Hercules and Jeronimo, as well as dogs. The goats have been living with her for years and have tremendously improved her life, however one neighbour finds them annoying. The goats bleat frequently and generate considerable noise by nature.
Beatriz makes an effort to maintain control of the situation and, for the most part, keeps her goats inside her house. She does, however, occasionally allow them to play outside in her garden. As a result, after one such incident, Beatriz discovers Jeronimo dead and with his neck snapped at the front door. It's possible that Jeronimo goes out of the garden and into the neighbor's path. Consequently, the latter shoots the animal dead, leaving his remains behind as a warning to Beatriz.
Beatriz is helpless to take action against the neighbour because goats are not permitted in the neighbourhood, and she carries the sorrow of losing Jeronimo with her. Before Beatriz inevitably flees to her final doom, Beatriz had a revelation about how Doug killed Jeronimo after leaving the supper in the tow truck. Beatriz claims that Doug killed her goat, but this is only a metaphor and not a true account of what happened.
The concept that Doug could be Beatriz's neighbour is obviously false given the film's significant focus on socioeconomic inequality. Beatriz does not specifically name Doug when she claims that he killed Jeronimo. Instead, Doug serves as a metaphor for the materialistic characters who make up the story's antagonists.
In Beatriz's story, the main antagonist is the world's ravenous greed. When she was young, a rapacious hotel owner took her ancestral estate and exiled her. Because of her status, she is frequently disparaged and neglected in society and is forced to establish her value. Doug, a criminal himself, is exempt from punishment because of his wealth, while Beatriz is required to prove that she has the right to remain in the country due to her ethnicity.
Another aspect of society that people like Doug dominate is shown by the neighbour who killed Beatriz's goat, placing Beatriz at the bottom. As a result of the countless pain they cause, Beatriz accuses every Doug in the world of being responsible for Jeronimo's passing. Beatriz accused Doug of metaphorically, not literally, killing her goat.