The mystery surrounding the disappearance of Sydney West, a 19-year-old college student, from San Francisco, California, in late September 2020 is the subject of Investigation Discovery's "Disappeared: A Vanishing At The Golden Gate State Bridge." She was last reportedly seen on the Golden Gate Bridge on September 30, 2020, at around 6:45 a.m. PT. Sydney vanished about three years ago, and many people are still curious about her whereabouts and whether she came back. Here is all we know about the subject in case you are interested in learning more.
What Happened To Sydney West?
On July 11, 2001, Jay and Kimberly West welcomed Sydney Kaitlyn into the world in Walnut Creek, California. Before her family relocated to Pleasanton, California, where she spent the majority of her life, she temporarily lived in Castro Valley. She played volleyball for the varsity squad at Foothill High School in Pleasanton, where she was a standout performer and co-captain. She was a gifted musician who created, recorded, and performed her own music in addition to playing sports. During the middle of her sophomore year of high school in 2017, her family relocated to Chapel Hill, North Carolina.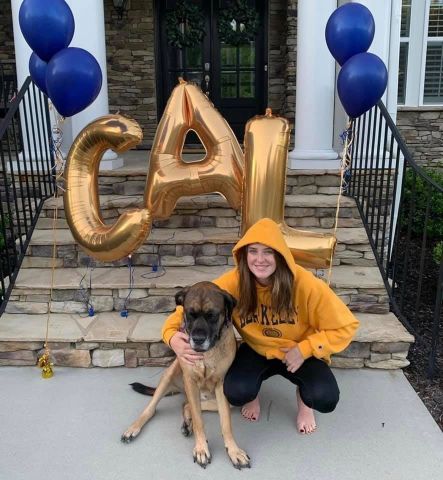 Sydney took a year off from school after graduating from Carrboro High School in 2019 to travel and spend time with her family after learning she had been rejected from her top-choice college. She travelled with her family in Australia during her gap year. In order to enrol in summer courses at the University of California, Berkeley, she relocated back to California in August 2020. She had been looking forward to attending her dream institution since she was passionate about volleyball, music, the environment, animals, and the environment. For her first year at UC Berkeley, Sydney relocated.
The programme did mention that she had a severe concussion as a result of an accident at a North Carolina lake in the summer. She had postponed until the fall 2021 semester and was residing with her relatives in the Bay Area of California in the interim because classes were shifting online in 2020 as a result of the Covid-19 pandemic. The 19-year-old was last reportedly spotted on the Golden Gate Bridge in San Francisco at around 6:45 am PT on September 30, 2020. She entered the Golden Gate Bridge, where she frequently worked out in nearby Crissy Field, and then vanished.
Sydney's family mentioned that she adores the location and frequents it for photo opportunities, scenic strolls, and running. Her family is quite close to her, according to her parents, and she communicates with them frequently. According to reports, she and Jay spoke on the phone for a while on September 29 in the evening. He reportedly became concerned when she didn't call her parents the next day. On October 1, 2020, Sydney's worried family called the police in Orange County, North Carolina to report her missing after making numerous unsuccessful attempts to contact her.
Is Sydney West Dead or Alive?
Sydney had spoken to her family the evening of September 29, the night before she vanished, and she had made every indication that she would phone them again shortly. They had several hours of conversation and talked about love one another, according to her father, Jay West. I spoke with her on September 29th, he continued. We had a lengthy conversation. I completely anticipated speaking with her the following day. And I anticipate speaking with her again. The San Francisco authorities received the missing person complaint from North Carolina right away, and a report was likewise submitted there.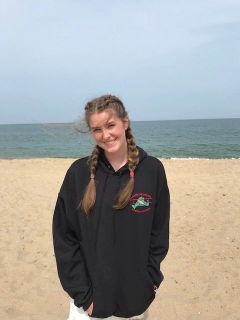 In order to get to the Golden Gate Bridge, according to police sources, Sydney used a ride-sharing service. The San Francisco Police Department (SFPD) spoke with the driver, who was completely cooperative and disqualified as a suspect. Kimberly, Sydney's mother, said, "Before she went out there, she was really struggling with screen usage. She wasn't meant to spend any time on screens, but because classes were entirely online in the autumn of 2020, she did. Everything was therefore digital. and she merely stated that she was incapable.
According to a Los Angeles Times article from 2022, 1,800 people had died on the bridge. Sydney had experienced loneliness and isolation after switching to virtual classrooms that autumn. According to a news release from the SFPD on October 2, 2020, she was "at risk [for suicide] due to depression." Her family says that the tale is more complicated. According to Jay, "a lot of people have said, 'Well, it's apparent what occurred. The Golden Gate Bridge was where she was. But he claimed that given her love for her family and excitement for college, his daughter wouldn't make such a radical decision.
In addition, he said, "I just find it [hard to believe] she would just leave all of that." Sydney's backpack was discovered on the Golden Gate Bridge after she vanished. The family and Scott Dudek, a private investigator from California, were given access to the security video from the bridge more than two years after she vanished. This film refuted the suicide claim. Fog is seen sweeping over the Golden Gate Bridge as well as smoke from adjacent wildfires in CCTV footage that is not available to the general public and is only seen by bridge personnel.
First of all, Scott noted that it was approximately 6:45 in the morning. quite packed. She sort of vanished into the mist even though it was foggy. You'd think someone would have called if someone had climbed up on the rails among all those people and bike riders, but that never happened. You'd also think someone would have attempted to speak with her in light of all the exposure, but that also never occurred. He added that a park below the bridge was filled with people taking pictures, watching birds, and participating in sports.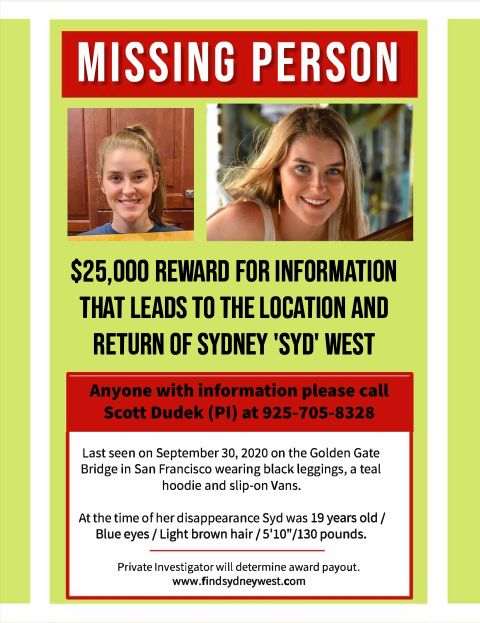 Sydney's family made a $10,000 offer in February 2021, but when the six-month mark of her absence rolled around the following month, they more than doubled it in exchange for her safe return. They currently offer a $25,000 reward for any information that helps find their girl. Hundreds of tips have reportedly been given to them since their daughter vanished, but none have resulted in her return. That's what we continue to hope, according to Kimberly, "that there was someone who perhaps doesn't even realise they saw something."