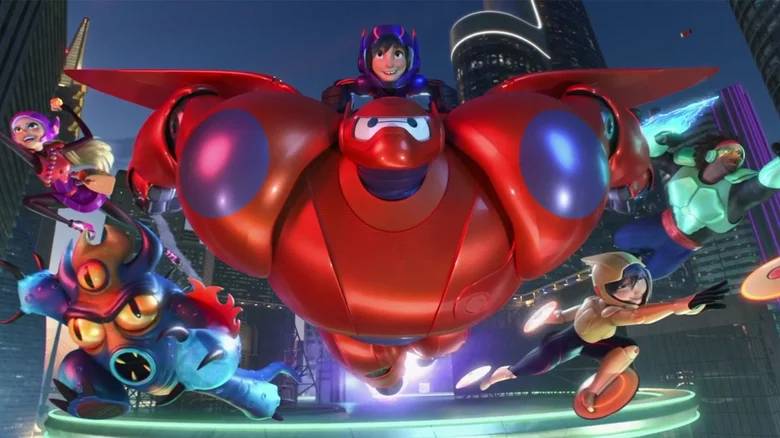 Big Hero 6 (2) Sequel Happening Or Not? Technically Big Hero 6 Already Has a Sequel
In 2014, Walt Disney Animation Studios brought the Marvel Comics superhero team "Big Hero 6" to the big screen with a family-friendly twist. In the imaginary metropolis of San Fransokyo, the film followed a young robotics prodigy named Hiro (Ryan Potter). Hiro is left with his older brother Tadashi's passion project, an inflatable robot named Baymax (Scott Adsit) meant to take care of people, after Tadashi sadly dies. When Hiro discovers a hazardous conspiracy involving his brother's death, he transforms Baymax into a crime-fighter and teams up with a group of high-tech heroes to rescue the day.
"Big Hero 6" was a tremendous movie office success, grossing almost $658 million. Even with a budget of $165 million, Disney has achieved amazing accomplishment. So why hasn't there been any news of a sequel in the works? Is there a chance that "Big Hero 6" may get a sequel after seven years on the big screen? The quick answer is yes, but it doesn't appear to be happening anytime soon.
Big Hero 6 Technically Already Has a Sequel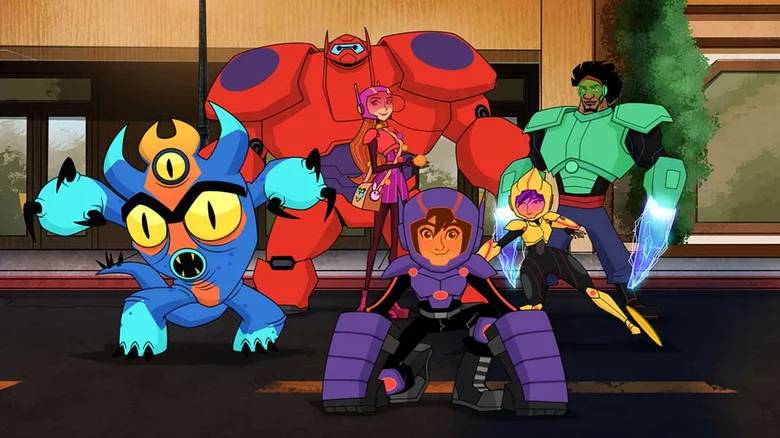 Despite the fact that a "Big Hero 6" sequel has yet to be released, the heroic team's adventures were continued in "Big Hero 6: The Series" on Disney Channel and Disney XD. The series began with "Big Hero 6: Baymax Returns," a 43-minute episode that served as an extended pilot for the series that would follow. It was constructed with hand-drawn 2D animation rather than 3D computer animation. Hiro (Ryan Potter) and Baymax (Scott Adsit) reunited with Go Go Tamago (Jamie Chung), Wasabi (Khary Payton, replacing Damon Wayans Jr.), Honey Lemon (Genesis Rodriguez), and Fred (Brooks Wheelan, replacing T.J. Miller) to embark on high-tech adventures as they protect their city from a variety of scientifically enhanced villains.
"Big Hero 6: The Series" ran for three seasons, with the third season having a shorter order of only 10 episodes, each averaging roughly 11 minutes in duration, as contrast to the previous two seasons' 22-minute episodes. On February 15, 2021, the series came to an end, with cast members stating that there will be no fourth season. But the story of "Big Hero 6" is far from over.
Baymax! is Coming to Disney+ in 2022

Walt Disney Animation Studios announced the development of a new animated series named "Baymax!" that would be released on Disney+ last December during Disney's large Investor's Day livestream event. The series, which is set to premiere in 2022, will follow Baymax as he works as a nurse in San Francisco. Although it doesn't appear like the series will involve much superhero action, it's possible that Baymax's routine medical care could be disrupted by a variety of adversaries. On the other hand, he could find himself coping with a range of medical disasters.
Unlike "Big Hero 6: The Series," the new "Baymax!" series will be produced by Walt Disney Animation Studios, marking the company's first foray into television. They usually exclusively make feature-length animated films, with Disney Television Animation handling any spin-offs from the big screen.
It's unclear whether "Baymax!" will reference the events of "Big Hero 6: The Series" or if the new series will lead to a big-screen sequel, but "Big Hero 6" fans will have something to look forward to in the meanwhile. Regrettably, they may have to wait a long time.
What's the Status of a Big Hero 6 Sequel?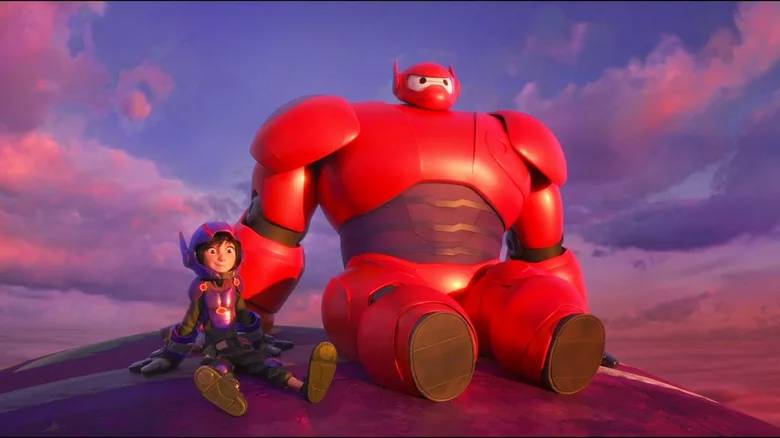 There isn't a "Big Hero 6" sequel in the works right now. Even after the film's release in November 2014, directors Don Hall and Chris Williams were hesitant to start working on a sequel since they were weary from completing the first. In a February 2015 interview with Creative Screenwriting, Hall said:
"It was a lot of fun, but it took a lot of time and effort. For us, this is a really emotional time. These are characters we've grown to love; now it's time to let them go, and they'll be out in the world without us. We're in the midst of it right now. So far, we haven't discussed or considered any sequels or similar projects."
"We want to get through the launch of the film, take some time off, and then once we're a bit more rested, we'll have more time to think about that type of thing," Williams said. However, Hall ended any sequel talk on a little more upbeat note by saying:
"Having said that, we adore these characters, and the prospect of working with them again in the future is tantalising… [A sequel] must feel as if it is a story that either has to be told or deserves to be told. It can't merely be a cash-in on a prior film's popularity."
Since then, Zach Parrish, the film's head of animation, has brought up the possibility of a "Big Hero 6" sequel. He told Collider, "Though I didn't give any details on a sequel coming together behind the scenes," "I believe there is still a lot of room for improvement. There's still a lot of time left. The beauty of animation is that we can pick up where "Big Hero 6″ left off or go forward in time. Because it's animation, we can go wherever we want."
Animated sequels often take longer to complete, owing to the lengthy production process that animation necessitates. It will be a long time before we see a sequel to "Big Hero 6," because one isn't even in the works right now. For the time being, fans will have to hope that there will be enough interest to return this heroic team in the future, and that they will be able to see what Baymax gets up to in his own series next year.