According to CBS' "48 Hours: The Plot to Kill Jamie Faith," the tragic murder of American Airlines CEO Jamie Faith in October 2020 was meticulously documented. The inquiry into the terrible incident uncovered a complex scheme to conceal Jamie's wife Jennifer's murder. Darrin Lopez, her lover, is accused of killing Jamie. Although there is already a great deal of information about Jennifer's conduct, let's shed some light on Darrin's claimed involvement in the jolting case.
Who is Darrin Lopez?
Darrin Ruben Lopez, who was born on June 7th, 1972, started dating his classmate Jennifer in high school and continued to do so throughout college. They started dating with the intention of getting married, but they split up when she was finishing college and he was being deployed to South Korea. Darrin continued to work for the Special Forces for 26 years as a medical sergeant. While serving in Iraq, he sustained a catastrophic brain injury that left him disabled.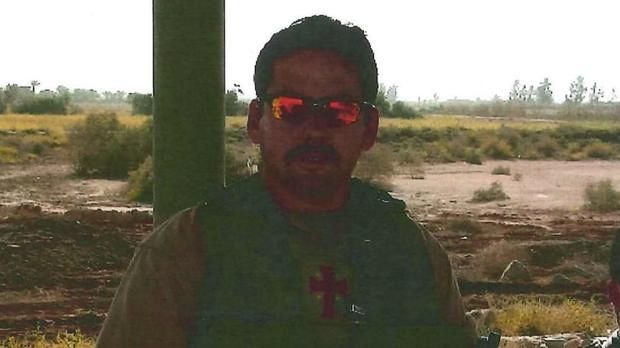 Following his retirement, Darrin relocated to Cumberland Furnace, Tennessee, where he was probably living apart from his daughters. He found Jennifer and got in touch with her. She was living in Oak Cliff, Dallas County, with her husband Jamie Faith, an American Airlines technology director, at the time. Around March 2020, Jennifer and Darrin started communicating again via messages, emails, and phone conversations, and their previous sentiments quickly returned. I love and miss you very much," he wrote in an email to her dated April 6, 2022.Dream of our future together often. Continue to plan our futures together.
Jamie supposedly knew about Jennifer's emotional affair with Darrin, which she secretly had with him. Later, she set up two fictitious email addresses and pretended to be her husband and an ex-coworker. She then started telling her boyfriend that Jamie was supposedly abusing her physically and sexually. She sent emails with stock photos of injuries she had got from the internet to support her claims.
With these fictitious communications, Jennifer persuaded Darrin to believe Jamie was an abusive husband and that her only goal was to get back together with him. Darrin apparently drove to Oak Cliff, Dallas County, and waited in the vacant home adjacent to the Faith property after being extremely enraged about Jennifer's situation. On October 9, 2020, around 7:30 am, Jennifer and Jamie took their dog Maggie for a stroll. That's when a disguised Darrin is said to have approached them from behind and shot the spouse of his lover dead using a.45 calibre handgun, according to Jennifer's plea statement.
Jamie was shot a total of seven times, three times in the chest, three times in the groyne, and three times in the head. Then, accord ing to the authorities, Darrin taped Jennifer's hands and took her jewellery before giving up and leaving in his black Nissan pickup truck. In the entire incident, Jennifer suffered only minor injuries while Jamie passed away instantly. Jennifer and Darrin communicated often via text messages while the inquiry got underway, particularly in the 12 days after the murder. But when the cops discovered all of their correspondence on Jennifer's mobile, they quickly learned about the evil scheme.
On the day of the murder, a neighbour took a lucky photo of Darrin's truck as he fled, and a different neighbor's security camera also caught the entire episode. The authorities observed the aforementioned truck after conducting aerial surveillance of Darrin's Tennessee home and came to the conclusion that he might be their suspect. When Jennifer learned of this, she demanded that Darrin take down the "T" sticker from his truck that could be seen in the video.
In addition, Jennifer used $58,000 of the $60,000 in GoFundMe contributions she had received to give him pricey gifts including a TV and tickets for him and his kids to flights. In addition, she gave him two of her credit cards and filed a claim with the insurance company to receive $629,000 from Jamie's employer's death benefits. On January 11, 2021, Darrin was taken into custody at his house by the police. It appears that they were working together to make their cover stories appear to be the same.
Darrin's home also yielded the suspected murder weapon, the mask he was wearing—which Jennifer had described to the police—and both of her credit cards. Despite his incarceration, she kept in touch with him in jail via an unidentified third party, sending texts expressing her love for him.
When Darrin was taken into custody after Jennifer's arrest for obstructing justice in February 2021, he asserted that she had asked him to kill Jamie and that he had done it to "protect" her from her husband. He claimed that he had shot Jamie in the groyne as punishment for Jennifer's accusations of sexual abuse, as depicted on the episode. In October 2020, she was additionally charged with interstate commerce in the commission of murder-for-hire based on his evidence.
Where is Darrin Lopez Now?

Jamie Faith's murder and a federal firearm offence were both accusations brought against Darrin Lopez, who entered a not guilty plea to both. He is being detained at the Dallas County Jail while awaiting trial. He faces a maximum sentence of 10 years in federal prison for the gun crime accusation and a maximum sentence of life in a state jail for the murder charge, both of which were brought by Dallas County. In the meantime, Jennifer was given a life sentence after entering a guilty plea to the murder-for-hire allegations.
Being a binge-watcher himself, finding Content to write about comes naturally to Divesh. From Anime to Trending Netflix Series and Celebrity News, he covers every detail and always find the right sources for his research.