The most recent edition of the Crime Junkie Podcast details the puzzling disappearance of Donyelle Johnson, a 21-year-old college student, in early April 1989. She was last spotted leaving her Largo, Florida, home for class, but she never arrived at her institution. Many people are curious about Donyelle's whereabouts and whether she has returned home after more than three decades have passed since she vanished. Here is what we know if you're interested in learning more about the same.
What Happened To Donyelle Johnson?
On November 14, 1967, Donyelle Chrishum Johnson was born in Largo, Pinellas County, Florida, to Mack and Juanita Johnson. On April 4, 1989, the 21-year-old was last seen leaving her home to go to class at St. Petersburg Junior College in Clearwater, Florida. She didn't go to class or show up at the school that day, though. When Donyelle did not come home as expected, her parents became concerned and called the police on April 6. They received a letter the same day that purportedly came from their daughter telling them where she was.
The letter said, according to the programme, that Donyelle was using drugs and had relocated to Orlando in order to "straighten out her life." Handwriting experts analysed the text, which was written in the first person, and came to the conclusion that the missing girl actually wrote it. Between Belcher Road and East Bay Drive in Largo, the officers found Donyelle's vehicle abandoned as they started their search for her. According to police sources, it was reported by an unnamed caller who gave his name as "Johnny Bailey."
The caller had advised the towing service that the car needed to be towed due to problems. The enigmatic "Johnny" has yet to be identified by the authorities, though. The 1987 Nissan Pulsar had no issues prior to the arrival of the tow truck, but the driver did notice a loose battery connection. Additionally, he was unable to find the man who had made the call. Naturally, the investigators were baffled as to how the purported "Johnny Bailey" knew the car needed to be towed and had "issues".
Is Donyelle Johnson Dead or Alive?
Donyelle Johnson, regrettably, is still missing as of this writing, and authorities are currently investigating her disappearance. In 1989, Mack and Juanita reported to the police their recent discovery that their daughter, who was 21 at the time, was having an affair with a married, older man called Cleveland Hill Jr., who was 41 at the time. When she arrived with a pricey car he had given her in early 1989, the parents learned about the connection. The investigators also spoke to Donyelle's acquaintances and discovered that Cleveland used to shower her with pricey presents and cash; the programme noted that he allegedly paid her a large sum of money twice a week.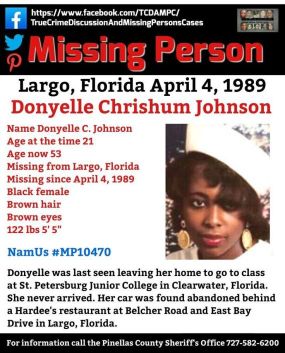 When Donyelle's parents found out about the connection, they instantly saw the warning signs and told her to give back the gifts, including the automobile. Additionally, Mack revealed to the detectives that he had a disagreement with Cleveland just days before his daughter vanished. He asserted that Donyelle was ready to quit her connection with her older partner since she could now finally reason. However, Cleveland was unwilling to let her go and had unexpectedly dropped by her home, which sparked a contentious dispute with Mack.
Mack Johnson III, Donyelle's brother, recalled the incident and how his father had yelled, "Leave my daughter alone!" In response, Cleveland allegedly said, "Well, you better enjoy your daughter because this may be the last time you see her." Mack claimed this was Cleveland's terrifying response. Additionally, according to Donyelle's family, Cleveland previously threatened her when she wanted to break up with him by saying he could "make people disappear." The asphalt company contractor had a murky reputation, according to the police's investigation into Cleveland's past.
Cleveland's daughter Tenesia Mbow stated, "He was a husband, a son, a preacher — but yet practised black magic — an entrepreneur, millionaire, adulterer, felon, drug trafficker, and suspected murderer." Growing up, she remembered seeing him drive his truck, the words "Black Magic" etched on it. She went so far as to claim that he "practised black magic" and allegedly abducted his wife before taking her to a cottage in the Georgian woods "where he worshipped the devil."
At least seven relationships were reportedly had by Cleveland, including three missing women: Margaret Dash (38), Retha Hiers (43), and Donyelle. On June 14, 1974, Margaret had disappeared while she was leaving her Clearwater home to buy medication for a sick cousin. Three days after Christmas in 1982, Retha disappeared. Similar to Donyelle's, both of the women's cars had vanished and been discovered abandoned. Four women had filed paternity cases against Cleveland, according to court documents.
Although Cleveland had always insisted he was not emotionally attached to any of the three women and was not responsible for their disappearances, the detectives suspected him in all three cases. In a 1989 interview, he even said, "Maybe they just left." Betty Jean, Cleveland's wife, testified that he beat and mistreated her until she left for her parents' house in February 1968. In her podcast about her father, their daughter also detailed the domestic violence and threats.
After murdering his mother-in-law, Josephine Hillmon, four times, Cleveland turned the revolver on Betty and shot her in the mouth and the back of the head four days later. Despite the fact that both women miraculously lived, he was arrested on two counts of attempted murder. Cleveland was nonetheless convicted guilty of assault by a jury and given a five-year probationary period. He received prison time for breaking the terms of his parole and was released in 1971. Two weeks following his release, Betty had to remarry him because of her faith.
Betty's daughter said in her podcast that she had once dared to question her husband over the missing women. If you keep messing with me, I'll tell you what happened to those women, he allegedly answered. I have the power to teleport individuals. Cleveland, who was in his 70s, reportedly passed away in 2018. He was never accused in any of the three missing women's disappearances. He remained the major suspect in all three cases, though. In July 2022, the authorities dug up a building at 1201 Gooden Crossing in Largo, Florida, but no corpses were discovered.
Our Team DCS includes 5 different writers proficient in English and research based Content Writing. We allow them and encourage them to follow the Entertainment news all day long. Our posts, listicles and even the exclusives are a result of their hard work.