10 Drug Addiction Documentaries on Netflix That'll Scare You For Good
Disclaimer : Description about drug addiction and Drugs
Almost everyone knows someone who has struggled with drug addiction at some point in their lives, whether close or far away. It may be a distant relative or a classmate, but the sheer likelihood of it only serves to demonstrate that the situation is deteriorating with each passing year. Yes, there are several resources that provide assistance or knowledge on such topics, but there are also many stigmas associated with them, with many people failing to recognize that no one wants to be an addict.
To be honest, it's usually just a minor blunder on their part that takes them down this dark path, which could have easily been prevented if they had a better understanding of not only the consequences of their conduct, but also what drugs are. So, here's a list of several harrowingly honest narcotics-related documentaries available on Netflix. You'll find a wide range of films and series here, from those dealing with addiction to those delving into the infamous concept of the drug war.
Cocaine (2005)

To eliminate a problem, you must first investigate its root cause. You must learn everything you can about it, right down to the fundamentals, since only by understanding where it comes from will you be able to do something to permanently remove it. Cocaine is one of the most regularly used narcotics, and its causes and consequences extend far beyond the addicts we see in our neighborhood. The three-part documentary series 'Cocaine' tells a never-before-told story, from the drug lords who profit from it to the farmers who are compelled to do whatever to survive in this farmer-unfriendly society.
Dope (2017)

Vices are not conquerable in a single day; they must be fought, if not won, on a daily basis. Every day, remind yourself that what you're doing is worthwhile and encourage yourself to work more. This is, at least, what law enforcement officers do. These individuals do not fail in the face of an endless war with drugs, even when it appears that they are on the losing end. They are not, however, the only ones involved. Some addicts, particularly those in recovery, are forced to enroll in a course that may be described as personal hell in order to avoid certain death. These people's efforts are admirable, but will they be enough to keep them alive? 'Dope' is the answer.
Drug Lords (2018-)

We know that antiheroes never have a happy ending after witnessing so many stories about them. Karma never fails to deliver, no matter how wealthy they become, how many people they kill in the process, or how far they flee to avoid retribution. 'Drug Lords' tells the story of a variety of such characters, from those who have ruled the drug trade to those who have functioned as nothing more than rooks carrying out the orders of some other giant. In the drug industry, everyone has a job to play, and when the time comes, everyone will pay their dues.
Heroin(e) (2017)

Opioids are perplexing; they're not legal in any manner, shape, or form until medically prescribed by healthcare providers, but they're nevertheless prevalent in most areas. 'Heroin(e)' follows three women – a fire chief, a judge, and a street missionary – as they try to combat the horrifying opioid epidemic in Huntington, West Virginia (the epicenter of the crisis). This Oscar-nominated film, directed by Elaine McMillion Sheldon, gives us an authentic insight into the reality of heroin abuse, with a particular focus on the devastating cycle of its abuse.
Highland: Thailand's Marijuana Awakening (2017)

Every country has its own unique cultural, political, and economic circumstances. Some gestures that are stylish or accepted in one culture may not be so welcome in another. A similar argument can be made for marijuana. It may not be a major concern for the American economy, but it casts a different light on Thailand. 'Highland: Thailand's Marijuana Awakening' recounts the events that led to the legalization of marijuana in Thailand, as well as how it altered the country's political and economic atmosphere. This documentary has the potential to be a fantastic educational experience for both cannabis and white elephants!
Murder Mountain (2018)

This one is for individuals who want to learn about drugs while simultaneously viewing a true-crime documentary. Set against the misty backdrop of North Carolina's Humboldt County, 'Murder Mountain' focuses on the region's marijuana economy as well as the killings that occurred there. Several others have also vanished from this location, but the saddest part is that the vast majority of these cases are still unresolved. One such case is Garret Rodriguez's inexplicable yet horrible death, which this six-episode documentary dives into while alerting viewers up to this place's cutthroat marijuana market.
Recovery Boys (2018)

'Recovery Boys,' directed by Elaine McMillion Sheldon, is a documentary about four men who are trying to reinvent themselves and reenter society as sober individuals after years of drug usage. They'd formed an unbreakable friendship while healing together in a farm-based rehab, which means they'll be there for each other in the real world as well. To be honest, this 2018 film can only be classified as a masterpiece because of the various yet similar storylines of identity, survival, temptation, and resilience.
Take Your Pills (2018)

Everyone has an addiction to something, whether it's food, drugs, or simple pleasures like music or reading. While the majority of the world is focused on keeping their children away from drugs like marijuana, cocaine, and heroin, another type of drug is gradually taking over their lives. It's no secret that today's world is a cutthroat competition, and those who expect to endure the strain must maintain their wits about them. As a result, many people have turned to prescription medicines, particularly Adderall, for comfort or a boost. Some may feel that pills aren't as harmful as heroin because they're not as hard to get, but 'Take Your Pills' shows them wrong.
The Business of Drugs (2020)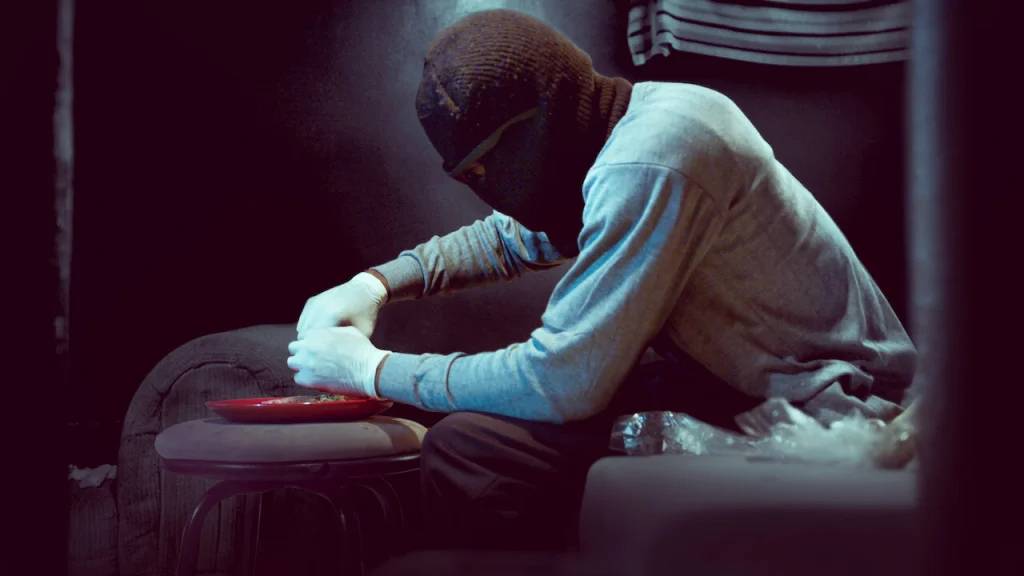 'The Business of Drugs,' as the title suggests, is a documentary series aimed at understanding the origins and actual impact of many types of strictly restricted narcotics. In other words, it follows Amaryllis Fox, a former CIA analyst, as she analyzes the economics of six illegal substances in order to uncover how they cause people to lose all inhibitions and consequently engage in extremely dangerous activities. This six-part miniseries also looks at farming, smuggling, and sales to show that drugs are never just for fun; they have far-reaching consequences that affect more than just the people who use them.
The Legend of Cocaine Island (2019)
Treasure hunts are a lot of fun. You get to play Sherlock Holmes, solve puzzles, and discover fascinating things. Although it appears to be a fun game for kids, some adults make a life doing exactly this. Every year, expeditions are organized in search of a lost treasure or the truth behind a legend. 'The Legend of Cocaine Island' tells the account of a man on a quest for $2 million worth of cocaine. The trip to this treasure, like any other treasure hunt, will be fraught with difficulties. Will he be able to overcome them and make a positive change in his life, or will he eventually give up?