Josh Allen and Hailee Steinfeld can't keep their hands to themselves! The alleged pair was recently photographed engaging in intimate physical contact while enjoying a romantic Fourth of July getaway in Mexico.
The Spider-Man: Across the Spider-Verse actress and the Buffalo Bills quarterback can be seen cuddling up in photos obtained by the news organisation Page Six. Continue reading to find out more information about Hailee Steinfeld and Josh Allen's vacation in Mexico.
Hailee Steinfeld and Josh Allen seemingly confirm their romance during their romantic vacation in Mexico
In Mexico, Josh Allen and Hailee Steinfeld are having the time of their life. The rumoured couple's excursion to Mexico over the Fourth of July holiday resulted in photos being taken of them while engaging in PDA. The American actress and the sportsman may be seen making out while swimming in the pool in Los Cabos in one of the pictures Page Six obtained.
Hailee wore a red bikini and a straw bucket hat for the pool day. Her outfit was completed by a pair of black sunglasses. Allen, on the other hand, was sporting a pair of vibrant swim trunks. He added some sunglasses to complete his appearance.
In one picture, Hailee was holding Allen by the neck while they were kissing. As they embraced one another, the two lovers appeared enamoured. Josh later pulled out a GoPro to record the event.
Steinfeld and Josh stepped outside to take advantage of the summer sun after spending some time lazing in the pool. In one other's presence, they appeared to be very content. We have to admit that they are a cute couple.
When did Hailee Steinfeld and Josh Allen spark dating rumors?
When the two of them were photographed out and about in New York City in May of this year, the Marvel actress and the NFL star initially fueled romance rumours. On May 26, they were spotted out on a date.
Rumours that Allen and Brittany Williams, his longtime girlfriend, had broken up accompanied their relationship rumours. The Post reported in April 2023 that Josh's Instagram account had been unfollowed by Brittany, a Pilates instructor.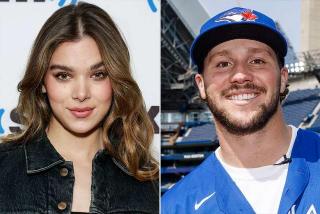 Hailee, on the other hand, has always made an effort to hide her private life from the prying eyes of the cameras. According to a source close to the Hollywood actress, the couple was relaxing in June, according to People magazine.
They are still dating and getting to know each other, an insider revealed at the time. However, they won't put too much pressure on things because of his intense schedule during training camp and will instead wait and see how things turn out. They are a "cute couple," according to a source close to Steinfeld, who also said in May that "it's new, but they are having fun."
Do you believe Josh Allen and Hailee Steinfeld would make a compatible couple? Please share your opinions about the couple in the comments section below. Keep checking back with us for the most recent information from the entertainment industry.