Every one of us has heard about haunted houses, haunted places, etc. But we often think of them as existing somewhere far off or rather in stories. In this article, we are going to explore some famous and some not so famous haunted places around you. Starting with the city of dreams, Here are some of the most haunted places in Mumbai
1) Vrindavan Society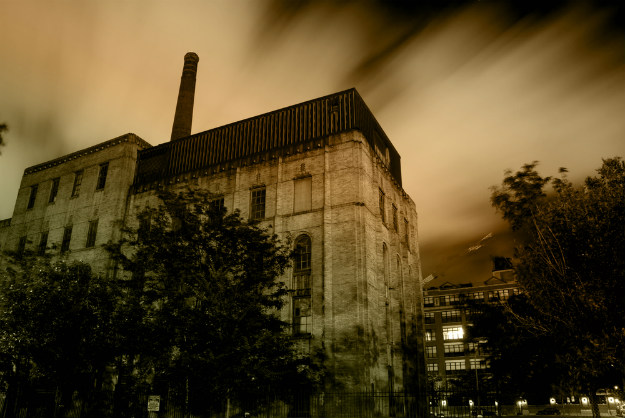 Vrindavan Society in Thane is very notorious due to its slapping ghost. The haunting by this ghost started post suicide of a middle-aged man in building no 6B. After this unfortunate incident, anyone who comes late gets tight slaps from this ghost. In an otherwise funny side to this scary story, once the watchman of this building got slapped so hard that he fell back in the chair. And since he thought the other watchman slapped him, they got into a fight. However, on further investigating the apartment of this tragedy, nothing was discovered. Often the residents of this society complain of queer sensations in the vicinity of the building.
2) Thakur College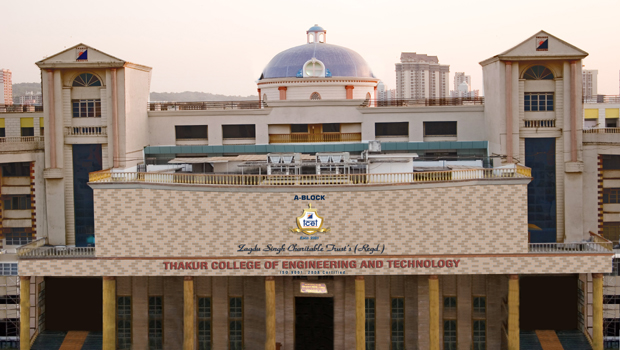 In the basement of Thakur College, while shooting for Aatma, Bipasha Basu, famous actor saw something very peculiar. She said "A photograph of Dr. Ambedkar that had slipped during a 'take', miraculously took a big jump up, moving left and right before correcting its position on the wall. "It happened out of frame but was captured on camera. We all saw it on the monitor".
3) Aarey Milk Colony
Undoubtedly one of the most scenic roads in Mumbai, this area gets converted into a horror story after 10 pm every night. The most common story heard is of a lady ghost who often asks for a lift and when given one makes the drive nightmare of your life. She is sometimes accompanied by a kid, residents claim that when they run their car at high speed she sometimes runs a long distance with the car and screams to make them nervous. The residents have come to this agreement that they won't stop the car for any reason if they are travelling late by Aarey Colony Road to avoid this evil spirit.
4) Tower of Silence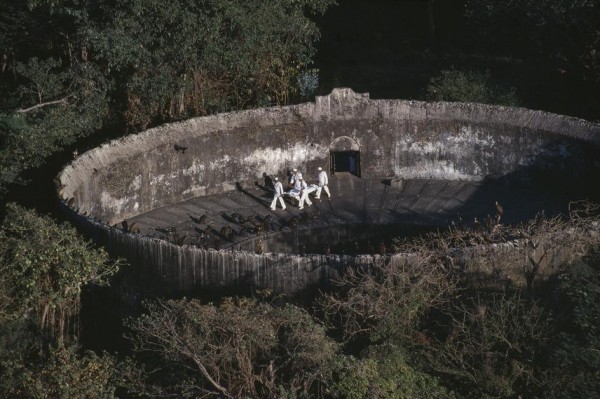 This 80-year-old dokhmas or roofless towers are used as the last lying place by Parsis before they become one with nature. The winding road that leads down the hill is particularly desolate and scary at night which makes it feel haunted. It is one of the most popular haunted places in Mumbai.
5) Grand Paradi Towers Kemp's Corner Mumbai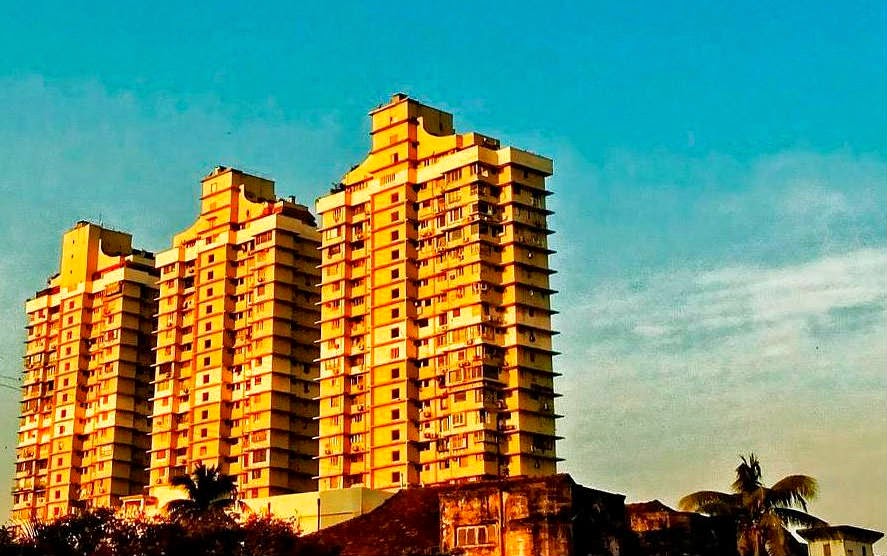 Unarguably one of the poshest locations in the financial capital of India, this building has seen as many as 20 suicides since 2004 when it was built. The freak incidents started with the suicide of a couple, followed by the jumping of their children & grandfather the next year. Over years, incidents of maids, children falling or jumping off a window have been reported. To appease the evil forces, the society then held a puja & havan, post which everything has stopped but the flat of the unfortunate incident remains unoccupied.
6) Mukesh Mills
Mukesh Mills Colaba is a renowned in film circles for shooting. Originally built in 1870, this mill came to be deserted after a fire. Now it is used as a shooting location. A lot of people from film fraternity are uncomfortable shooting here. The most famous incident reported in this place is that of a TV actress getting possessed by a ghost and warning off the staff to clear out of the place in a male voice. This location of the famous "Jumma chumma de de" has always put people on edge following that incident and is among the spookiest and haunted places in Mumbai.
7) Juhu Pawan Hans Quarters

According to the residents of this area, a 20 year old girl Salma set herself ablaze in 1989 for unknown reason. Since then she can be seen running still on fire into a peepal tree. The residents have built a Hanuman temple to protect from harm.
8) Santa Cruz West
This spirit referred to as" 2nd floor ki bhabhi" as residents are scared to take her name, committed suicide after a fight with her husband. And after that a large black dog appeared out of nowhere and made that 2nd floor corridor his home. A veiled lady often strolls in the corridor & then the dog lets out a series of howls.
9) Mahim – The D'Souza Chawl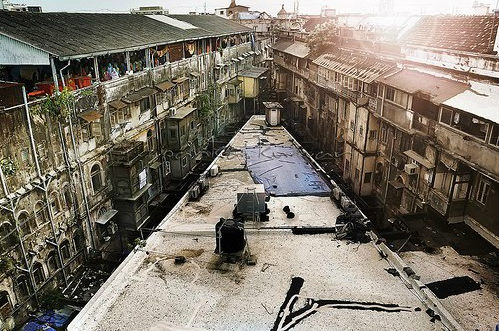 It is believed that a spirit of a deceased lady roams around the corridors of this chawl and has been seen many times near the well which is not in use anymore. People used to fill drinking water and also wash dishes from this well. Once a local lady was trying to fill water from the well when the wall collapsed and the lady fell into the well. She died immediately. Since then her spirit roams around the premises but does not harm anyone. The spirit vanishes with sunrise.
10) Mahim – Nasserwanj Wadi 
Located within a few minutes distance from Mahim railway station, Nasserwanj Wadi is said to be a spooky haunted place in Mahim that possesses the spirit of the murdered owner who was brutally burnt to death. No local likes to venture after midnight. Popular rumours suggest that place once belonged to a Parsi gentleman named Nasser, who was brutally set on fire and murdered in a cabin close to the well that is in the compound.
11) Sanjay Gandhi National Park

In the northern suburbs of Mumbai, this huge park area is for spotting wild animals, however sometimes you can spot something more than just wild. If rumours be believed, at night, some of the passers-by have spotted a phantom hitchhiker that asks for lift, even the guard of the park can vouch for it.
12) Mahim – Ram Sakit Building, behind Paradise cinema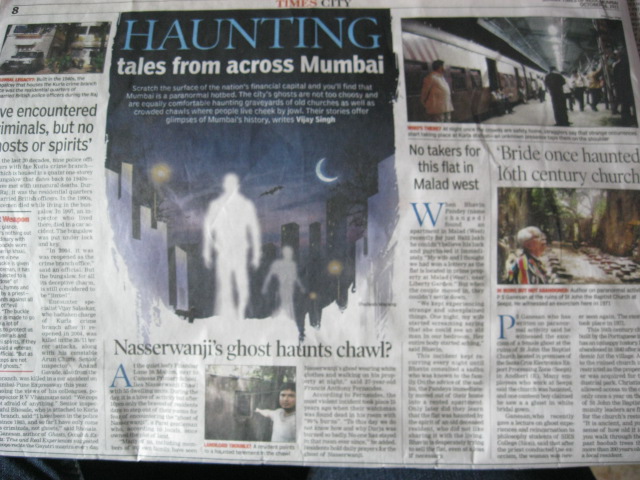 There is a sealed well in its compound which is rumored to posses the spirit of a 50 year old Maharashtrian lady Sulochana who died after falling into it 20 years ago. The entire neighborhood believes she still appears during Amavasya and vanishes in the morning. The belief is said to be so strong that a person called Richard, who claims to be the landlord, carries out exorcisms of laying flowers on the well every day, to mollify the spirit.
13) Marve and Madh Island Road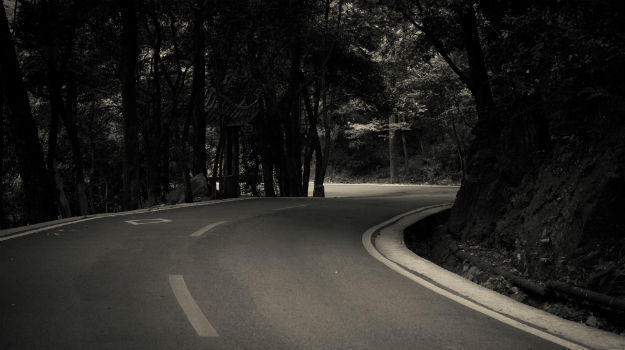 A lost spirit of a woman in bridal has been spotted by many hotel owners near Marve road. The woman allegedly distracts the travelers and screams in pain and starts running fast as soon as you try to approach her. Interestingly, she appears during poornima, the night of the full moon which adds up to the story (perhaps another rumor) and has been the reason behind many road accidents. Some people have taken their imagination so far that they think she is looking for culprits. How old people love telling stories.
If you have heard ghost stories about other haunted places in Mumbai,mention them in comments.
Note- The above list is based on the stories shared by many people. DotcomStories is not responsible for the authenticity of the spookiness of the above places.