It's time to return to Philip Pullman's dusty, demonic world where Asriel is on a mission to liberate the universe from the rule of religion. The third and final season of His Dark Materials will tell the tale of The Amber Spyglass. The season will be available to US viewers on HBO in double-bill instalments between Monday, December 5, and Monday, December 26, while in the UK, all episodes will be broadcast on BBC One and streamed on BBC iPlayer starting on Sunday, December 18.
Lyra was in danger when we last saw her on screen in December 2020 because the Magisterium had discovered the Eve prophecy. Jopari, Will's father, had passed away, and Lee Scoresby had died a hero in the dramatic shootout that concluded the season. After being absent for a season, Lord Asriel returned and disclosed that he had been forging alliances in anticipation of the decisive conflict. The Angels are here.
A host of new characters—some human, some not—and the Mulefa, a previously unimagined fantasy race—are also introduced in season three to wrap up this imaginative tale. See who is portraying them and who they are below.
Amber Fitzgerald-Woolfe as Ama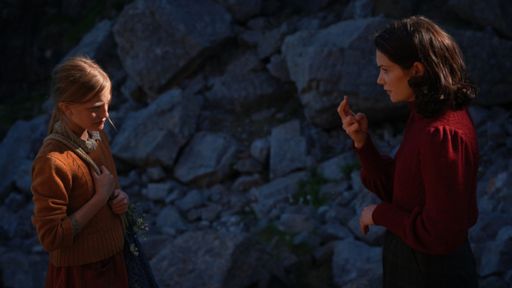 Ama, a little Himalayan village girl who appears in Mrs. Coulter and Lyra's early story in The Amber Spyglass, has had her nationality changed. Amber Fitzgerald-Woolfe, a young British deaf performer who performs in the opening episode of season three, plays Ama in the TV series. All four members of the deaf Fitzgerald-Woolfe family, including actor Amber, speak BSL in addition to their parents Ramon and Louise. Click here to learn more about them.
Kobna Holdbrook-Smith and Simon Harrison as Balthamos and Baruch
Balthamos and Baruch, a couple of Rebel Angels, were supposed to make their debut in the season two finale, but that was postponed until the season three premiere. They approach Will at that point in an effort to enlist his Subtle Knife in Lord Asriel's army. Despite an unfounded report by CBR naming two other actors in the roles, they are actually played by Kobna Holdbrook-Smith from The Split and Simon (grandson of Rex) Harrison from Endeavour. Holdbrook-Smith has a plethora of cinematic credits to his name, including roles in 2017's Justice League, Motherland, and Paddington 2. In season five of Endeavour, Simon Harrison portrayed the criminal DCI Ronnie Box. He has also made appearances in Grantchester and This Is Going to Hurt.
Chipo Chung as Xaphania
His Dark Materials welcomes Chipo Chung to the role of Xaphania, which was originally voiced by Sophie Okonedo in season two but was replaced because of a scheduling conflict with her appearance in The Wheel of Time due to the Covid-19 filming delays. The rebellious Angels are led by Xaphania, who is battling alongside Lord Asriel against the oppressive Authority. Chung voiced several characters for children's television and portrayed The Master in the martial arts drama Into the Badlands. He also starred in the Channel 4 drama Chimerica.
Jamie Ward as Father Gomez
A young priest serving on the Consistorial Court of Discipline, Father Gomez is a villain. Due to his extreme zeal, Father President MacPhail, the court's leader, singles him out and assigns him a terrible task. He is portrayed in season three by Jamie Ward, who has previously appeared in the crime dramas Tyrant on FX, The Pact on BBC, and The Durrells on ITV.
Adewale Akinnuoye-Agbaje as Commander Ogunwe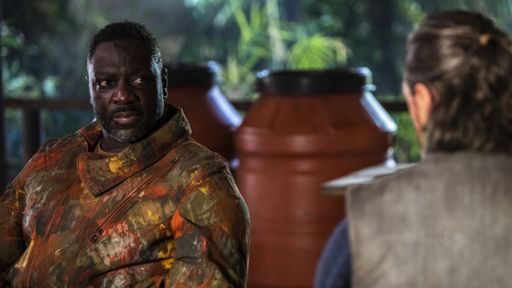 In this television adaptation, Ogunwe—an African king from Philip Pullman's novels who has been transformed into a military leader—is approached by Lord Asriel, who wants to enlist him and his fighters in the conflict with the Authority. Adewale Akinnuoye-Agbaje, who recently starred alongside Liam Neeson in Neil Jordan's vintage crime thriller Marlowe, played Sevvy in the US legal drama The Fix, and wrote and directed the 2018 film Farming, which was inspired by his own life, plays the character.
Jonathan Aris as Commander Roke
A lovely bit of casting, this – Sherlock, Avenue 5 and The End of the F***ing World's Roke is portrayed in season three by Jonathan Aris. Lord Roke, as he is referred to in the books, is a spy captain who works for Asriel and is a Gallivespian (a tiny winged humanoid from one of the many worlds Lord Asriel visits on his anti-Authority recruitment drive). He is very helpful when it comes to infiltrating the Magisterium's campaign against Lyra. A person joins Roke.
Sian Clifford as Agent Salmakia
Salmakia is a Gallivespian spy who is battling on Asriel's side against the Magisterium and its various manifestations throughout the universe. Sian Clifford, who portrays her superbly, is best known for playing her sister Claire in Fleabag. She has since appeared in a number of other notable screen dramas, such as Quiz, The Suspect, Life After Life, and Inside No. 9.
Wade Briggs as Archangel Alarbus
Australian actor Wade Briggs plays Alarbus, a brand new character invented for the TV adaptation who's there to help explain the world of the Kingdom of Heaven. Alarbus is an Angel, like rebels Xaphania, Balthamos and Baruch, but as an Archangel, he stands for the Authority and his regent, so is on the opposite side of the celestial war to Asriel and co. Wade Briggs has appeared in a number of Australian TV shows, including Home & Away and Please Like Me, and was recently seen in Apple TV+ sci-fi Foundation.
Victoria Hamilton as Stelmaria
The voice of Lord Asriel's snow leopard daemon Stelmaria is performed by British actor Victoria Hamilton in season three. Hamilton is best known on screen for playing the role of the Queen Mother in The Crown, and appearing in BBC domestic thriller Doctor Foster and Sky's political thriller Cobra. Previously, Stelmaria was voiced by actor Helen McCrory, who was well-loved for her popular roles as Polly Gray in Peaky Blinders and Narcissa Malfoy in the Harry Potter film series, as well as a great many stage and screen parts.
ALSO JOINING THE CAST
Newcomer Lauren Grace and Sorcha Groundsell (The Innocents, Shetland) as Jopesh and Maddy, two young women from the same world as Commander Ugunwe who have suffered under the oppression of 'The Temple' – their world's iteration of The Magisterium.
RETURNING CHARACTERS
Dafne Keen as Lyra Silvertongue, Amir Wilson as Will Parry, Ruth Wilson as Mrs Coulter, James McAvoy as Lord Asriel, Will Keen as Father President Macphail, Simone Kirby as Mary Malone, Lewin Lloyd as Roger Parslow, Joe Tandberg as Iorek Byrnison, Jade Anouka as Ruta Skadi, Heartstopper's Kit Connor as Pantalaiman, Frank Bourke as Fra Pavel.
His Dark Materials Season 3 arrives on Monday the 5th of December on HBO in the US, and on Sunday the 18th of December on BBC iPlayer and BBC One in the UK.
Our Team DCS includes 5 different writers proficient in English and research based Content Writing. We allow them and encourage them to follow the Entertainment news all day long. Our posts, listicles and even the exclusives are a result of their hard work.