The Netflix film "Johnny," which was directed by Daniel Jaroszek, is about empathy and rehabilitation. Piotr Trojan and Dawid Ogrodnik co-star in the title role. The Polish movie tells the tale of an ex-convict who encounters a priest while performing community service hours and how the encounter radically transforms his life. It is a biographical play about the real-life bioethicist Jan Kaczkowski that emphasises the transformative impact his kind and sympathetic demeanour had on the world. The film touches with delicate subjects including addiction, terminal illness, and a character's violent upbringing. Despite the serious topics covered in the narrative, "Johnny" still tells a touching story of second chances through the use of light-weight, suitable comedy. Owing to the movie's real-life origin, Jan and Patryk's characters both feel genuine, and it's very simple to become immersed in their lives. This is all the information you need to know about "Johnny's" conclusion if you're wondering what happens to them. Spoilers follow!
Johnny Plot Synopsis
Patryk breaks into someone's home at the beginning of the film before getting caught. Patryk takes over as the narrator after Father Jan is imprisoned while we see bits and pieces of his life. Father Jan is a hospital volunteer who has a sweet spot for "lost causes." He shows concern for those whom no one else wants to. Ultimately, with the aid of his connections from the hospital, he begins operating a mobile hospice out of his van. Father Jan understands that in order to have a substantial impact, he needs a stronger solution. The Archbishop, a member of his clergy, opposes the notion, but Father Jan ignores him and goes ahead. He asks for a loan, purchases some property, and establishes a permanent Puck Hospice honouring St. Padre Pio. But then the priest's life begins to run out after receiving a diagnosis of brain cancer.
Patryk is shortly released from prison in the meanwhile. Yet given his background in crime, he quickly receives community service requirements and begins working for Jan. Patryk continues to experience a fundamentally altered outlook on life while he works in the hospice. He initially attempts to take it easy, but he soon discovers that working with the patients is enjoyable. Similar to how the patients changed from initially viewing Patryk with suspicion and judgement to later appreciating him and returning the favour. Patryk's life begins to alter in ways he never could have imagined with Father Jan's assistance and direction. While Father Jan spreads his message of compassion and generosity, Patryk develops his culinary skills as the two of them tour the nation. But, Patryk's old life quickly catches up with him, and the court calls into question his efforts at rehabilitation. Father Jan's health begins to deteriorate at the same time.
Johnny Ending: Does Father Jan Kaczkowski Die?

Glioblastoma is discovered to be Father Jan's disease early in the film. Although his impending death is regularly addressed, the story does not focus heavily on it. The emphasis is on Father Jan's legacy and the challenges that people who are terminally sick experience in their lives other than death. When Father Jan first receives the news of his diagnosis, the medical professional doesn't think he would survive more than a few months. Father Jan doesn't let it stop him, though, and he keeps working to establish his hospice. He devotes his time to helping those who are nearing the end of their lives and makes sure they have a peaceful death.
He struggles to deal with death after Patryk enters the scene. When a patient he had grown close to passes away, Patryk is deeply affected. Patryk wants to hang onto them for his own selfish reasons since he hasn't yet learnt how to let go of people. Father Jan teaches him that there are no conditions to loving and caring for others. This theme of prioritising unconditional love for those who are suffering from terminal illnesses and approaching death in a healthy, selfless way is woven throughout the storyline as it moves forward. Interviews and speeches are two ways Father Jan promotes his thoughts. Some of these occasions have Patryk accompanying him, who is obviously proud of his friend's accomplishments.
Yet, Father Jan once fails to appear for a radio appearance that he had already scheduled. When Patryk learns of his disappearance from the programme, he continues to look for him. Father Jan is discovered by Patryk in his office, having deteriorated. Patryk visits Jan when he is ordered to stay in bed and they sit quietly together. He isn't as agitated as he once was. Patryk, on the other hand, calmly attends to Jan and holds his hand. He learns about Patryk's child and how he plans to give his firstborn the name Jan. Years after his original diagnosis, Jan Kaczkowski ultimately passes away in the presence of his loved ones.
What Happens to Patryk in The End?
Throughout the course of the film, Patryk has a dramatic character development arc. Patryk is in a really dire situation in his life at the beginning of the novel when we first meet him. He has a drug problem and frequently ends up in jail after getting into legal difficulties. He has a careless father at home who has done a poor job of raising him. But once he begins working at the Hospice, first as part of a court-mandated community service requirement and then out of his own free will, Father Jan treats him with warmth and understanding, and he makes a friend of the priest.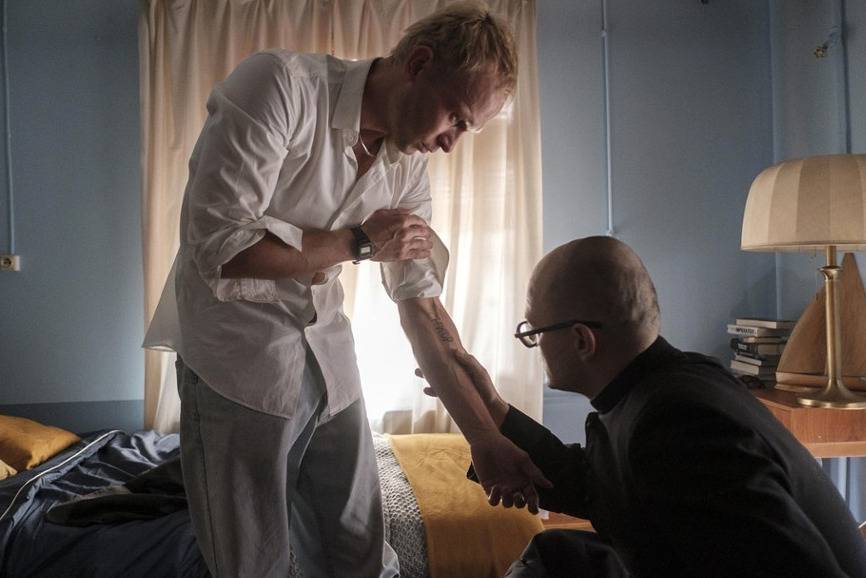 He discovers his love of cooking and attempts to hone the art with Father Jan's assistance. He also makes friends in the hospice and learns how to be compassionate towards others. A profound transformation in Patryk's character results from seeing other people experience both joy and misery and from assisting them through it. Patryk is able to kick his criminal tendencies and get over his addiction thanks to this kinder way of living. Father Jan also helps Patryk enrol in cooking lessons and refine his abilities, which amounts to giving him a future plan.
He is eventually summoned back to court due to unpaid penalties, though. Notwithstanding Father Jan's testimony, the court examines Patryk's recovery and ultimately determines that he has misled people into believing he has changed. Patryk is given a three-year sentence and returned to prison. Father Jan persists in trying to help him, nevertheless. He pays Patryk a visit and makes an effort to reach an understanding with the prison so that Patryk would be permitted to go and work for the hospice. Father Jan ultimately resorts to contacting the Archbishop but succeeds in having Patryk's sentence reduced.
The tale of Patryk is one of recovery. The story illustrates via Patryk how people may change if they are given compassion and encouragement. Patryk receives that assistance and company from Father Jan, and as a result, Father Jan brings out the best in Patryk. Patryk has continued to enjoy a secure and contented life after Jan's passing. In order to create a family with Zaneta, he marries her. He starts a new life and uses his culinary abilities to obtain honest employment.
Being a binge-watcher himself, finding Content to write about comes naturally to Divesh. From Anime to Trending Netflix Series and Celebrity News, he covers every detail and always find the right sources for his research.