The Last Voyage of the Demeter, a fantasy horror movie with André vredal at the helm, is the first cinematic adaptation of one of Dracula's darker episodes. The merchant ship Demeter, which is carrying freight and crew from Transylvania to London, tracks its route in 1897. The ship, commanded by Captain Elliot and his first mate Wojchek, is crewed by a small number of individuals, including stowaway Anna and Doctor Clemens. The crew is faced with unspeakable dread while at sea when they discover a terrible presence among them: a deadly vampire known as Dracula.
The movie explores the genesis of Dracula in a more fundamentally monstrous perspective and presents an epic tragedy in a struggle for existence. The time setting of the movie clearly anchors the plot in reality and gives the world a sense of realism despite its fantasy narrative core. Due to this, audiences must be interested in the source of this movie's inspiration and its historical foundation. If so, the information you require is provided here.
Is The Last Voyage of the Demeter a True Story?
'The Last Voyage of the Demeter' is not based on a true story, to be clear. The seventh chapter of Bram Stoker's 1897 novel "Dracula," "The Captain's Log," serves as the inspiration for the movie. Due to the fictional nature of "Dracula," the movie itself, along with the ship Demeter and its journey, is therefore a work of fiction. A number of filmmakers and actors temporarily joined the project before parting ways with it, making the production history of the movie almost as lengthy as the content. After more than ten years of development, the movie eventually found its voice under the direction of André vredal, who also wrote the screenplay with Bragi F. Schut and Zak Olkewicz.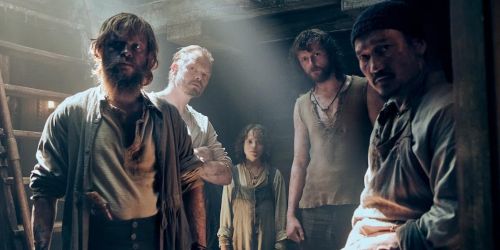 After becoming friends with a model builder in Hollywood, who showed Schut his portfolio of miniatures from various films, including Demeter from Francis Ford Coppola's "Bram Stoker's Dracula," Schut first had the concept for the novel. From there, Schut discovered his inspiration for an original idea for a "Aliens"-type plot. He had always wanted to make a space horror movie. Schut found the perfect horror scenario for his movie aboard a ship in the early 1900s, complete with Dracula, one of the most notorious monsters in fiction and movies. 'Dracula' by Bram Stoker has been adapted for the film several times.
However, by concentrating on Dracula's story throughout Demeter's journey, Schut was able to examine a side of the character that many could find intriguing. However, turning a single chapter into a full-length film has its own challenges. In an interview with Bloody Flicks, the author addressed this topic and stated, "I tried to construct the story so that it wouldn't violate what was in the book," according to Schut. "I wanted to try to preserve these journal entries written from the Captain's point of view. But I also realised that I had to extend and create a tonne of additional content in order to turn one short chapter into a whole movie.
As a result, Schut deliberately used a lot of creative freedom where it was essential while yet being as true to the original material as feasible. Similar to how the use of special effects in the film's construction of its basic elements gives it a timeless, realistic appeal. Last but not least, Dracula's character, who serves as both the antagonist and the main character in the movie, centres the story and shapes its essential elements. Audiences have grown accustomed to witnessing various Draculas over the years, all of them have some characteristics. But this movie adopts a different strategy and gives a unique yet genuine approach to his character.
"Our Dracula was not a classical, sexy guy, so for me, it was good to try something different, something heavier," actor Javier Botet, who plays Dracula in the movie, stated. "Let's create something brand-new, it's like a horror-action movie. We are able to create something lovely. The discovery that the organism has emotions or humanity at its core is what makes it so stunning. Does he begin to feel helpless and lonely and realise that he must now survive?
Similar thoughts were expressed by director vredal while talking about how he managed to adapt Stoker's novel Dracula while maintaining his vision for it. In an interview with Screen Rant, the director stated, "I like to aim for originality as much as I can, so I was extremely focused with making sure that we've never truly seen this version. Although difficult, such must always be the objective. The judgement that "The Last Voyage of the Demeter" is not based on a genuine story is still valid. Instead, it is merely an adaption of "Dracula," one of the most well-known books ever written.
Our Team DCS includes 5 different writers proficient in English and research based Content Writing. We allow them and encourage them to follow the Entertainment news all day long. Our posts, listicles and even the exclusives are a result of their hard work.