Logan Paul has a fiancée! The YouTuber-turned-pro-wrestler recently proposed to his Danish girlfriend Nina Agdal in Italy, according to a TMZ report. We are delighted for the adorable pair.
The media site has revealed that the WWE superstar proposed to his girlfriend Nina in Lake Como, Italy. To learn more about the engagement of Logan Paul and his girlfriend Nina Agdal, keep reading.
Logan Paul and Nina Agdal are engaged
Logan Paul will soon wed! The social media celebrity asked his supermodel girlfriend Nina Agdal to marry him, and she said yes. On Sunday night in Lake Como, Italy, the two lovers got engaged.
According to the newspaper Daily Mail, the couple got engaged at the upscale Hotel Passalacqua. According to an eyewitness, the couple "fell to their knees and embraced on the hotel's open-air terrace" after Nina replied "yes."
Logan and Nina's plans didn't go as well because the ring didn't fit her finger. He made a speakerphone call to his brother Jake shortly after becoming engaged. He said, "Bro, you have a sister."
The controversial YouTuber even hired a photographer to surprise Nina on the big day while he was disguised as a waiter. As she was reportedly "blindsided by the proposal and visibly surprised," it appears that the plan was a huge success.
Logan Paul and Nina Agdal celebrated their first anniversary in May 2023
Yes, it is what you read. A few months after they marked their first anniversary, the couple announced their engagement. On May 17, the unversed celebrated the momentous event with charming social media messages.
At that time, Paul turned to Instagram and posted a number of stunning pictures of himself with his ex-girlfriend. He captioned the photo slideshow with, "One very special year with my Danish queen @ninaagdal."
When it comes to Nina, though, she also published a post of her own. The Sports Illustrated swimsuit model captioned the Instagram photo, "Best year of my life."
When did Logan Paul and Nina Agdal start dating?
When fans first saw Logan and Nina dining in New York last summer, romance rumours about the two of them began to circulate. The two had a romantic supper at the upscale Peak Restaurant at The Edge in Manhattan's Hudson Yards at that time.
Paul soon later declared their Instagram romance relationship public in December 2022. "Lucky me," he commented, adding a few adorable pictures of the duo. Later, on New Year's Eve, Agdal reaffirmed her relationship with the content creator. The post's simple caption read: "2022, the beginning of me and you."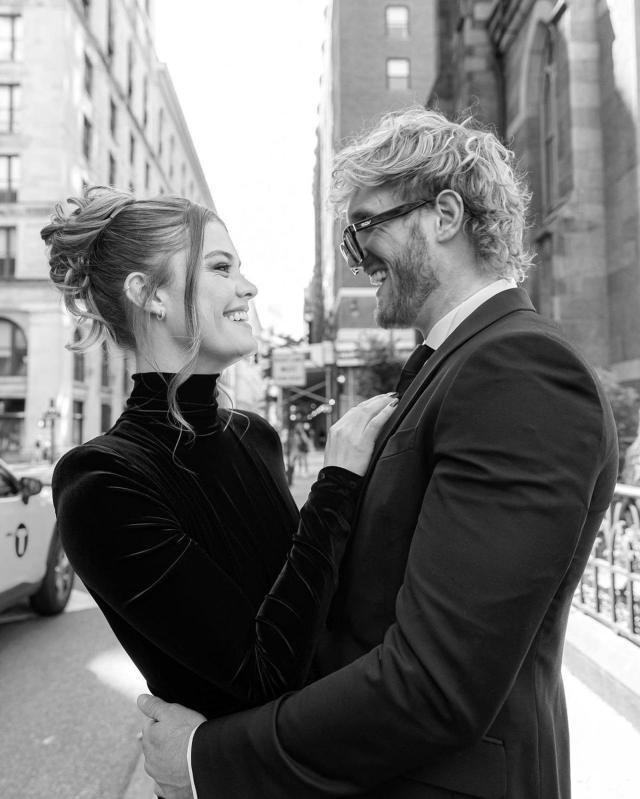 Logan Paul and Nina Agdal, his now-fiancée, are the recipients of our sincere congratulations on their engagement. Sending the newly engaged couple lots of love and happiness. Keep checking back with us for the most recent information from the entertainment industry.