"Luca," a delightful coming-of-age tale set on the Italian Riviera, is directed by Enrico Casarosa. The family-friendly 2021 film's detailed, gorgeous colours and artwork are influenced by 2D animation masterworks like Miyazaki's "Spirited Away." Such components give a pleasantly straightforward story the same wonderful heart as classic Pixar works like "Toy Story"
Young sea monster Luca, like Ariel before him, is drawn to the surface by its promise of something more than a tranquil existence herding goatfish. A relationship blossoms between him and fellow sea monster Alberto, who prefers to spend most of his time on land, and Luca's desire to travel increases. The lads run to the adjacent human village of Portorosso, where they meet lively Giulia, after Luca's parents threaten them with harsh punishment for breaking the surface. Giulia wants to prove herself, while Luca and Alberto want to win so they can purchase a Vespa and travel the world. The three team up to compete in an annual triathlon. The problem is that this town also has strong anti-sea monster prejudice, so the boys must stay away from the ocean in order to conceal their fishy shapes from people who could harpoon them on sight. This sounds straightforward in theory, but it's not always that easy in fact.
Whether you read this charming story as a heartbreaking "coming out" tale or as a tale of a crucial summer of friendship, "Luca" features likeable, intriguing characters. Here is a list of the most endearing characters in the film, going from least to most.
Alberto Scorfano
The majority of the time, Alberto, a fellow sea monster (voiced by Jack Dylan Grazer), is on dry land. In fact, he looks human to Luca when they first meet, clothed in his diving suit and searching the ocean for lost wealth. Initially, Luca feels threatened. But soon he is enthralled by Alberto's alluring life of freedom and independence, and the two of them begin to fantasise of touring the globe together on a Vespa.
With a vivid imagination and an air of arrogance, this playful troublemaker charms both Luca and the audience, even when it becomes apparent that he is not as tough or knowledgeable as he appears to be. For example, when he explains to an enthralled Luca why he lives alone in this tower or how he sleeps beneath the fish (also known as the stars) every night (his dad left him behind). His laid-back yet careless demeanour helps counteract Luca's initial unease, but a dread of being abandoned starts to erode their relationship. Fortunately, Alberto overcomes his own concerns and even assists Luca in obtaining a train ticket to "human school," demonstrating that he is also coming into his own.
One of the most appealing features of the movie is the father-son-like bond that develops between the charismatic, clever, and sympathetic Alberto and the big, adorable Massimo. Alberto is one of the movie's most likeable characters.
Daniela Paguro
Mother played by Maya Rudolph simply wants to shield her son. The problem is that Daniela is too controlling, and she smothers him in order to protect him. She only committed one, albeit enormous by her standards, act of disobedience and rebellion before she was prepared to take her offspring to the Deep. And the whole thought is akin to torturous solitary imprisonment to a young child like Luca, who has just recently developed his bond with Alberto and is just starting to realise who he is as a person.
It's clear that Daniela's rash, terror-driven decisions and angry outbursts are motivated by maternal love and a desire to protect her son from the dangers of the outside world, but they ultimately cause her to stifle Luca and stop him from coming into his own, and for the majority of the story, she stands in the way of his development. The young people of Portorosso are terrorised by her and Lorenzo as they desperately try to find their missing son, leaving the kids drenched in sweat, trembling, and afraid of the adult arrivals.
Thankfully, towards the end of the novel, Daniela has learned to let go of her own worries. She not only accepts Luca's desire to live his own life, but she also gives him permission to travel by train to Genova to attend "human school" with Giulia. Daniela's concern and love for her son, as well as her sporadic warmth, make up for her occasionally strident and reactive nature.
Ercole Visconti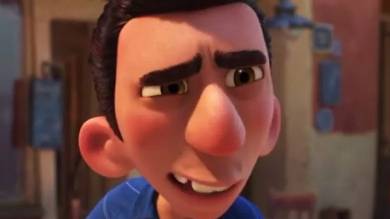 On his gleaming red Vespa, Ercole (played by Saverio Raimondo) charges into the narrative. This terrible sixteen-year-old narcissist has no depth, and almost no redeeming traits, in contrast to other Pixar villains in the past with tragic backstories that elicited the audience's sympathy (like, say, Lots-o'-Huggin' Bear from "Toy Story 3"). The arrogant Ercole anticipates winning the Portorosso Cup for the sixth year in a row, and despite the fact that his age (and thus his actual eligibility to race) is frequently questioned, most residents of the town—both bemused adults and innocent child victims—refuse to challenge him on the issue. In addition to using derogatory language, such as calling Alberto and Luca "fishy" or making derogatory remarks about Giulia having to drop out of the race last summer because she was unable to stop vomiting, he also readily bullies others. Ercole uses force to gain what he wants, punching Alberto in the stomach while his friends Ciccio and Guido hold the other youngster down.
Ercole Visconti is really a pretentious jerk with an enormous inferiority problem, and it appears that his self-obsession and apparent confidence are a result of a deep-seated insecurity. The trio's triathlon opponent isn't exactly a likeable character because he only cares about himself, but he is an interesting young villain who is fascinating to detest like any good movie villain.
Giulia Marcovaldo

The fiercely independent Giulia (voiced by Emma Berman) is the daughter of Massimo and a human companion of Luca and Alberto. She experiences imposter syndrome because she is a young person who only spends the summers in Portorosso and because of the painful memory of the triathlon she had to abandon due to nausea last year. She is preparing for this year's race of biking, swimming, and pasta-eating when she first encounters the two sea monsters, so the trio's decision to enter the competition as a team — so the boys can purchase a Vespa and a determined Giulia can prove herself — seems only natural.
Giulia does initially show some apprehension and prejudice toward the boys after learning their true identities, but it's noteworthy that even at this early stage, she is primarily concerned for Luca's well-being and urges him to leave town for his own good. Her transformation into a fiery ally who is unafraid of bullies like Ercole and willing to take risks to defend her friends from harm after the rain reveals them to be sea monsters also happens quickly (in a town full of people who hunt sea monsters).
Giulia is one of the most endearing "Luca" fish in the sea thanks to her open love of learning, helpful personality, and steely resolve.
Grandma Paguro
This self-assured free-spirit, though frequently referred to as Grandma Paguro, is actually Daniela's mother. In fact, director Enrico Casarosa even said on Twitter that he always thought her last name to be Libera, after his own grandmother. Fortunately, it doesn't take long to detect Grandma's fun-loving attitude and sneaky enthusiasm for her grandson's wanderlust despite the fact that she doesn't receive much screen time. Grandma is wise and watchful.
She does her part to support Luca's rebellion in secret, cognizant of (and perhaps also relating to) his differences, and she shows clear joy when he departs from his restricted upbringing to embrace his more daring side. She might rank higher if she had engaged Luca in conversation about the world outside of their isolated island and not just passively indulged him, but she was still a key player.
The family member who has been most encouraging to Luca is his grandmother. The best part is that she has fascinating tales to tell about the surface, like the time she defeated a human man at cards. And the fact that she spends the most of her weekends socialising with people in Portorosso? Priceless.
Grandma Paguro/Libera is a delight to see overall, and she plays a significant role in why "Luca" is among the best animated movies of 2021.
Lorenzo Paguro
You could consider Lorenzo Paguro (Jim Gaffigan's voice), who is more subdued and composed than his wife Daniela, to be essentially "the less involved parent." This is not to suggest that this fully grown sea monster doesn't care about his son, but when compared to Daniela's active and worry-filled parenting style, it sometimes seems as like he is just along for the ride.
Lorenzo always defers to Daniela because she is the calm head of the household, even though he has concerns about some of her hasty choices during the story. This is particularly clear at the scene where Luca meets Uncle Ugo, when Lorenzo expresses his hesitation about their method of discipline and wonders if sending his child to the bottom of the Deep is truly the best course of action. Notably, he doesn't spend much time opposing the notion, and when Luca inevitably flees to avoid such punishment, Lorenzo keeps up with Daniela's example by assisting her in drowning masses of human infants in order to traumatise them.
Lorenzo is less reactive and prone to wrath than his partner, coming across as a laid-back father of few words. Even while he still worries about Luca's welfare, he almost immediately expresses a desire to reconsider their existing parenting strategies. He is endearing because of his calmer demeanour and kind, fatherly concern, as well as his enthusiasm for breeding crabs that win awards.
Luca Paguro
The voice of Jacob Tremblay's character, Luca, makes him a greater Ariel than The Little Mermaid herself. This juvenile sea monster yearns to get to the surface, but not because he thinks he loves a person he's never met; rather, he does it out of curiosity and a desire for exploration. Luca, who was raised by overprotective parents to be afraid of the world above, finds himself constantly in awe of all his new experiences and is thrilled to have two new friends to support him as he matures.
Bright and endearing (if also a little bit bumbling), Luca easily bonds with those around him, from Giulia to Alberto to Grandma Paguro (who subtly supports his wanderlust) to Giulia (who shares his love of learning). Despite his desire to travel the world and his intention to stick by Alberto's side despite his interest in attending Giulia's "human school" where they would study stars, solar systems, and galaxies, sympathetic people-pleaser Luca initially obeys his parents' rules. Despite briefly giving in to his dread of being discovered and betraying a recently revealed Alberto in an effort to conceal his own truth, he redeems himself by standing up for his friend while taking the guise of a sea monster. If only we could all have such a friend.
Machiavelli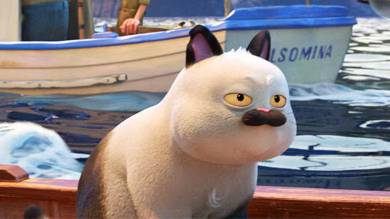 Before any of Portorosso's human inhabitants, Massimo's surly, growly cat buddy Machiavelli suspects Luca and Alberto of being sea monsters. He doesn't like the lads being present at the Marcovaldo dinner table or going out on the boat with Massimo for a significant portion of the film. In reality, he assaults Luca the victim!
He already has acute senses from being a cat. However, Machiavelli is also the name of "a philosopher who is reported as saying… "Everyone sees what you appear to be, few really know who you are," adding still another dimension to this cat's uncanny level of awareness and further character depth. He's basically the "Luca" equivalent of Ron Swanson from "Parks and Recreation," so when you combine the two, you have the makings of a beloved side character who can seduce with just his look.
Machiavelli, like Swanson, is frequently resentful and prone to rage, but he may also learn acceptance. We occasionally even catch a glimpse of his affection for those around him (this is more apparent in Pixar's follow-up short, "Ciao Alberto"). In spite of this, don't minimise his original animosity against the sea monster led or the fact that he actively attacks Luca and inflicts injury on him. Although it is reduced at the story's conclusion, this violent prejudice brings him down a few notches.
Massimo Marcovaldo
Giulia's father, played by Marco Barricelli, is intimidating to most of the people in his vicinity, including the boys. He is large, massive, and full of grunts. The youngsters are naturally scared when they first encounter this stern fisherman who wields knives with expert-level proficiency, slices the heads off dead fish carcasses, and actively seeks out sea monsters to impale with one of his many harpoons. Massimo tells a story about a sea monster eating his missing limb, adding to the fear, before admitting that he "came into the world" with one arm and displaying his sense of humour.
There is a lot of tenderness hidden beneath that hard façade. In the "Ciao Alberto" short, this bond is further explored as he even takes on the role of Alberto's father. Massimo also stands for inclusivity, serving as a reminder that a person's disability need not define who they are but rather make them who they are.
Massimo's devotion to his children, both biological and adopted, is what makes him who he is. Massimo is ultimately a big softie who just wants to see these kids succeed; one who is willing to help them in any way he can, and who is filled with pride when he sees them overcome their own obstacles. This is true even with Machiavelli perched on his shoulder and glaring out at the world around them. In a nutshell, this explains why he is such a likeable "Luca" character.
Ugo Paguro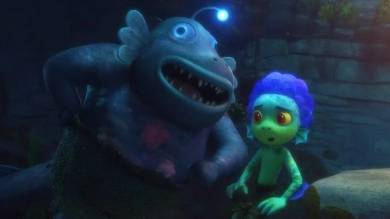 Uncle Ugo, who is played by the hilarious rapscallion Sacha Baron Cohen, lives in the darkest, deepest part of the ocean. Ugo visits them to discuss about life in the Deep when Luca's irate mother, Daniela, and his uneasy father, Lorenzo, decide to send him away for the season as a punishment for his disobedience and to keep him out of harm's way (and untempted by the pull of the surface).
Uncle Ugo preferred the clamour, activity, and exposure of lighter, shallower waters to his own home's harsh cold, eerie silence, and inky black following his own near-death encounter with the land creatures that reside above. Luca shudders at the idea of spending any time in a place with no warmth, no light, and no evidence of life as the sea monster speaks admiringly about his way of life. Ugo may have become little insane from spending so much time alone in the dark, eating whale carcass pieces that just happen to sink into his mouth, and only having his own words for company, but viewers can understand his preference and desire for a life apart from the tumult of the outside world.
Ugo is another entertaining to watch and engaging character; he is a touch strange and off-putting and is incredibly unaware of his nephew's uneasiness at the thought of such significant solitude, which makes the post-credits moment very nice.
Being a binge-watcher himself, finding Content to write about comes naturally to Divesh. From Anime to Trending Netflix Series and Celebrity News, he covers every detail and always find the right sources for his research.