When Britney Spears won a Rolling Stone cover at the beginning of her career, controversy immediately erupted.
The fledgling pop princess continued to display a youthful style of sensuality on the cover of the major magazine after dancing down a hallway while wearing a schoolgirl uniform in the music video for her debut track "…Baby One More Time." Her fans have remained interested in her even since the scandal started people talking.
Of course, Spears isn't the only or even the first star to spark controversy or a national debate while posing for a magazine cover.
Stars like Demi Moore and Kim Kardashian have been the target of media backlash for taking nude selfies. Others, like Miley Cyrus and Selena Gomez, were prematurely and unjustly sexualized. However, some celebrity magazine covers have come under fire for having racial overtones.
For better or worse, these pictures have nonetheless become indelible fixtures of popular culture.
MOST CONTROVERSIAL CELEBRITY MAGAZINE COVERS EVER
Find out which celebrity magazine covers have caused the most controversy in the list below.
Azealia Banks on Dazed & Confused, 2012

When Azealia Banks photographed for Dazed & Confused in 2012, she was nearing the pinnacle of her career. The controversial rapper is depicted in the cover image blowing up a condom like a balloon to support the headline, "Azealia Banks Blows Up." It goes without saying that the ironic picture got people talking.
Britney Spears on Rolling Stone, 1999
In 1999, Britney Spears made her debut on Rolling Stone while lounging on a pink silk sheet, holding a Teletubby plush and donning panties. The sexual overtones of the image, which matched girlish purity with a very adult gaze, caused controversy when it was taken when the pop princess was still a teenager.
Christina Aguilera on Rolling Stone, 2002

When Christina Aguilera photographed for Rolling Stone in 2002, she was beginning her Stripped period. The pop artist, who appeared on the magazine's cover in the nude while straddling a guitar that was also placed to cover one of her breasts, took the name of her new album very seriously. Parents who clutched pearls were outraged by the naked shoot and her then-"Dirty" reputation.
Cory Monteith, Dianna Agron and Lea Michele on GQ, 2010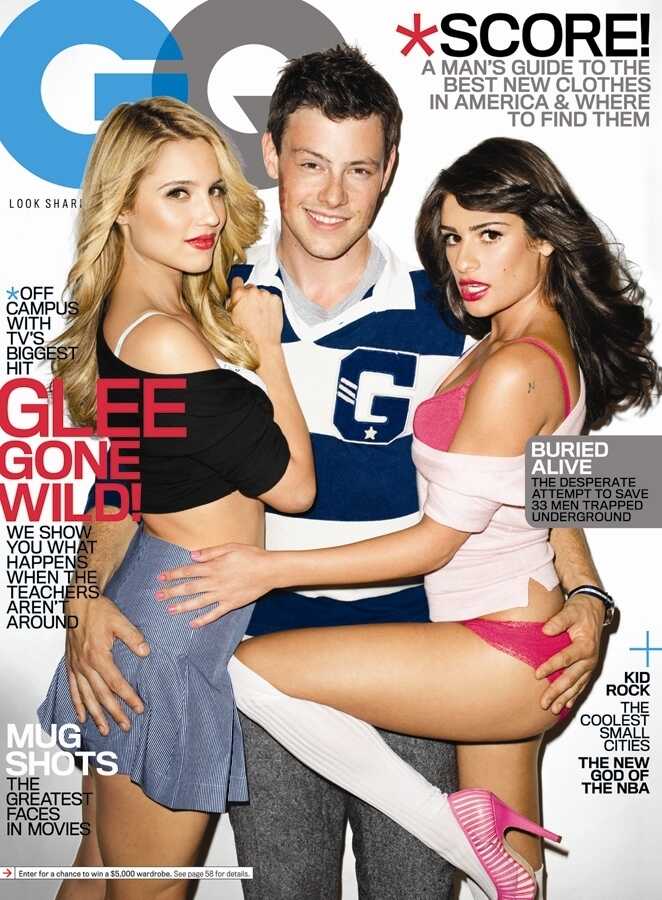 When they posed for the GQ cover in 2010, Glee actors Cory Monteith, Dianna Agron, and Lea Michele emulated the high school-aged characters they played on the hit show. But controversy around the photo shoot has persisted ever since. To begin with, it was taken by infamous photographer Terry Richardson, who has been charged with exploitation and sexual abuse. The way that Agron and Michele were sexualized in skimpy attire while their male co-star was dressed like an ordinary high school student in a polo was also criticised.
Demi Moore on Vanity Fair, 1991

In 1991, Demi Moore appeared in the nude on the cover of Vanity Fair to display her growing baby bump. Although celebrities like Britney Spears and Christina Aguilera frequently appear in nude pregnancy pictures today, Moore's daring cover was notable for its audacious and revealing nature at the time.
Janet Jackson on Rolling Stone, 1993
Janet Jackson posed topless for the cover of Rolling Stone in 1993, just after the release of her self-titled album. Jackson's ex-husband Rene Elizondo Jr. held her breasts in his hands while hiding behind her body. Naturally, the seductive image sparked discussion about the free-spirited and self-assured artist.
John Lennon and Yoko Ono on Rolling Stone, 1981
On the Rolling Stone cover in 1981, a naked John Lennon encircled Yoko Ono with his body. The famous photographer Annie Leibovitz captured the image just hours before the rock icon was fatally slain outside his apartment.
Kanye West on Rolling Stone, 2006

On the Rolling Stone magazine cover in 2006, Kanye West appeared while donning a crown of thorns. The composer of the successful song "Jesus Walks" has a history of stirring up conflict. Cosplaying as Jesus Christ, on the other hand, was a choice that undoubtedly raised some eyes and sparked blasphemy accusations.
Kim Kardashian and Kanye West on Vogue, 2014

When she and her then-future husband Kanye West appeared on the cover of Vogue that year, Kim Kardashian was seen by some as having achieved success. The choice to put the reality TV personality in what is perhaps the biggest fashion magazine in the world, however, was criticised by many.
Kim Kardashian on PAPER magazine, 2014

In 2014, Kim Kardashian appeared on the internet-shattering cover of PAPER magazine baring her infamous behind. Full-frontal nudity was displayed in the following spread, which would have sparked online debate on its own. The images were, however, also charged with copying racist historical imagery and fetishizing Black women's bodies.
LeBron James and Gisele Bundchen on Vogue, 2008
In 2008, the basketball legend LeBron James appeared on the Vogue cover alongside supermodel Gisele Bundchen. However, detractors of the cover pointed out the racist overtones of the startling image and compared it to a King Kong movie poster.
Miley Cyrus on Vanity Fair, 2008
After posing for the cover of Vanity Fair in 2008 at the age of 15, Miley Cyrus found herself in the middle of a media frenzy. Critics objected to what they saw as a sexual image of the Disney star in the photograph, which showed the adolescent star covered in what looked to be a sheet. At the time, Cyrus expressed regret about the
Rihanna on Lui, 2014
On the cover of Lui magazine in 2014, Rihanna posed topless while just only neon pink bikini bottoms and a body chain to show off her pierced nipples. In the accompanying spread, the pop sensation also displayed her nude backside in a number of suggestive angles.
Selena Gomez on V, 2015

When Selena Gomez photographed for V magazine in 2015, people complained that she reminded them of a contemporary Lolita. On the cover of the magazine, the young singer flaunted a bare chest, thick curls, and a pair of high-waisted denim hotpants. Even though she was around 22 or 23, some felt that her wide-eyed gaze and young face were much too young for such a sexual photo.
The Chicks on Entertainment Weekly, 2003
The Chicks stood naked on the cover of Entertainment Weekly in 2003, with words like "Dixie Sluts," "Proud Americans," and "Saddam's Angels" plastered across their bodies. After the trio angered the public by criticising former president George W. Bush and the Iraq War, a cover was released.
Being a binge-watcher himself, finding Content to write about comes naturally to Divesh. From Anime to Trending Netflix Series and Celebrity News, he covers every detail and always find the right sources for his research.