It's simple to state that Rian Johnson's film "Knives Out" is a stylised interpretation of the mystery subgenre that both almost transcends and complements it. Every element of the film, from the camera work to the visual effects to the story elements, heightens the suspense that is typical of a whodunnit. Benoit Blanc, played by Daniel Craig, is a charming detective who is surrounded by suspects who each have their own different personalities and odd quirks. Don Johnson, Michael Shannon, Riki Lindhome, Toni Collette, Chris Evans, Ana de Armas, Jaeden Martell, and Katherine Langford are among the cast members who are fully utilised by Johnson.
Basically, the plot is around the conspiracy that led to the mystifying passing of millionaire author Harlan Thrombey. Blanc, a seasoned investigator, arrives at the former's estate after receiving a large sum of cash from an unidentified donor who wants him to uncover the murderer. Blanc then takes his time to carefully examine his new surroundings and the people who live there in order to determine who killed Thrombey and how. But don't you already understand this? So, here is a list of Netflix movies comparable to "Knives Out" if you're looking for a mystery film with a similar experience.
7 Women and a Murder (2021)
Alessandro Genovesi's film "7 Women and a Murder," also known as "7 Donne e un Mistero" in its original Italian, has a visual style that is very similar to that of "Knives Out." The women of the mansion (an all-female ensemble) are tasked with solving the murder of Marcello, a wealthy businessman and the family patriarch, who is found dead with a knife in his chest. They are unable to leave the mansion because of the cut phone lines, the car's engine has been tampered with, and the snow outside, but they are confident that one of them is to blame because of these circumstances. What happens next is how they track down the actual facts of what happened.
Diana Del Bufalo plays Susanna, the daughter of Marcello, Margherita Buy plays Susanna's mother, Agostina Impacciatore plays Susanna's aunt, Benedetta Porcaroli plays Susanna's younger sister Caterina, Luisa Ranieri plays Maria, the housekeeper, Micaela Ramazzotti plays Veronica, and Ornella Vanoni plays Rachele, Susanna's grandmother. The fact that both the murder and the inquiry take place within the house is what makes this movie similar to "Knives Out." Instead of a traditional investigator, the women in this story deduce the truth for themselves.
Enola Holmes (2020)

Harry Bradbeer's 'Enola Holmes,' the first film in the series, sends Enola (Helena Bonham Carter) on a mission to find her mother Eudoria Holmes (who vanished on the former's 16th birthday, leaving only a set of clues), who went missing. Enola encounters the young Viscount Tewkesbury (Louis Partridge) while on the mission, who is also being pursued by someone who wants to kill him as part of a wider conspiracy. The movie shows how Enola solves these two issues and navigates through them. Enola Holmes develops the specific storytelling tack that its follow-up continues. Naturally, it is advised to watch this one before the sequel's second installment. But compared to its successor, this one performs better as a mystery thriller.
PS: Nancy Springer, not Arthur Conan Doyle, created the character of Enola Holmes in the first volume of her 'The Enola Holmes Mysteries' novel series published in 2006.
In for a Murder (2021)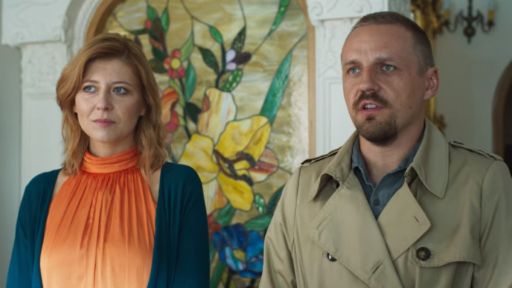 Polish criminal thriller "In for a Murder," originally known as "W Jak Morderstwo," is based on Katarzyna Gacek's book of the same name. The film, which was directed by Piotr Mularuk, centres on a housewife named Magda (Anna Smoowik), a fan of Agatha Christie books who still grieves over the disappearance of her childhood best friend Weronika. She discovers a female corpse in a park after all these years. The woman's W-shaped pendant, which Magda once gave Weronika, is what strikes me as unusual and shocking about her. Magda then joins forces with Commissioner Jacek Sikora (Pawel Domagala), a buddy from high school and ex-lover, to uncover the mystery. A love letter to "Knives Out," "In for a Murder" offers an intriguing plot and plenty of humour of its own.
In the Shadow of the Moon (2019)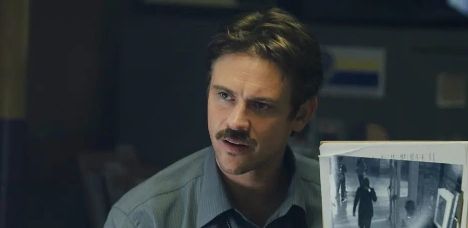 One is left wondering what is going on and how the murder happened after watching "Knives Out." 'In the Shadow of the Moon' is a detective thriller that is sure to arouse the same sense of curiosity in you if you enjoy trying to figure out what is happening and why it is occurring. The film, which was directed by Jim Mickle, is about a police detective who discovers that a serial murderer has returned and is planning to kill more victims nine years after witnessing his death in 1988. But how is that even conceivable? We advise you to watch it rather than reading any spoilers. Boyd Holbrook plays Officer Locke in the film, while Cleopatra Coleman plays the serial killer, a young woman named Rya. Locke shares Benoit's obsession with discovering the truth. You must enter the "shadow of the moon" to learn more.
Monica, O My Darling (2022)
'Knives Out' has the effect of making us doubt reality. What led to this? What was his origin? Then, where was she? When all of these questions are addressed gradually and thoroughly, the result is ideal satisfaction. 'Monica, O My Darling,' a film by Vasan Bala, provides the same. It is a murder mystery, and no, there is no official investigating the case, just as there is no official investigating "7 Women and a Murder." This murder mystery thriller's approach to the truth is what places it in third place.
The story of three men, Jayant (Rajkummar Rao), Nishi (Sikandar Kher), and Arvind (Bagavathi Perumal), is presented in the film. The assistant to their employer Satyanarayan Adhikari, Monica (Huma Qureshi), is blackmailing all three of them. Evidently, she became pregnant after one of them. The three guys want to murder her and dispose of her body out of fear that they would lose their individual professions. When they successfully carry out their plan and show up at the office the following day, they discover Monica there as well, prepared for the board meeting. How is that even possible? Is there a twin for her? What sort of magic is this? So if you want the answers, you'll have to watch. Watching "Monica, O My Darling" is enjoyable, especially with the retro-fitted scores that go well with the film's graphics.
Murder Mystery (2019)
A New York City police officer named Nick Spitz (Adam Sandler) and his wife Audrey (Jennifer Aniston) travel to Europe in the film "Murder Mystery," which was directed by Kyle Newacheck. The trip will fulfil a vow made on their wedding day that was made 15 years ago, and it will also help them rekindle their marriage. The pair ends up aboard a yacht sailing over the French Riviera after a chance encounter with Charles Cavendish (Luke Evans), a gentleman from Britain. Their trip becomes an inquiry when Cavendish's uncle Malcolm Quince (Terence Stamp), who had invited his family to remove them from his will so that it would pass to his new companion Suzi (Shioli Kutsuna), mysteriously dies while they are there.
This film has a stronger sense of underlying humour than "Knives Out," pretty much in the same vein. But in neither of them does the humour distract us from the current stories. The two films' portrayals of murders that happen on a personal level for the victims, or when someone close to them kills them, is another similarity. This seems to underline Shakespeare's adage from Macbeth, "The near in blood, the nearer bloody."
Raat Akeli Hai (2020)
Honey Trehan is the director of the Hindi murder mystery film "Raat Akeli Hai." Consider this to be the small-town equivalent of "Knives Out," with all its elements present in varying degrees, whether as a mystery, suspense, romance, comedy, or social satire. The plot centres on the enigmatic passing of Raghuveer Singh (Khalid Tyabji), an elderly gentleman who once shared his mansion with a pretty illustrious family.
This comprises Singh's sister-in-law and her two children as well as his much younger wife Radha (Radhika Apte), the housemaid, Singh's son and daughter as well as her husband, and Singh. When police inspector Jatil Yadav (Nawazuddin Siddiqui) enters the scene to look into the murder, he finds out that the family and its connections to the deceased are more complicated than first appears. Keep your eyes and ears open, especially when the sun goes down, if you want to know what's happening.
They Cloned Tyrone (2023)
If conspiracy is the main focus, as it more frequently is, "They Cloned Tyrone" significantly raises the stakes. The film is directed by Juel Taylor, who also co-wrote the screenplay with Tony Rettenmaier. It follows three characters, Fontaine (John Boyega), Yo-Yo (Teyonah Parris), and Slick Charles (Jamie Foxx), as they learn about a government-backed conspiracy that involves making clones of people—specifically the local black population. With the help of his buddies Yo-Yo and Slick, Fontaine decides to investigate the matter after realising that he is also a clone of himself who is under the control of the business that is creating the clones. With a dark plot that keeps spectators on the edge and offers its own fair amount of humour, the film is a strong take on Blaxploitation (a mix of the words "black" and "exploitation," which was invented in 1972), very similar to "Knives Out."