The South Korean crime thriller series "Narco-Saints" on Netflix, also known as "Suriname" and "The Accidental Narco," was created by Yoon Jong-bin and Kwon Sung-Hui. It chronicles the life of Kang In-Gu, a regular businessman who relocates to Suriname in South America in order to make a livelihood as a fisherman. But he finds himself caught up in a risky plot to apprehend a violent drug gang boss. The fascinating show takes viewers inside a drug cartel's operations. As a result, viewers must be questioning if the show is based on actual occurrences. We had the same kind of curiosity and investigated the matter further. Here is what we learnt about how "Narco-Saints" were conceived.
Is Narco-Saints a True Story?
That's right; "Narco-Saints" is based on a real event. The television series, which is based on the story of a genuine drug kingpin named Jo Bong-Haeing, was created by Yoon Jong-bin and Kwon Sung-Hui. The drug lord ran his business out of Suriname in South America. He used Koreans as carriers to carry cocaine from South America to Europe. While little is known about Jo's early years, he was compelled to leave South Korea in 1994 because authorities were looking for him on fraud-related accusations.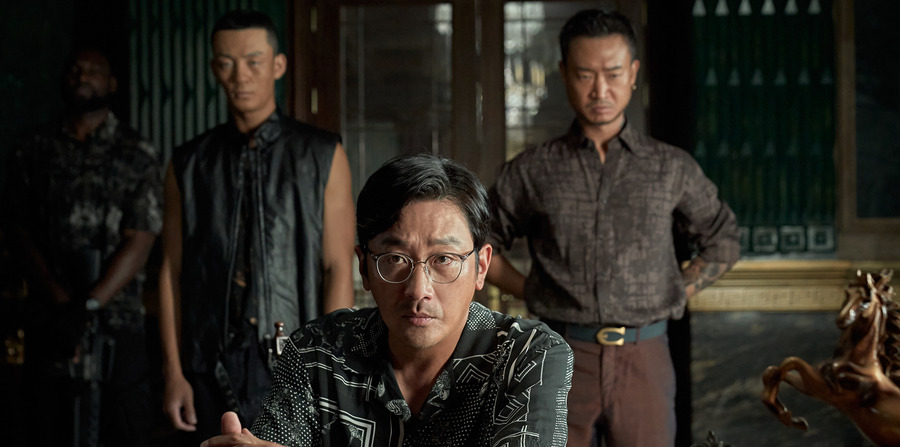 In the 1990s, Jo is alleged to have opened a channel for the supply and smuggling of drugs. Jo transported over 48.5 kg of cocaine into European nations in 2004 and 2005. One estimate places the package's value at least at 160 billion won ($140 million). Jo employed numerous Koreans to act as drug smugglers and paid them 4-5 million won every journey. Jo was taken into custody by the law in Brazil in 2009. In 2011, he was charged with transporting cocaine from South America into Europe using Koreans as carriers and deported to South Korea.
Co-creator Yoon Jong-bin talked openly about how t he series was conceived of in an interview. Yoon disclosed that he was initially approached about making a movie about the actual drug boss in Suriname. He chose to adapt the genuine story into a six-part television series after understanding that it would be difficult to present the story in a two-hour film. "When I initially learned about the tale, I found it to be really fascinating. But when I received the film's script, a lot was missing, including the elements that initially caught my attention. In a press conference, Yoon said, "It felt tough to portray the complete story in a two-hour running length.
The first episode of the series claims that the story is based on real occurrences. A word of caution, however, is now necessary. It claims that while the plot is based on actual events, it has been greatly dramatised, and some of the character names and details are fake. For instance, Jeon Yo-hwan is the character's name for Jo Bong-Haeing in the drama.
Furthermore, it is unknown whether the actual drug lord fronted his drug gang and smuggling operations under the guise of Christianity. Additionally, there are no stories of a South Korean businessman collaborating with the NICS to apprehend the drug boss while operating undercover. It follows that Kang In-character gu's in the series is probably a fabrication. Additionally, the series is comparable to other Netflix crime dramas about drug cartels like "Narcos" and "Narcos: Mexico" because of its focus on cultural representation.
Finally, as stated by its co-creators and opening credits, "Narco-Saints" is based on genuine occurrences. However, the story's creators probably embellished it with a number of imaginary components to make it more interesting. But through moving storytelling and dramatic scenes, the notion of a South Korean businessman infiltrating a violent international gang in order to kill its kingpin is grounded in truth. The clever blending of fantasy and reality will therefore surprise and amuse audiences.
Being a binge-watcher himself, finding Content to write about comes naturally to Divesh. From Anime to Trending Netflix Series and Celebrity News, he covers every detail and always find the right sources for his research.