The children of Novak Djokovic are fortunate to have parents who value them and support them in achieving their goals.
He has been married to Jelena Djokovic for a considerable amount of time. They began dating in 2005, and eight years later, in 2013, they became engaged.
The union took place on July 10, 2014. They have two kids together.
Novak and Jelena have experienced both the rewards and difficulties of parenting their two children, Tara and Stefan. Still, they put their responsibilities as devoted parents first.
When Jelena and Novak initially met in high school, their friendship grew stronger over time.
Informally dating since 2005, they have been through the highs and lows of life together.
They have helped each other out, celebrated one other's achievements, and provided assistance when needed throughout the course of their partnership.
At the Novak Djokovic Foundation, which the two co-founded, Jelena Djokovic, Novak Djokovic's wife, currently serves as National Director.
Jelena is both a philanthropist and a successful businesswoman.
Evaluating Djokovic's Grand Slam record
Discussions concerning Novak Djokovic's GOAT (greatest of all time) designation have been raised by his 23rd grand slam triumph. While some contend that he merits the title, others are hesitant to fully support it.
They think that athletes like Federer should be given the same respect. It's important to consider if greatness can be measured solely in terms of numbers.
Imagine a player who is 10 feet tall, regularly serves aces, and captures 30 Grand Slam titles. They might be the GOAT. No, such an idea is absurd.
Imagine a world war in which Dave, a player, wins 30 grand slams.
Would Dave rank as the best? Not. There is more to choosing the GOAT than just statistics or environmental factors.
Although Djokovic has accomplished much, the moniker of GOAT is debatable and difficult to define.
Novak Djokovic children
Two children were born to Novak Djokovic and his wife, Jelena, who are proud parents. Just four months after their wedding, on October 22, 2014, their son Stefan was born, marking the start of their parenthood journey.
Since then, Stefan Djokovic, the son of Novak Djokovic, has continued his father's and uncles' tennis-playing traditions.
He frequently has a racket in hand, ready for practise and instruction from his father.
Beyond the tennis court, Novak and Stefan have become closer since they have taken pleasure in hitting sessions together, especially during Novak's successful run at the 2022 Wimbledon competition.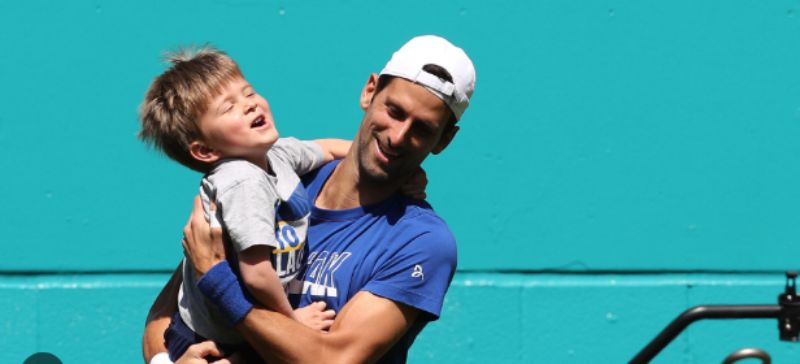 Daughter Tara, Novak and Jelena's second child, joined them in the world in September 2017.
Tara is not as enthusiastic about tennis as her brother Stefan is.
Instead, she is forging her own route and taking in sights unrelated to sports.
The children of Novak Djokovic adore him and kindly refer to him as "Tata," which is Serbian for "Dad."
When Novak competes, Stefan and Tara are frequently seen standing by their mother's side, fervently supporting their hero father.
Novak has made it plain that he does not want to push his children into tennis despite his success in the game.
He respects their right to pursue the hobbies and interests of their choice.
While Stefan has a strong affinity for tennis, Tara is taking a different route and figuring out her interests outside of the game.
The children of Novak Djokovic have had many tender moments with him.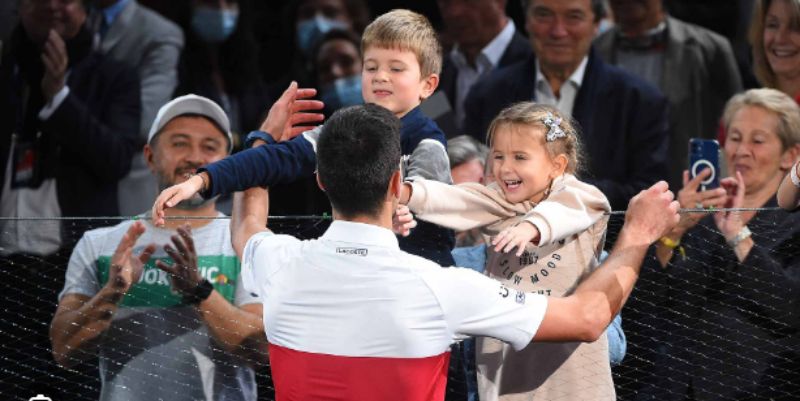 He treasures the times when Stefan plays jovial "shadow tennis" with his father, showing off his forehands and backhands.
Being a binge-watcher himself, finding Content to write about comes naturally to Divesh. From Anime to Trending Netflix Series and Celebrity News, he covers every detail and always find the right sources for his research.