One of the most horrific and tragic cases in American history is the 1984 murder of Cheri Lindsey in Binghamton, New York.
The aftermath of Cheri's murder was a never-ending nightmare of anguish and suffering for the Lindsey family.
However, once the inquiry got underway, James Wales was identified as the prime suspect by the police.
The life and deeds of murderer James Wales are covered in this article.
Early life of James Wales
James Wales was raised in a difficult environment that included physical and domestic abuse. He was born in 1949 in Endicott, New York.
Unfortunately, his family was used to this.
James' mental health suffered greatly as a result of his father's violent inclinations and his mother's mental condition.
James spent the majority of his formative years in North Carolina after the family eventually moved there.
James opted to enlist in the US Army when he turned 18 and underwent basic infantry training.
But James frequently acted inappropriately, which caused a number of issues.
James served for six years before being honourably discharged in 1972, at which point he went back to his Endicott, New York, homeland.
Life after military
James married, had two kids, and led a fairly typical life.
He was a maintenance mechanic at IBM for seventeen years.
However, James lost his employment in 1983 as a result of his battles with drinking and drug addiction.
James' life started to fall apart once he lost his job, and he started having paranoid and delusional thoughts more frequently.
Murder of Cheri Lindsey
Cheri Lindsey, a seventh-grader who worked a part-time job delivering newspapers, decided to go for the money she was owed on March 26, 1984.
She usually departed with her mother, but this time her mother wanted to make dinner, so she went alone.
Her family soon started to worry when she didn't come home; she was last seen that day about 5 o'clock in the afternoon.
Cheri's mother, Jean Lindsey, told the police about a man who lived seven blocks away and hadn't paid for the newspapers while the investigators were conducting a thorough search.
He had given her a strange look, which made her wary, as Jean recalled.
Less than 30 hours into the inquiry, the authorities focused their attention on James Wales, a 35-year-old father of two who lived seven blocks away from Cheri's home with his family.
James admitted to beating Cheri with a table light two to three times, sexually assaulting her, strangling her, and ultimately killing her during questioning.
Everyone was shocked by the murder's extreme severity.
Cheri's feet were in the air, and he could hear her screaming in pain, according to testimony given later by James's stepson.
Trial and incarceration
James' defence claimed he was innocent during his trial due to a mental illness or defect.
James had intermittent explosive disorder and was daydreaming about carrying out a "act of revenge" on his mother at the time of the murder, according to a clinical expert who testified in court.
James was convicted guilty of second-degree murder and abuse notwithstanding the psychiatrist's testimony.
James was given a sentence of 33 years to life in jail in December 1984 and was transferred to the Attica Correctional Institution in Wyoming County, New York.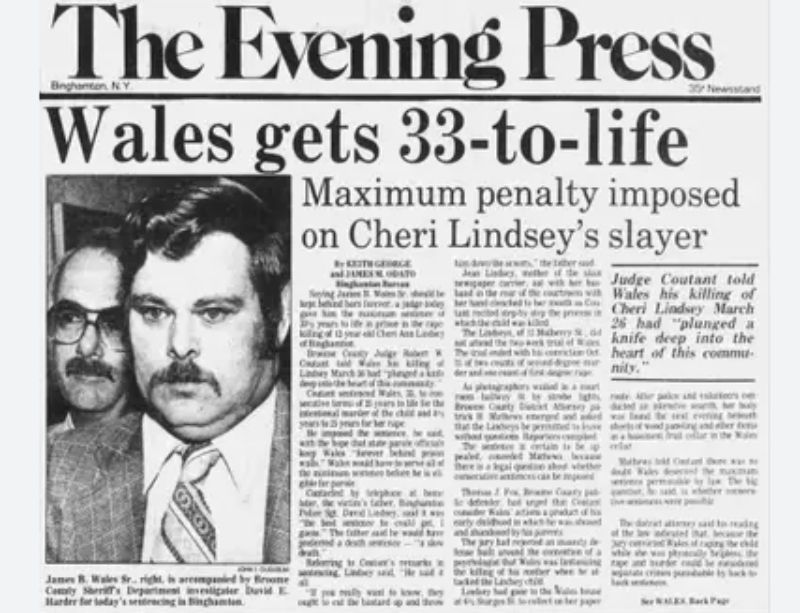 After nearly three decades behind bars, James had a hearing for parole in 2017.
James accepted full responsibility for the murder during the parole hearing and confessed to depriving Cheri of her life and the satisfaction of ageing.
James is currently incarcerated at the Wende Correctional Facility in Alden, New York, completing his term.
He regularly expresses regret for Cheri's passing and the grief he brought on her family while he is still serving his sentence. In 2023, he will have another parole hearing.
Along with losing their small daughter, the Lindsey family also had to deal with the pain of James' despicable actions and the subsequent legal proceedings.
The Lindsey family is still dealing with the hurt and emotions caused by Cheri's slaying today.
Being a binge-watcher himself, finding Content to write about comes naturally to Divesh. From Anime to Trending Netflix Series and Celebrity News, he covers every detail and always find the right sources for his research.