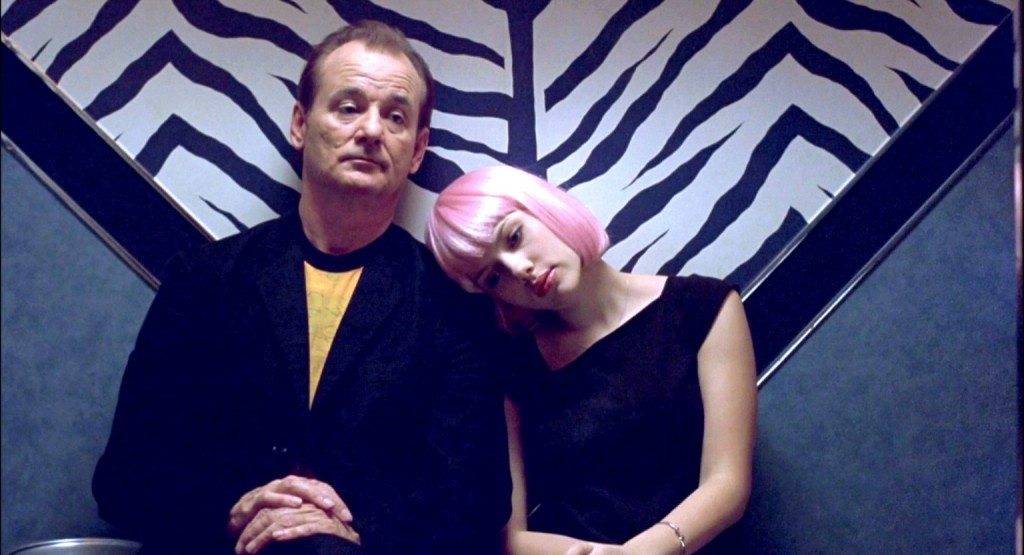 19 Best Older Man Younger Woman Relationship Movies | Age Gap Romance Movies
Almost half of all romance films created in Hollywood and abroad are about older men and younger women, if you look closely. However, most of those films do not properly qualify for this list since, despite the large age disparity between the performers, the characters are assumed to be much younger. For example, in every film starring Tom Cruise, his love interest is usually played by a young man in his twenties. He is in his fifties himself. However, he always plays characters in films who are in their thirties (okay, on rare occasions, 40-something).
This is a list of films in which the age gap is acknowledged. Films depicting older women and young men are uncommon, but when they are, directors don't have to worry about appearing perverted. However, films about older men with younger women requiring additional sensitivity are required since the film — and the filmmaker — can easily be perceived as weird and predatory if the narrative is not handled properly. That is why there have been so few good films created about the subject. The following is a list of the best films about older men and younger women relationships.
An Awfully Big Adventure (1995)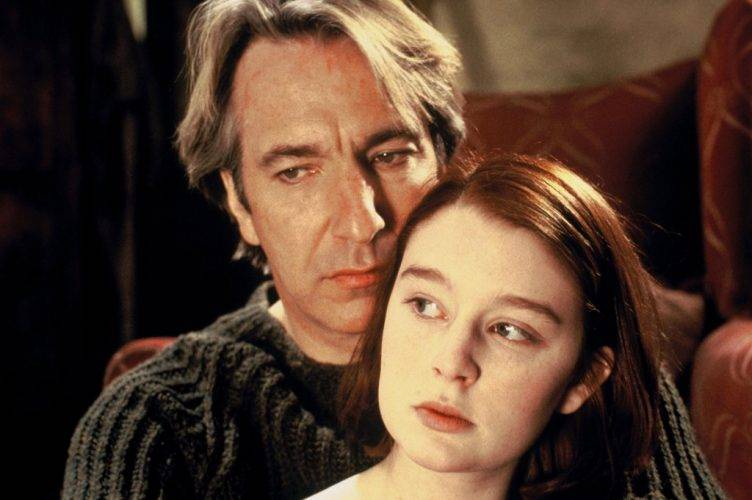 'An Awfully Big Adventure,' although not being a romantic picture, is a perplexing narrative of a young girl named Stella Bradshaw who falls for a man much older than her while attempting to satisfy her sexual wants and desires through other methods. Hugh Grant portrays Meredith Potter, a gay and sadistic director of the theatre company where Stella works, as well as Stella's love interest. Alan Rickman portrays O'Hara, a middle-aged actor who falls for Stella but is subsequently exploited by her for sexual gain. The relationship between Stella and the two men begins to crumble as the novel progresses, owing to Stella's biased fondness for Meredith despite his acts and O'Hara's deep care for her well-being.
The film depicts a difficult romantic triangle between the three protagonists, with the girl being a teenager and the men being significantly older. The inclusion of celebrities like Alan Rickman and Hugh Grant has made this film an engaging experience, even though it has received mixed reviews from critics. The picture is a sad and unpleasant theatrical complete with dark character characteristics and a jaw-dropping, but dissolute and undesirable ending, rather than a romantic folklore disguised as a British sadistic tale. "An Awfully Big Adventure," based on Beryl Bainbridge's novel of the same name, is a dark metaphorical tale that is admirable for its eccentricity combined with a clever screenplay and outstanding performance.
An Education (2009)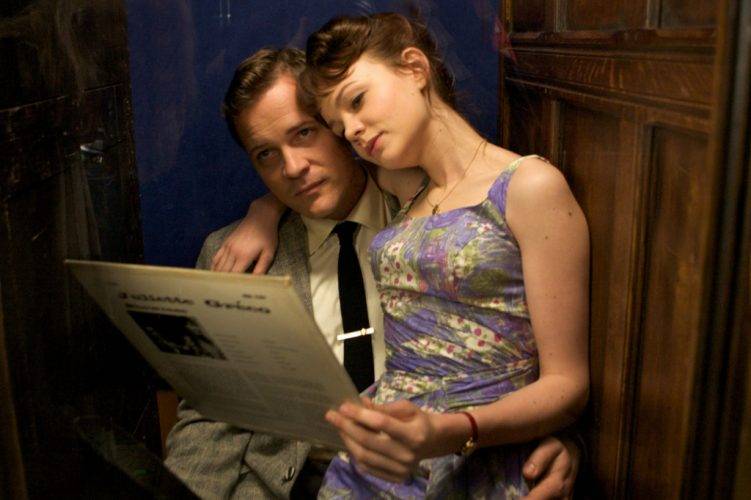 Now, this is a film set in Britain's sophisticated, strict, and structured culture and lifestyle, in which a teen's desire to live a life of luxury, independence, and free will leads him to cross paths with a man much older than him, who turns out to be a life lesson for her, providing her with true life education. Jenny, a dreamy adolescent, has an odd experience with David, a lovely Englishman, which takes her life down a path of obsessive love and affection, driving her to lose her sense of truth, reality, and her loved ones' concern for her.
The remarkable performance by lead actress Carey Mulligan, who passes with a fantastic charm, decency, and excellence in her acting, overshadowing the other forgettable performances, including actor Peter Sarsgaard's, makes 'An Education' a Best Picture nomination at the Oscars that year. Carey Mulligan gives an outstanding performance as the teen protagonist, skillfully executing the changes in the characters' ideas and personalities as she learns them step by step throughout the film.
'An Education,' starring Dominic Cooper, Rosamund Pike, and Alfred Molina, is also noted for its very exact and abundant setting of the 1960s British-era, as well as its setting of London city according to the places of the time. Despite three Academy Award nominations and a critical acclaim for Mulligan's performance, 'An Education' remains underappreciated and was a box-office disappointment.
As Good As it Gets (1997)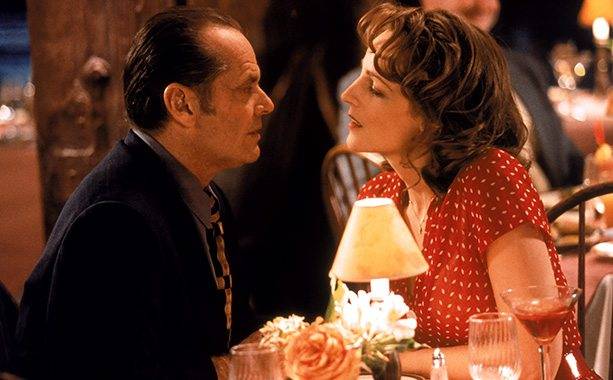 For the legendary Jack Nicholson, age is just a number. In every shot he's in, the man exudes charisma and oozes class. He was 60 at the time of filming, but there was no awkwardness in the room while he was dating Helen Hunt, who was 34 at the time. Flamboyance and charisma are all about this. 'As Good As It Gets,' a beautiful little romantic comedy starring Jack Nicholson, tells the story of a misanthropic, irritating, obsessive-compulsive writer who must look after his neighbor's dog. He develops feelings for a waitress who is about half his age and is a single mother with a chronically ill son. The film takes its time to create the characters and their relationships, and it does so beautifully. It's a beautifully constructed film with excellent performances by Nicholson and Hunt, who both received Academy Awards for Best Actor and Best Actress.
Blue Car (2002)
Hollywood is recognized for producing films with fascinating tales based on the simplest of plots. 'Blue Car' is one of those films that, despite its weaknesses, manages to captivate audiences with its intriguing characters and dramatic performances by the actors who play them. 'Blue Car' tells the narrative of Meg, a young adolescent who is clumsily and uncomfortably attracted to her English teacher because they share a love of writing. As Meg prepares for a poetry contest, the film captures this teacher-student connection, which abruptly ends on a completely unexpected node, offering an unexpected twist in the ultimate plot.
The picture maintains a strong A+ throughout its runtime, reaching new heights of precision and realism in the final scenes. David Strathairn and Agnes Bruckner, among the others, deliver remarkable performances to keep the film together. 'Blue Car,' despite its shortcomings and quibbles, is one of the few films from a first director that pays that much attention to detail and background study, which has created this film, despite its flaws and quibbles, a wonderful cinematic experience.
Circle of Two (1981)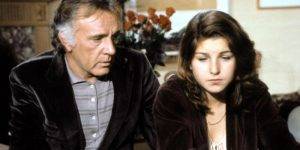 More than any other film on our list, this Canadian drama extends out the age gap. This time, a sweet 16-year-old poet falls in love and begins an innocent yet very emotional relationship with an elder painter, who is 60 years old. It's a long and realistic depiction of such an uncertain and doubtful circumstance, but it offers us a wonderful understanding of each individual, making them incredibly attractive and honest. This dramatic movie, starring Richard Burton as a painter and Tatum O'Neal as a teenage Sarah Norton, takes on the controversial "Lolita Complex" and places it in a more ordinary setting, where things may not seem so tough to swallow when love is at the heart of the characters' actions.
Frank & Lola (2016)
'Frank & Lola,' a noir, dark, and funny psychological romance, is a magnificent portrayal of his infatuation and jealously for the woman of his life. 'Frank & Lola' is a gripping romantic thriller intoxicated with violence, seduction, and sex about Frank, an obsessively possessive and obsessed chef in Las Vegas, and Lola, a newcomer to town who happens to meet paths with Frank. As the secret of this fascinating young woman is gradually disclosed, the plot takes many twists and turns, eventually forcing Frank into a series of traumatic fits prompted by a psychiatric compulsion.
'Frank and Lola' finds a terrific star in Michael Shannon, who brilliantly portrays the various forms of Frank's character, which progress from loving to violent, compulsive, possessive, and finally shattered and lonely over the course of the film. Imogen Poots, who has proven her acting credibility as well as her talent over many other actors, is a strong supporter of his. Furthermore, high appreciation for filmmaker Matthew Ross, who maintains a solid directorial debut that delves deeper into the audience' astute insights.
Great Balls of Fire! (1989)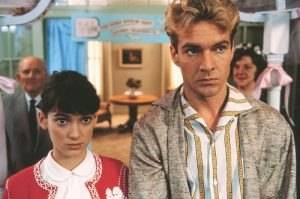 This is an excellent biographical picture on the life of rock and roll legend Jerry Lee Lewis, with Dennis Quaid putting in a brilliant portrayal as this historical music hero of the 1950s. In the midst of his wild and electrifying career, it is his marriage to his 13-year-old cousin that introduces the "Lolita Complex," a highly contentious occurrence that led to his near-extinction from the music world. Known for his undeniable musical genius and exuberant originality, this film also depicts the darker and haughty aspects of his personality, as well as his alcoholism, providing a broad and varied look into the life and thoughts of this piano maestro.
Guinevere (1999)

'Guinevere' is a forced-romance film about a melodramatic connection between a 50-year-old Casanova photographer and a 20-something outcast who becomes the photographer's protégé in her quest for male attention. 'Guinevere' depicts the dangers of young girls succumbing to the allure and affection of attractive older women, yet director Audrey Wells' visual direction elevates the film to a worthwhile viewing experience. 'Guinevere' is about Harper Sloane (Sarah Polley) and Connie Fitzpatrick, who have a strange and forced relationship (Stephen Rea). What's the point of being forced?
Connie is portrayed as a man who can't be trusted, with his instincts and intentions ambiguous throughout the film; nonetheless, Harper's affection and love for him pushes her to stay with him until she is confronted with his genuine personality and the realities of his past relationships. The film, on the other hand, loses its grip on its intensity and aspects of surprise as it adopts predictable terminology, culminating in a weakly and ambiguously shot finish and climax (a result of a possible tight schedule and budget). Though Wells' direction and Polley's acting are outstanding, the film's promise is harmed by the underdevelopment of supporting characters (notably Harper's mother), the storyline's loose architecture, and a less-than-enthusiastic climax.
Last Tango in Paris (1972)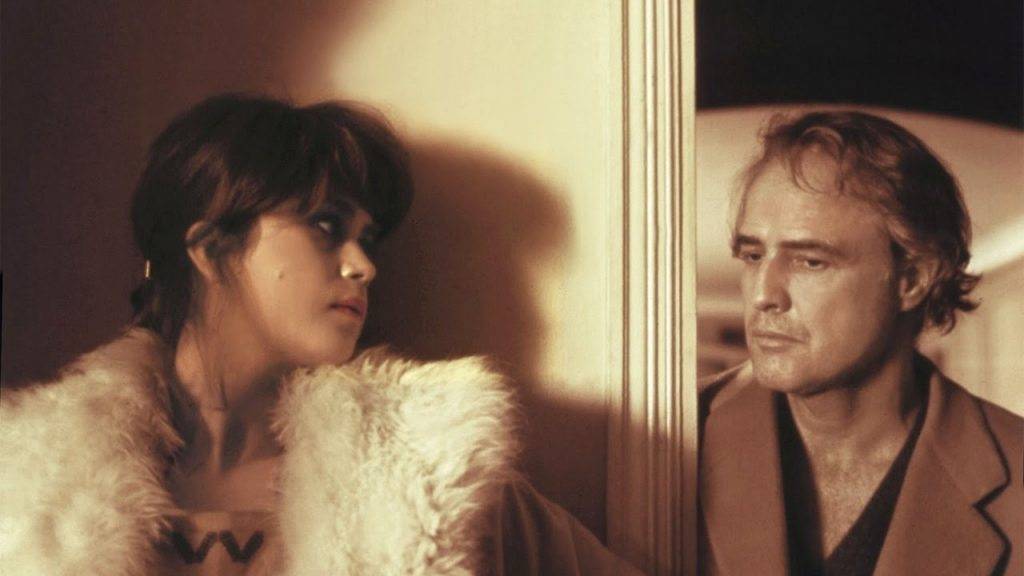 The magnum work of Bernardo Bertolucci is one of the most divisive films ever created. The story follows a guy who, after the death of his wife, establishes an anonymous sexual relationship with a much younger lady. The film is a deeply freeing work of pure erotic cinema that melts you with its wonderfully agonizing portrayal of the human predicament. It's beyond description in terms of emotional rawness, darkness, and tragedy. Marlon Brando gives one of the best acting performances of all time in this picture.
Lolita (1962)

The movie banner asks, "How could they ever make a movie about Lolita?" I don't believe there's anything Stanley Kubrick wouldn't produce if he felt it was necessary. That's exactly what happened with this 1962 film adaptation of the famous "Lolita" story, starring James Mason and Sue Lyon as the two squabbling "lovers." It centers primarily on Humber Humbert's obsession with a gorgeous and young 14-year-old provocative adolescent from whom he is passionately unable to remove himself. Despite the fact that it omits most of the book's provocation, it was nonetheless seen as a very contentious picture due to the subject's overall taboo and immorality in the public's eyes. However, it was a huge commercial success and has since cemented its place in cinema history.
Lost in Translation (2003)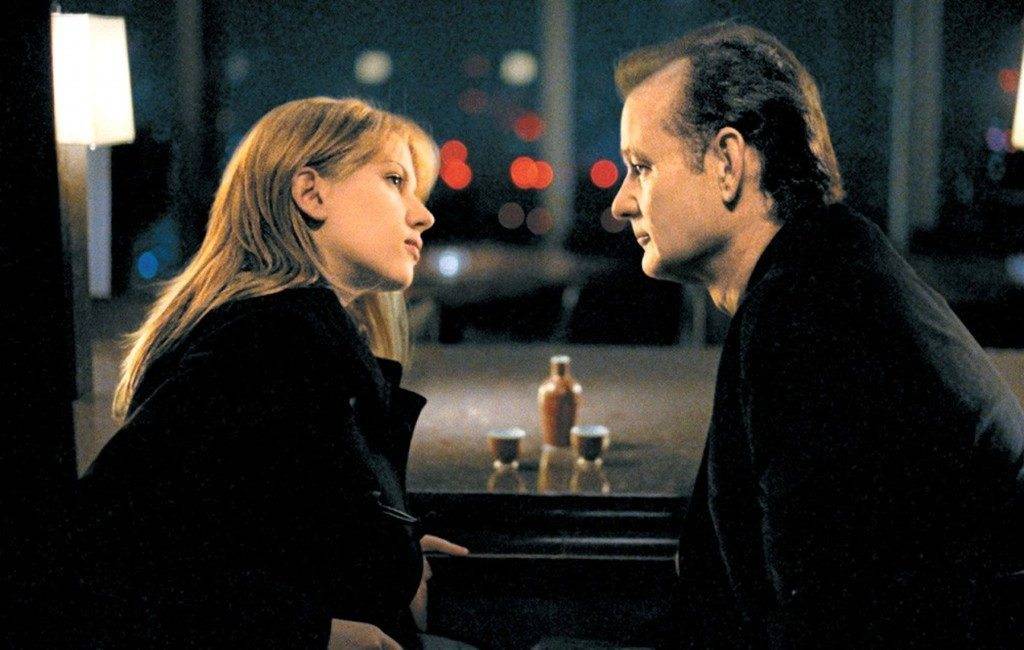 'Lost in Translation' is a charmingly melancholy story about love, loneliness, and boredom. The story follows a middle-aged American actor and a considerably younger American woman who meet at a Tokyo hotel and fall in love. They appear to be adrift in a world and culture that is foreign to them, and despite their age gap, they begin to discover themselves in one other. These are two souls who are caught in very different stages of life, but they appear to share some type of bond. Their connection appears platonic at first glance, but it has an ambiguous tone to it, and we'll never know what Bob said in Charlotte's ear, which is possibly the beauty of life. The unknown has a certain allure.
My First Mister (2001)

'My First Mister' tells the narrative of Jennifer, a disturbed adolescent who struggles to live up to society's expectations. Randall Harris, the proprietor of a clothes company, offers her a job once she graduates. As she struggles to adjust to her new world, she finds solace in the words of wisdom and experience of a much more mature and realistic Randall, with whom she forms an unexpected bond.
The reason to how 'My First Mister' made the list is that the old man-younger woman relationship here is a friendship link rather than a love bond. Albert Brooks (well known for his later part in Drive) plays Randall Brooks, a divorced man living a secluded and repetitive life, while Leelee Sobieski plays Jennifer, a teen seeking answers to life's questions. The film is worth seeing since it focuses on many teenage complications and it visually represents the human desire and requirements of reaching out to a friend or a person who is interested in seeing what life is about, in this case, what life has in store for one. This is the most lovable, loveliest, and heartfelt of all the amorous couples depicted on TV.
Manhattan (1979)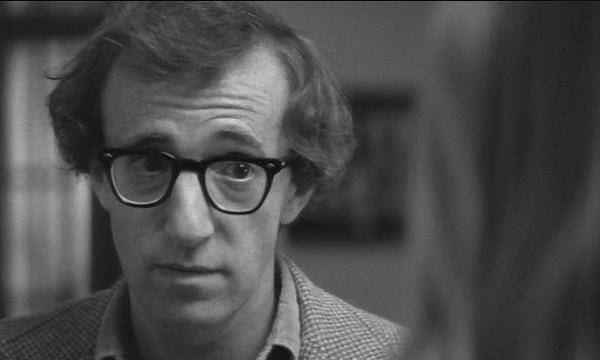 'Manhattan,' directed by Woody Allen, transformed my perspective on human connections and the lovely follies of human nature. This is so much more than a lovely little romantic comedy, just like any other Woody Allen picture. Allen's character Issac, a divorced New Yorker, is in a relationship with Tracy, a high school girl, in the film. The problem is that Issac believes he is far too mature to be in a relationship with this young girl, so he falls in love with a lady his own age, his best friend's mistress. But things don't work out, and Issac quickly finds that Tracy was his genuine love, and that despite his arrogance and narcissism, she loved him with all her heart. But perhaps life is simply a beautifully wrapped box of squandered opportunities, and it is this awareness that makes 'Manhattan' so moving.
Noce Blanche (1989)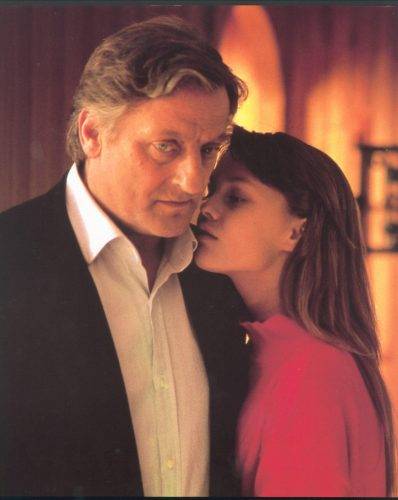 'Noce Blanche,' a French-language film nominated for three Cesar Awards, depicts the attraction, affection, and romance between a man and a much younger girl, which takes a pessimistic turn as their love for each other increases, crossing societal trends and obligations. 'Noce Blanche' is the story of Mathilde, a 17-year-old girl whose loneliness, brought on by her father's absence and her suicidal mother, leads her to fall for a married man in his later years. As his presence begins to heal her loneliness and isolation, her lack of rationality and sensibility causes her to become obsessed with her newfound love, resulting in the deaths of many people and the disintegration of countless relationships.
'Noce Blanche' is a film about an older man and a younger lady in a morally questionable relationship, demonstrating how disgusting uncontrollable desires, seclusion, and stubbornness can be to the human mind. Despite being the lead protagonists, Vanessa Paradis plays Mathilde, who isn't the center of attention in the film. Her main sequences show her in a state of misery, rage, and anxiety, which restricts her acting and reactions. However, star actor Bruno Cremer gives an outstanding performance as Francois, an intelligent man trapped in an alluring sympathy spell.
Palo Alto (2013)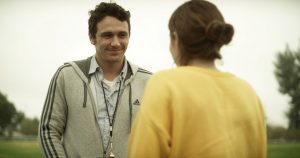 This was Gia Coppola's (Francis Ford Coppola's granddaughter) feature picture debut, and it stars Emma Roberts and James Franco among others. April (Roberts) and her soccer coach Mr. B (Franco) become involved in a more intimate relationship than the typical student-teacher correlative approach should be in the midst of the adolescent life and ambitions of a young group of teenagers. An open perspective into these various souls of Palo Alto is achieved through a well-constructed and drifting plot, with well-defined individuals seen from a dreamy and reckless setting produced by brilliantly stylised cinematography.
This was Gia Coppola's (Francis Ford Coppola's granddaughter) feature picture debut, and it stars Emma Roberts and James Franco among others. April (Roberts) and her soccer coach Mr. B (Franco) become involved in a more intimate relationship than the typical student-teacher correlative approach should be in the midst of the adolescent life and ambitions of a young group of teenagers. An open perspective into these various souls of Palo Alto is achieved through a well-constructed and drifting plot, with well-defined individuals seen from a dreamy and reckless setting produced by brilliantly stylised cinematography.
Quills (2000)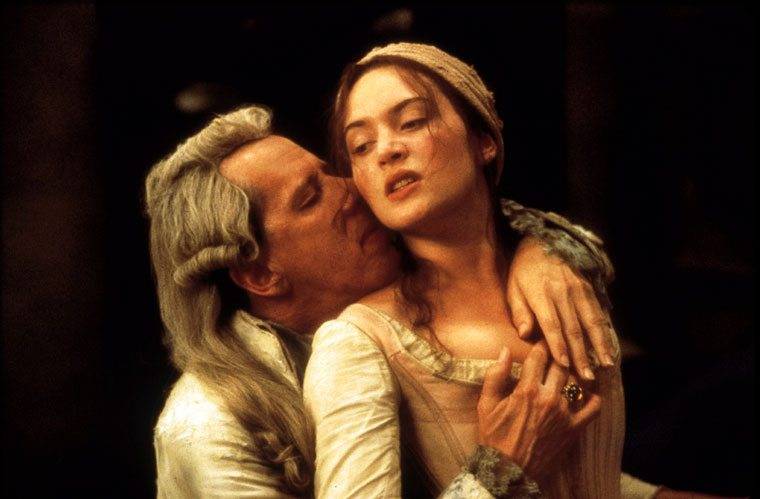 'Quills,' a critical smash, is a semi-fictionalized biography of Marquis de Sade, a French philosopher and writer who was notorious for his hedonist sexual lifestyle, which inspired numerous erotic works and also led to years of arrest and imprisonment. The film shows his later years in a French asylum, as he battles forced therapy for his 'insanity,' as well as his sexual obsession and unwanted attempts against young ladies. Between these two stories about Sade and his mental state, Madeleine, a young laundress, admires Sade's art and is drawn to him out of love. The romance between Madeleine (Kate Winslet) and Sade (Geoffrey Rush) garnered a lot of attention from film reviewers and audiences, while being a tiny component of a much larger plot. Though the film's depiction of nudity and sexual violence was criticized, it added to Philip Kauffman's realism.
Apart from the equally captivating role of Hector Barbosa in 'Pirates of the Caribbean,' 'Quills' represented Rush's strongest performance to date, aside from Kauffman's direction. While Rush was at his best, Winslet followed up her Academy Award-winning performance in 'Titanic' with another touch of perfection in 'Quills' (1997). Joaquin Phoenix, who plays du Coulmier, the director of the asylum that houses Sade, joins this colourful cast. Du Coulmier is a fascinating man who is torn between his responsibilities and his belief in Sade and his teachings. 'Quills,' which also features a vast cast, is a sophisticated and terrifyingly superb historical drama.
The Girl in the Café (2005)

Unexpectedly, a lonely and alone employee of Her Majesty's Treasury working under the Chancellor of Exchequer meets an enigmatic lady much younger than himself. As the events of the movie unfold, their chance encounter develops into a greater friendship as they strive to reconcile their differing perspectives on the world.
'The Girl in the Café' is a romantic comedy with a social message about third-world difficulties and the indifference of countries like the United Kingdom to the suffering populations of these countries and their failure to help them in the name of humanity. The film's strongest feature is that it never deviates from its romantic plot because these topics are discussed in conversation rather than being seen on screen, thereby maintaining the characters' separate plots. The unstructured scripting, on the other hand, struggles to balance the humanizing message with Laurence (Bill Nighy) and Gina's uneasy romance (Kelly Macdonald).
Macdonald's performance garnered her an Emmy for Best Actress in a Limited Series or Television Movie, which contributed to the film's success. 'The Girl in the Café,' which won an Emmy for Outstanding TV Movie, is a delightful romance in which an elderly man's conscience is questioned by his younger female counterpart, leading to a charming conclusion.
The Humbling (2015)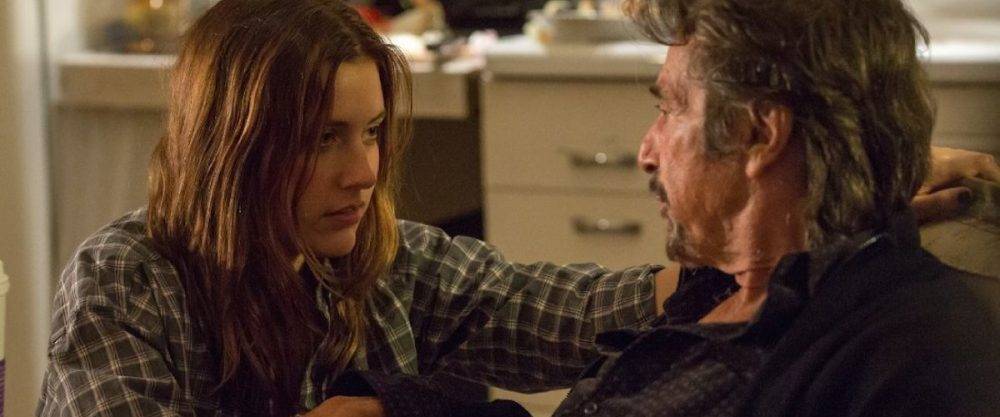 An aging actor attempting to resurrect his career begins a relationship with his ex-little girlfriend's daughter, which completely transforms his life. In his later years, actor Al Pacino's filmography includes a number of notable moments, including 'The Humbling.' Pacino portrays Simon Axler, a damaged and forgotten actor who tries to reclaim his name among the public through Broadway, but is thwarted by his stage shyness and phobia of self-presentation. When confronted with the horrors of his history, Axler finds a wonderful ally in Peegen, his "goddaughter." The film then follows the lives of these two characters, which take an unexpected turn when they begin a romance. The ending, which takes place on a Broadway stage, provides the audience with an ordinary but remarkable finish to the story.
'The Humbling,' while not a well-known picture, deserves praise for its fresh approach on a love story. After a string of missteps, 'The Humbling' is a welcome return to form for Al Pacino, who had been looking for a means to reclaim his place in the world. 'The Humbling,' while not a hit, deserves to be seen.
Three Colors: Red (1994)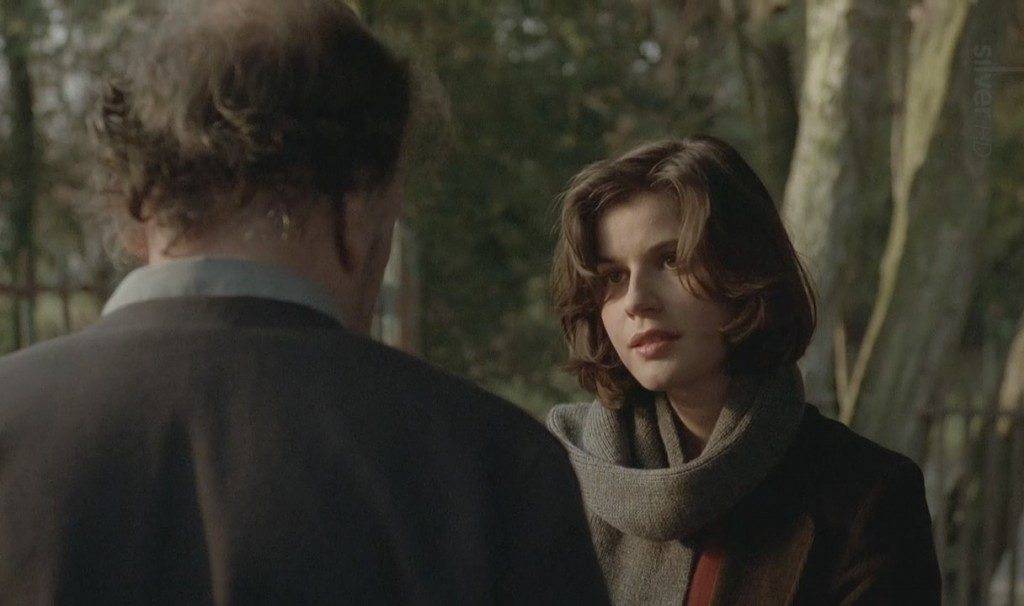 There's something incredibly beautiful about the way Kieslowski just hits you in the feels. My first Kieslowski film was 'Red,' and I was immediately enthralled by its elegance. The film explores the interaction between a young woman and a cynical elderly judge who listens in on people's talks in order to spy on them. Their worlds appear to be radically different at first, yet there is something connecting them that will eventually evolve into a truly intimate friendship. Their relationship isn't explicitly romantic, but you get the impression that they might be lovers, and Kieslowski hints at this in a number of scenes, most notably in that lovely scene where Jean-Louis Trintignant's character says goodbye to Valentine and they both place their hands on the car window before he drives away. It's a basic moment, but it conveys their relationship's intimacy.