The third season of Hulu's "Only Murders in the Building" centres on the death of actor Ben Glenroy. The comedy-drama series' third season follows Charles, Oliver, and Mabel as the three inexperienced detectives work to solve the case while juggling personal problems. The trio focuses on their love life in the fifth episode as Oliver and Mabel go on dates. Charles, on the other hand, has a rocky connection with Joy. Here is all the information you need to know about the conclusion of 'Only Murders in the Building', season 3, episode 5 if you're curious how the events of the episode effect the murder investigation and the personal lives of the main players! Spoilers follow!
Only Murders in the Building Season 3 Episode 5 Recap
Oliver and Mabel question Charles about his girlfriend/fiancée Joy's possible involvement in Ben Glenroy's murder at the start of the fifth episode, titled "Ah, Love!" As he continues to struggle with mistakenly proposing to Joy, Charles hasn't yet spoken with her. Oliver is anxious as he gets ready for his first date with Loretta. However, Mabel is meeting Tobert, who appears to have information on a probable suspect. Tobert invited Mabel to a restaurant in the hopes of uncovering more information. Tobert, according to Charles and Oliver, did ask Mabel out on a date.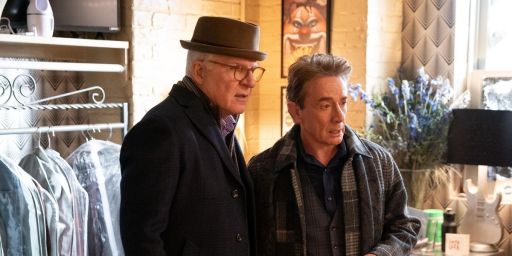 Joy's lipstick was discovered in Ben's changing area, and Charles queries her about it. Joy, who is upset after Charles accuses her of being complicit in Ben's death, then vacates the flat for the evening. When Charles' stunt double Sazz Pataki arrives, he finds out how awful his relationship is. As a result, she pretends to be a therapist and looks for the source of Charles and Mary's issues. Sazz eventually learns that Charles is averse to Joy because of the commitment and change that would result from a meaningful relationship. Sazz persuades Charles that he is in love with Joy and that his suspicion that Joy is a murderer is just a projecti on of his insecurities.
Mabel discovers that Tobert is tracking Jonathan in another location as a possible suspect. He utilises the occasion to make a date request even if he has no solid leads. She goes through with it, though, and spends the evening with Tobert. Oliver and Loretta's date suffers when Loretta disparages Ben, in the meantime. But when they ride a ferry around New York and talk about their pasts, Oliver and Loretta are able to connect. In the end, Loretta acknowledges that she didn't like Ben since he didn't want to collaborate with her on the play. As an act of retaliation, Loretta acknowledges writing the statement on Ben's mirror.
When they see Jonathan interacting with an enigmatic stranger in the restaurant, Tobert and Mabel start growing close. Tobert recognises him as Dr. C, who worked with Ben and other Hollywood celebrities to rejuvenate their appearance. But Mabel and Tobert unintentionally let Jonathan know they were there, so he left with Dr. C. Later, Mabel and Tobert go back to her flat where they kiss and Mabel shows him her murder board. While Charles and Joy attempt to mend their relationship, Oliver and Loretta spend the night together.
Only Murders in the Building Season 3 Episode 5 Ending: Why Did Charles Punch Ben?
When Joy returns to the flat towards the end of the episode, Charles finally opens up to her about their relationship. Charles acknowledges that he unintentionally proposed to Joy, but he still desires to wed her because of how much she has enriched his life. Joy reveals that she attended Oliver's play's opening night from backstage. After someone slapped Ben, leaving a red mark on his face, Howard called her over to handle a cosmetic emergency.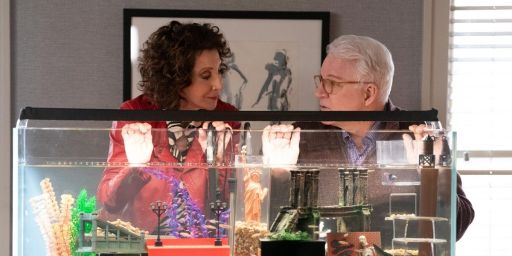 Joy's lipstick slipped out of her case after she assisted Ben in concealing the wound. Charles expresses regret to Joy for accusing her of Ben's murder but admits he was the one who struck him. In a flashback, it is seen that Charles struck Ben in the face after catching him groping an actress on stage. Joy, however, is horrified by Charles' actions and won't accept his apologies. She cancels the wedding and vacates the flat, effectively ending her relationship with Charles forever.
Were Ben and Loretta Together?
Oliver and Loretta end up spending the night together as the episode comes to a close. Oliver peeks around Loretta's flat though as she goes to take a bath. He comes across a scrapbook with newspaper clippings of Ben Glenroy. In the episode, Loretta explains why Ben mistook her for someone else while thinking she was fixated on him. Ben was, however, captivated with the individual who was with him backstage on opening night, as seen in the camera footage from his dressing room. As a result, the episode's conclusion strongly suggests that Ben and Loretta are acquainted and may have had a covert relationship at one point. Furthermore, Loretta's animosity against Ben lends credence to the idea that she is the murderer.