Fans have been captivated by Bravo's wildly popular reality programme "Below Deck" for decades. The programme centres on a group of attractive crew members who serve the yacht's affluent patrons while working on it. The fourth season of the show was filmed in the US Virgin Islands and followed the crew, which included both returning and new cast members, as they travelled across the ocean and encountered conflict due to interpersonal drama between cast members or difficulties sailing in choppy waters. There haven't been any new developments regarding fans' favourite TV actors since season 4 ended in 2016. We have the information for you if you are interested in learning more about what they are doing right now. Shall we get started?
Where is Lee Rosbach Now?
View this post on Instagram
One of the well-known characters on film was Captain Lee, who put completing his duty first before anything else. He had a lot on his plate with the deck crew and their antics, but with Kate's assistance, he was able to strategically keep everything afloat. He stayed on the show through the ninth season before having to depart due to health problems.
Captain Lee, though, won't be leaving anytime soon! Even though he won't be coming back to Below Deck, he has stated that he is engaged in a few new projects with Bravo. Although he has not yet provided any specifics, he has made hints that some well-known individuals might be involved. Fans may rest easy knowing that Captain Lee will soon be back on television, charming his way through the action.
Where is Ben Robinson Now?
View this post on Instagram
The original Below Deck chef, Ben Robinson, joined the crew while harbouring unresolved feelings for Kate. Ben wanted to make up with Kate after their disastrous fling, but he soon fell in love with Emily Warburton-Adams, and the two started dating by the conclusion of the season. Chef Ben appeared on the show for the last time during this episode, but he appeared again on the 'Below Deck' chat show 'Galley Talk' and 'Beachside Brawl'.
after the performance. For his affluent clients, private chef Ben travels around North America and Europe. His Instagram page is filled with images of his delectable cuisine, and in May 2023, he posted a message announcing his engagement to Kiara Cabral, his longtime girlfriend. It appears that the next phase of Chef Ben's life will be filled with happy years for the two of them!
Where is Kate Chastain Now?
View this post on Instagram
As the new season got underway, the chief stew had a lot going for her. She was juggling a long-distance relationship with her fiancée, and during the course of the play, she managed to get into quite a few spasms. She didn't leave the show until the seventh season since she had changed her mind and wanted to try new things. Since leaving the programme, Kate has worked on a number of noteworthy projects that have been successful.
In 2016, Kate created the non-profit apparel boutique Genesis Boutique, the radio show "Unapologetically Kate Chastain," and the book "Lucky Charming." She later co-hosted the Bravo Chat Room and assumed the position of Executive Producer. In December 2022, Kate posted a social media pregnancy announcement. She gave birth to a healthy baby boy in May 2023, who she named Cay Sullivan.
Where is Emily Warburton-Adams Now?
View this post on Instagram
The audience was drawn to Emily since she was Chef Ben's romantic interest and the second stewardess. The two remained close after the end of the programme, but in 2017, they made the decision to part ways. Emily, who appeared for just one season and was affectionately referred to as the "English Rose" on the show, made a strong impression on the audience.
Emily left the programme and the yachting business after quitting, and she co-founded POWFood, a catering company that specialises on wellness and health services. She is a mental health advocate who resides in London and has openly discussed the specifics of her experience with anorexia. She works as a digital editor and influencer who supports initiatives to raise young women's and girls' understanding of mental health issues.
Where is Sierra Storm Now?
The show's opening did not have the delightful charm Sierra had hoped for. The 26-year-old was arguing with Kate when she missed her flight to board the stylish superyacht "Valour." Although this was her second appearance on the show, fans were shocked to learn that she wouldn't be back for more seasons. Sierra left the programme and thereafter worked as a flight attendant for Vista Jet till April 2017.
According to reports, Sierra is currently employed as a flight attendant for private aircraft and also serves CEOs and elected officials. She chooses to keep her social media accounts private, thus little else is known about her. But we think she has done incredible things for herself, and we wish her luck in all of her future endeavours.
Where is Kelley Johnson Now?
Kelley Johnson made a comeback to the programme as a bosun and was able to earn Captain Lee's forgiveness. The captain did not appreciate his tenacity in season 2, but by season four he recognised Kelley was a stronger and far more dependable deckhand. Kelley opted to become a captain during the pandemic after leaving the show and while he was working as an advocate for young people with depression or anxiety.
Kelley put in a lot of effort, moved up the ranks, and discovered a new love for photography that he is currently pursuing. He also maintains a YouTube channel called "The Military Guy," where he talks about his travel experiences and offers suggestions for coping with life's challenges. Even if Kelley is unlikely to return for a third season of "Below Deck," we can still anticipate his success as a captain and a photographer to grow significantly.
Where is Trevor Walker Now?
Trevor Walker is remembered by viewers as a conceited and challenging crew member who quarrelled with practically every character on the show, especially Kelley. Due to his attitude, Kelley demoted him from senior deckhand to deckhand, and in the end, Captain Lee let him go before the season was up. After that, Trevor promptly accepted a position as a bosun on a 151-foot yacht that was sailing in the South Pacific. Since his significant career advancement, not much is known about him. Prior to appearing on the show, he worked as a Paul Mitchell hair model, but it does not appear that he picked up this thread. His disappearance from social media and all other internet platforms has made his location a mystery.
Where is Nico Scholly Now?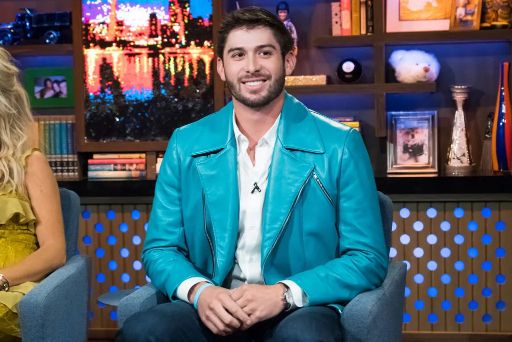 At the beginning of the show, Nico Scholly and Kate had a large and epic explosion, yet he still managed to draw spectators in with his wry and funny demeanour. He continued to appear in the show's subsequent season and was now a bosun after receiving a promotion. After leaving the show, Nico appeared to have undergone a transformation because he had joined the Chicago-based residential and commercial plumbing company owned by his family.
The Tristen Scott Foundation NFP was established by Nico's family in honour of Nico's late brother and works to raise public awareness of organ donation. On a personal level, Nico appears to have found happiness in his relationship with Briana Boyer, and the two are currently in Chicago together. Nico no longer keeps his social media accounts public, and it appears that he has changed from the character he portrayed on the show.
Where is Lauren Burchell Now?
View this post on Instagram
The sole female deckhand on the crew, Lauren got along well with Kelley. She had a reserved demeanour and was able to get along with everyone else on the show, but after the fourth season, she left. According to her Instagram account, she is currently employed as a personal coach and "empowers women to shine." She posts frequently about her eating and lifestyle habits on social media and is highly active there. Additionally, it appears like Lauren's relationship with her partner Oli Seymour is flourishing, and better things are in store for her in the years to come.
Where is Kyle Dixon Now?
View this post on Instagram
Before becoming a deckhand on Captain Lee's crew, Kyle was a travelling barman. At first impressive, Kyle soon developed a bad reputation due to his cheating on his longtime fiancée and picking conflicts with the crew. He returned to the show in a few of the fifth season's episodes and supposedly had a terrible breakup with his girlfriend. When he returned to the programme, he was attempting to repair his connection with both his fiancée and the mother of his second daughter.
Our Team DCS includes 5 different writers proficient in English and research based Content Writing. We allow them and encourage them to follow the Entertainment news all day long. Our posts, listicles and even the exclusives are a result of their hard work.