Explained : What Does 'Binturi' Mean In Raya And The Last Dragon | Binturi Meaning
In Raya And The Last Dragon, what does "binturi" mean? Walt Disney Animation Studios has made a determined effort in recent years to develop films that are more culturally diverse than its regular output. For example, Moana, a film set on a Pacific island, featured Disney's first-ever Polynesian princess, while Encanto, a film set in Columbia, explores the diversity of Latin American culture. Meanwhile, Raya And The Last Dragon is the studio's first Southeast Asian hero and draws inspiration from a range of Southeast Asian civilizations.
Raya (voiced by Kelly Marie Tran) is a warrior princess whose mythical nation of Kumandra is divided into five tribes, each of which is fighting for ownership of a mystical gemstone carved by a dragon hundreds of years ago. When the gemstone is shattered and the parts are spread among the tribes, a horde of evil spirits known as Druun descend on Kumandra and turn the majority of its inhabitants into stone, including Raya's father. Raya survives the attack and sets out on a mission to find Kumandra's final dragon, Sisu (Awkwafina), and ask him to assist her in retrieving the missing gemstone pieces so she can resurrect her petrified people and bring peace to her nation.
As Raya And The Dragon nears its conclusion, the title character is followed by her sworn enemy Namaari (Gemma Chan), a princess from a rival tribe who wants the shards for her people. Raya has reason to be afraid of Namaari; when the two were younger, Namaari took advantage of Raya's confidence and stole the jewel, causing it to be destroyed and the Druun to be released. Raya frequently refers to Namaari as "binturi," but what exactly does this mean?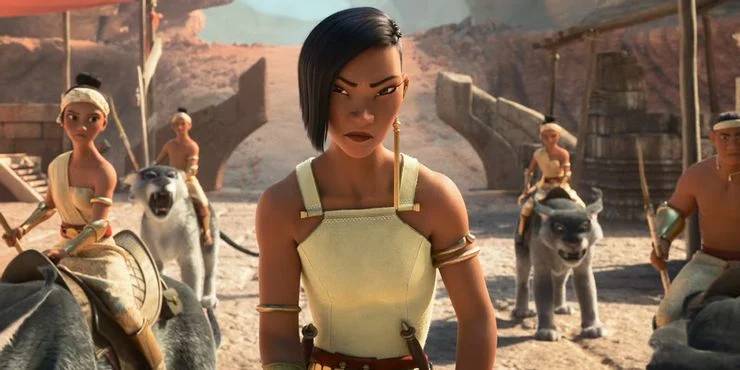 Raya and the Last Dragon trailer army
"Binturi" is an insult in Raya And The Dragon that basically means "traitor," which is why it's Raya's favourite word for Namaari. It's a portion of the Kumandran dialect, which was created especially for the film by language designer David J. Peterson, who also created Dothraki for Game of Thrones and Nelvayu for Doctor Strange. The Kumandran language in Disney's Raya And The Last Dragon takes inspiration from a variety of Southeast Asian civilizations, including Thai, Vietnamese, and Javanese, and is only one example of the film's remarkable world-building.
Aside from "binturi," Raya And The Last Dragon viewers may have noticed a few more foreign terms sprinkled throughout the Disney animation. In the Kumandran language, there are words like "dep la," which means "best friend," and "ba," which means "father." Raya And The Last Dragon's "binturi" connotation, on the other hand, appears to have stayed with viewers the longest, and the phrase has even created its own meme, in which it's re-interpreted as family-friendly Disney shorthand for "bitch."