We truly get a documentary unlike any other with Netflix's "Encounters: Messengers," which delves deeply into the early 2008 Unidentified Aerial/Anomalous Phenomenon (UAP) over Central Texas. After all, it includes not only dramatic reenactments and archive video, but also unique interviews with important figures to further emphasise the events that took place 15 years ago. Ricky "Rick" Sorrells was one of the people who was specifically named in this Yon Motskin-directed original episode. Let's learn more about him now, shall we?
Who is Ricky Sorrells?
Numerous residents of Erath County are said to have seen mysterious lights in the evening sky on January 8, 2008, although Ricky had seen the same thing more than a week earlier. However, according to the production, this Dublin-based welder, rancher, and machine operator had his incident almost in broad daylight as he was out alone deer-hunting in the vicinity. According to his account to a researcher, the landscape had abruptly turned dark as if thick clouds had raced overhead, but in reality, there was only one large object that covered the entire area.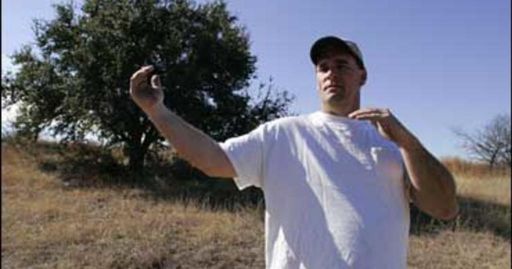 Because it was so large, Ricky apparently was unable to even establish the shape or scale of this floating object before being completely surprised to discover that there were no bolts, rivets, or connections – it was seamless. As seen in the show, he had actually utilised the rifle's scope to have a closer look at this shiny, silver object to pique his curiosity, not realising he would discover a bug or mantis within. as he thought better, he briefly considered squeezing the trigger. However, as it took off at such a high speed and made no noise or changed the wind, he was left speechless.
After reading other similar experiences in the newspaper in the months that followed January 2008, Ricky decided to come forward despite being initially laughed off when he confided in a few close friends. "You hear about big bass or big buck in the area, but this is a different deal," he stated at the time. It makes me feel better to know that others have reported seeing things since it proves I'm not insane. He stopped speaking out about the entire unusual phenomena, according to the documentary, after he allegedly experienced persecution in the form of strangers approaching his home, military-grade bullets being put in his car, and helicopters flying over his land.
Where is Ricky Sorrells Now?
Many people firmly feel Ricky was intimidated into silence because his meeting occurred during the day, which may suggest he saw more than any other witness. Even Erath County Constable Lee Roy Gaitan said after the episode that he believes his fellow believer "was potentially approached by someone and offered a financial deal. They desired his silence.
Regarding Ricky's current situation, it appears that this family man is still living in Dublin, Texas, where he is happy to be surrounded by his devoted daughters. In terms of his line of work, he has progressed from a Manufacturing Supervisor at the oil industry firm TechnipFMC to a broker, realtor, and entrepreneur at Sorrells Realty Team since choosing to avoid the spotlight that comes with openly discussing UAPs.
Our Team DCS includes 5 different writers proficient in English and research based Content Writing. We allow them and encourage them to follow the Entertainment news all day long. Our posts, listicles and even the exclusives are a result of their hard work.