A new spooky film has gone viral online and is terrifying viewers on TikTok and YouTube. The video, which features a Serbian dancing woman, has sparked a lot of interest on social media, and many people have shared it there.
In the footage, a woman can be seen dancing ominously in the centre of the road. According to several reports, the woman pulls a knife and chases everyone who approaches her. But is the Serbian dancer real, or is this just a joke? Find out by reading on.
Serbian Dancing Lady Creeps Out the Internet
Since February of this year, the Serbian dancing lady video has become popular on social media. A user tweeted the video at the time with the message "be careful people." The video shows a strangely attired woman dancing at night while her feet are repeatedly moving from left to right. A creepy piece of music is playing in the background.
The movements resembled those of the Kolo Serbian folk dance. The hashtags #dancingladyserbia, #horror, and #serbia trended along with the video, which received over 76 million views overall. Then, other Serbians asserted that the woman in the video had a knife and had been chasing away everybody who had approached her.
A news website reported in 2019 that a "hazardous woman" had been seen dancing in the street in Serbia, which is when the footage first appeared online. The video was purportedly captured in Belgrade, Serbia, next to a hospital. The mystery was reportedly furthered when police reportedly investigated the area for the woman but were unable to locate her.
Is the Serbian Dancing Lady Real?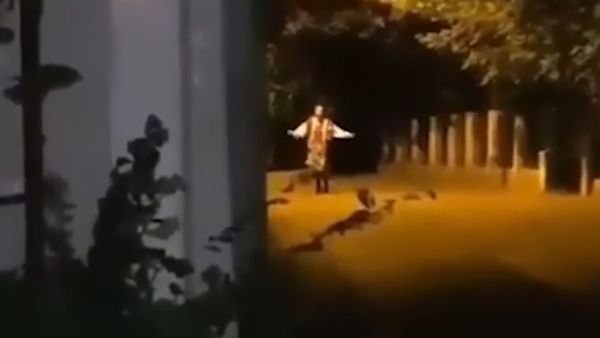 The video has been circulated widely since 2019, and in 2023 it once again became popular. There hasn't been any proof, though, that there is a deadly Serbian woman. No one has been assaulted or killed by a spooky dancing woman in Serbia as of yet, according to reports.
As a result, many people think that the video might have been made as a joke and that the entire hypothesis about the dangerous woman might just be a fabrication. Also, a lot of individuals have reported seeing the woman dancing on the streets. They might have observed someone else imitating the dance routines, though, as the woman's face is not visible in the video.
Social Media Reactions to the Serbian Dancing Lady
Even though the Serbian dancing lady may only be a joke, it has been managed to frighten a lot of people online. Many horrified viewers have expressed their anxieties on social media. I'm terrified to go out at night now that I've seen that Serbian Dancing Girl, a user wrote.
The Serbian Dancing Ladypic.twitter.com/vzQGj1vDhP

— Sevariel. (@sunghoonanjay) March 14, 2023

"I just learned what a Serbian dancing lady is and am shitscared ffs," another user tweeted. Even if I don't even live close to Serbia, it's horrifying, man. "Bruh no cap, the serbian dancing lady is straight up scary af," another user remarked.
Who else has been watching the Serbian dancing lady on Tiktok? Please tell me she isn't real; it's 4 am and it's terrifying, for GOD'S SAKE. "Saw a short about Serbian dancing lady and now I'm shit afraid," another wrote.
Being a binge-watcher himself, finding Content to write about comes naturally to Divesh. From Anime to Trending Netflix Series and Celebrity News, he covers every detail and always find the right sources for his research.