Entrepreneurs John and Manya Clark and their family introduced Tandm Surf in "Shark Tank" season 14 episode 16, their novel approach to having a good time in the water with friends and family. The invention is designed so that everyone, regardless of skill level, may easily enjoy the ocean's waves by using an inflatable surfboard. Tandm Surf first made an appearance in 2021 in episode 17 of season 12 of the programme, where they presented the Sharks with their Tandem Boogie concept.
The Sharks embraced the concept, and as a result, the family changed the name of their business to Tandm Surf—a superior and modernization of Tandem Boogie. Since they last appeared on the show, a lot has changed. Let's examine the product and chart the company's development, shall we?
Tandm Surf: Who Are They and What Do They Do?
This invention allows anyone to participate in water sports with a friend by their side, regardless of experience level. The couple has spent the most of their lives surfing and paddleboarding with their three children. They developed a buddy board to improve the experience even further, which turned out to be their business.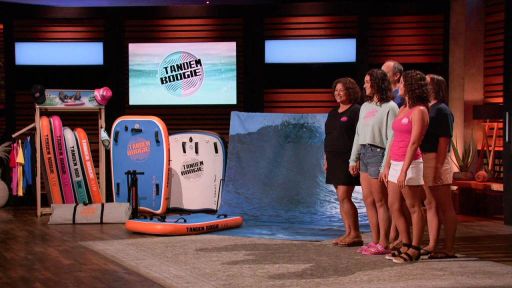 Alumni of the Lubin School of Management at Pace University Prior to launching Tandm with his family, John Clark spent more than 20 years as the vice president of sales at Infinite Storage Solutions and Modern Shelving. John is in charge of the production and operations department of Tandem Boogie, while Manya is in charge of product development and marketing.
Their daughters also play a part in the firm, despite the fact that they are currently finishing their education. In addition to being one of the creators of Tandm, Juliette works at Delta Consulting in Berkeley, and community manager Alleanna is a student there. The youngest, Lyla, meanwhile, is eager to study business and law in college. Lyla also operates a clothing and housewares company.
Where is Tandm Surf Now?
In essence, Tandm Surf is a bodyboard that is inflatable. Yet, with a 34′′ width rather than the usual 21′′, it easily fits two people instead of just one. Moreover, Tandem Boogie differs from other bodyboards in that it is made of high-density, military-grade PVC rather than polypropylene, among other things. It becomes softer and more comfy as a result. Moreover, the material resists corrosion, so even after being scraped or exposed to chemicals or elements, the board will maintain its beauty and performance.
View this post on Instagram
The internal Dynamic AIR Design (DAD), a Clarks-invented innovation that makes use of a cross-woven fibre structure to give each product the stiffness and responsiveness it promises, is present in the Tandm Surf. Each bodyboard also has an integrated camera mount, strong yet flexible, easy-to-grip grips, and a tail design that allows for almost effortless wave cutting. All Tandm Surf products come with a Dual Stage Pump, a backpack, and a maintenance kit as a convenience to the customers.
Currently, you can purchase the Double Barrel Inflatable Bodyboard from the business's official website for $59 instead of the original price of $79 for it. An excellent, user-friendly tool for learning to ride waves while gripping the board grips is the Double Barrel Inflatable Bodyboard. Also, they sell a Tandm surf Tandem bodyboard for about $299. .
Consumers may also purchase the Tandem Surfboard- 9′ x 28′ x 4 for for $595 instead of $695. When summer arrives and the top things are all sold out, visit their website to take advantage of the best deals. The great success of the Clark family is admirable, and we have faith that the business will continue to expand in the years to come.
Being a binge-watcher himself, finding Content to write about comes naturally to Divesh. From Anime to Trending Netflix Series and Celebrity News, he covers every detail and always find the right sources for his research.