'The Crowded Room' on Apple TV+ comes to a conclusion with the eleventh episode, in which Danny Sullivan confronts his most terrible memory. All the cards are stacked against Danny during his trial, and after Candy Sullivan's testimony in the last episode, it seemed like he had no chance of escaping. He slit his wrists in an effort to avoid what fate had in store for him since he was so certain that he would be found guilty and go to prison. He finally receives much-needed closure and a chance to move on in the last episode, which touches with something he had been ignoring for a very long time. What happened to Danny is as follows. Spoilers follow.
The Crowded Room Episode 10 Recap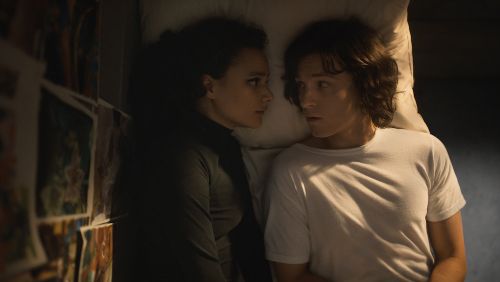 When Danny slits his wrists in his cell, his alters begin to reappear. When he is most alone, Ariana reappearing forces him out of bed, letting the guards know, and saving his life. At the university, Rya is warned by her bosses to let go of Danny and concentrate on her teaching profession. She is compelled to visit him after learning about his suicide attempt, though. Stan Camisa has given up on trying to help Danny, but after speaking with Rya, they are able to view things differently.
When Rya and Stan pay a visit to Danny in the hospital, they learn that this terrible experience has brought back his alters and that Jack has once more taken the lead. Considering Danny's mental state and the likelihood of his conviction at trial, this is a serious setback for him. Rya tries to reason with Jack, but there is no getting Danny out of the mental prison he has created for him. At first it appears as though Danny's journey is over, but Rya later realises they may benefit from it.
The Crowded Room Finale Ending: Why is Danny Found Not Guilty?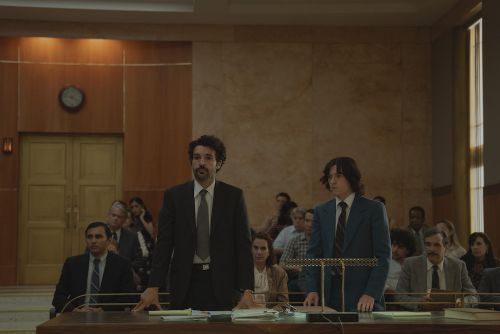 The prosecution was able to establish a key point in every testimony given during Danny's trial, whether it was in his favour or against him: Danny didn't have dissociative identity disorder. When Angelo argued that Danny was different from Ariana, the prosecution forced him to reconsider his position by arguing that Ariana was simply Danny's means of expressing his otherwise hidden sexuality. Stan believed that getting Danny's mother to admit that Marlin Reid had assaulted him would be the only way to help Danny's case. Candy retracts her statement, claiming that her kid experienced nothing similar.
Rya discovers they have missed a crucial piece of the puzzle in Danny's tale as Jack takes control of Danny. Danny has maintained the entire time that Adam was the victim of Marlin's abuse. This presented a serious issue since it showed that Danny had never admitted to being the victim of abuse, which contradicts the premise that the trauma he had caused his mind to be permanently damaged. What if they could establish that Adam was actually Danny? Then, wouldn't Rya's case be valid?
Getting Danny to testify on the witness stand and referencing Adam was the only way to demonstrate this. More significantly, he had to come to terms with the fact that Adam was just one of his many alters. Even though Stan is aware that Jack is in charge on the last day of the hearing, he calls Danny to testify. After some back and forth, he asks questions regarding Adam after first realising that he is speaking to Jack and not Danny. Adam was Danny's twin who passed away at a young age, Jack says in his prepared responses to everyone.
Danny attempts to escape the prison that Jack had imprisoned him in after hearing Jack call Adam's name. Stan tries to focus while handling Danny, who escapes the cage and explores farther into his head, as he asks Jack a series of questions. Danny winds himself at the place that is submerged and is used to dispose of all the deceased alters. He discovers Adam's body there and realises that he had been his twin brother the entire time.
Danny is abruptly brought back to reality by the realisation while Jack deals with the anger of other alters. When he regains control, Danny begins to describe Marlin's mistreatment of him. He admits that Adam, his alter, appeared to protect Danny from the ordeal. Later, when additional alters had appeared and perceived Adam as a threat, he was killed and buried in his mind.
Danny says that Adam consciously consented to the abuse in order to prevent Marlin from leaving their mother, who would have otherwise been left alone. The jury is moved by Danny's account, and it is determined that he does, in fact, have a number of alters. Due to this, the jury finds him not guilty due to insanity, and he is instead taken to a hospital.
Is Danny Cured? Do His Alters Go Away?
Danny worries about what will happen to his alters and whether he will be able to exist without them after learning that he has DID. All of his alters, according to Rya, are a part of his personality. He exudes their charm, confidence, and sense of freedom. He is everything they are, thus releasing them won't cause him to lose any of himself. She brings up fusion therapy, which would combine every one of his alters into Danny, his main personality. He won't be Jack, Ariana, Jonny, or anyone else; he'll just be Danny.
Danny is sent to a hospital where he receives the attention he needs to get better after being declared not guilty. Rya first struggles to let go of him, but finally she comes to the conclusion that it's best for both of them. Rya establishes herself as a therapist while Danny receives appropriate care and counselling. She had been demoted from her teaching post during the trial and didn't appear to have any desire to return.
Rya pays a visit to Danny at the hospital after a while, once he is feeling better. They discuss how they felt when the verdict was delivered as well as how their lives have changed since they last spoke. When Danny's mother visited him once, she admitted that she was well aware of what Marlin had done to him. Even though he knew she wouldn't, she insisted on coming back after he asked her not to. He also admits that virtually all of his alters have vanished. Although the fusion therapy has been effective, he is still clinging to one alter. When Rya hears him use the phrase "unpaid debt," she realises he's referring to Adam.
While Danny had many alters during his adolescence and early adulthood, Adam was the one who was there from the start. Danny's lifeline when he couldn't manage the world as it was, he may have been the result of the trauma he endured from his birth father, whom he never met. Even though Adam was there to protect Danny, he was forced out.
Danny finally thanks Adam for everything he did for him. He realises how much he needed Adam and how his memories even got him through difficult moments. He releases other altars but clings to Adam. He could let go of Adam one day, but for the time being, he appears to be making up for lost time by spending time with the sibling he was never given.