'The Crowded Room' on Apple TV+ centres on Danny Sullivan, a dissociative identity disorder sufferer. Throughout the years, Danny's mind has fragmented into various personalities that manifest as distinct individuals. It can be challenging for Danny to distinguish between who is real and who is his alter because these alters are invisible to others but seem normal to him.
The mystery surrounding Danny's mental state is heightened by "The Crowded Room," which makes us wonder about the true nature of each identity. As we learn more about Danny, we gradually come to understand why he need a certain alter and how it enabled him to exist. Adam is one such individual in Danny's life. Although there is nothing to show him other than Danny's memories of him, he continues to be a significant influence in Danny's life. What has Adam become? Was he genuine, or was he just another alter? Let's investigate. Spoilers follow.
Was Adam Real?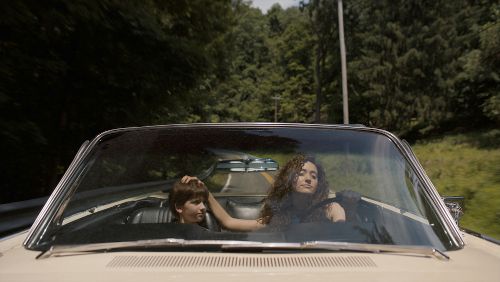 When Rya Goodwin first meets Danny and begins asking him questions about his background, she surmises that Marlin Reid's mistreatment of him as a youngster caused Danny's mind to begin to split into other personalities. After that, every modification appeared, appearing when Danny most needed them. In this manner, Rya could describe the existence of each change, assisting Danny in comprehending how he might command them and maintain control at all times. However, Adam was a unique instance.
Rya encountered Danny's alter egos like Jack, Jonny, Mike, and Yitzhak throughout their sessions. Adam, on the other hand, only existed in Danny's memory. Adam was Danny's twin, and after their parents' divorce, they used to reside with their father. Adam would occasionally visit their home, but he attended another school and resided somewhere else, which explained why Danny couldn't always see him. But Adam was always there for Danny when he needed him.
When asked what happened to Adam, Danny replied that he passed away and would not elaborate. Eventually, he confesses, saying that Adam stepped in when Marlin attempted to torture Danny sexually. Adam was broken by the ongoing abuse, and he eventually passed away. Rya is unable to explain why Adam was already a part of Danny's life, even though it would have made sense for him to appear at this particular moment. Adam w as yet another alter, as Rya learns from Candy, who also verifies that he never existed. What became of him, and how did he come to be?
It takes Candy a long time to admit to Danny that she knew what Marlin had done to him all those years. She discusses his biological father, who was likewise the same, with him. Candy made the decision to leave her spouse when Danny was four years old after she realised the nature of him. She fled with Danny, relocating, and raising her son by herself. This indicates that Danny had experienced maltreatment at some point in his early life, which accounts for Adam's early appearance and ongoing relationship with Danny.
Adam's role was to protect Danny from harm so that he could endure such upsetting experiences. Danny's mind was left pure with happy recollections when Adam took those memories. This let Danny move past the trauma and go on with his life without constantly thinking about what his stepfather had done to him. As things grew worse over time, brand-new alters started to appear. These alters were initially there to assist, but soon they began to act on their own.
As the alters grew, they began debating among themselves what would be the best for Danny. They believed Adam should go at this time. Adam, it turns out, didn't just protect Danny from the trauma; he also accepted it because he didn't want their mother to be by herself. Adam thought that exposing Marlin would cause Candy to leave him, leaving her all by herself once more. Although Adam didn't want this, the other alters agreed that Adam needed to leave because his choice did not favour Danny's survival.
Adam, like the majority of other identities, perished in Danny's mind. He couldn't forget him because he had been such a vital part of his life, so he thought of him as his twin who had died tragically. Danny gradually comes to terms with what transpired and who he was during the trial. He acknowledges the truth, which not only aids in his victory at trial but also aids in his recovery.