In the second season episode 2 of "Shinigami Bocchan to Kuro Maid," "The Duke of Death and His Maid," Bocchan agrees to play golf at Alice's persuasion. In the meantime, Walter devises a scheme to lure his brother into a trap so that he can inherit the property. But because he is unable to seduce him, his scheme is a complete failure. In the meantime, Bocchan is called by an unexpected party who offers him a chance to end his curse. Here is all the information you require on the conclusion of "The Duke of Death and His Maid" or "Shinigami Bocchan to Kuro Maid," episode 2 of season 2. Spoilers follow!
The Duke of Death and His Maid Season 2 Episode 2 Recap
On a typical day, Alice invites Bocchan to a round of golf. She actually believes that if he does that, he will be much more active. She imparts to him all the knowledge he requires regarding the game. However, whenever Bocchan tries to play, he persistently flirts with him and makes an effort to get his attention. Viola meanwhile asks Walter whether he'd be willing to let her practise putting on cosmetics.
Oddly enough, he does, and when she is finished, he is really pleased with the outcome. So much so that he devises a new strategy. Walter wants to take advantage of the fact that he has a feminine appearance to trick his older brother into giving him the title of the heir. When Viola is asked to help, she introduces Bocchan as a friend and a big fan of hers. Walter does his hardest to get Bocchan to be seduced by her, but he is not really won over.
Later, Zain gives Bocchan a present. It turns out that it transports him to a fictitious world where he can realise all of his wishes. Along with him, Alice visits the location, where she discovers that his greatest wish is to wed her. She doesn't tell him that, though, and also doesn't admit that she is aware of his desire.
The Duke of Death and His Maid Season 2 Episode 2 Ending: Why Does Daleth Summon Bocchan? Why Does Zain Hate Magic?
One day, while Bocchan is seated at the table, he unexpectedly finds himself in an unfamiliar setting. It comes out that Daleth, a witch who seems to be trying to get information out of him, is the one who called him there. She starts by telling him that while Alice is attempting to rouse him up, his real self is currently unconscious. She then continues by mentioning her desire to request a favour from him.
Daleth points out that witches are adept at several forms of magic, just as people are proficient in a variety of skills. She admits that she is hunting for a witch with more potent abilities. Someone with the ability to manipulate even time. It emerges out that Daleth wants Bocchan to convince Zain to utilise the strong magic once more because he is aware that he understands it. She gives him the contact information for a different witch in exchange because she believes she can help him overcome his curse.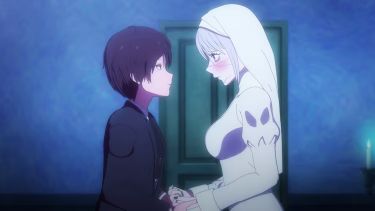 Zain, on the other hand, remembers how he met Cuff when they were both quite young. To safeguard him from witches who could abuse his powers, his parents had banished him to the world of humans. Soon after meeting, Cuff and Zain began playing together pretty frequently. Everything was going well until their parents were discovered by human witch-hunters since they were absent at home one day.
Unfortunately, Cuff lost her parents in that terrible event, and she experienced a lot of depression. Evidently motivated to assist her, Zain chose to utilise time magic to revive her parents. He tried his hardest, but he couldn't succeed. It turns out that no matter how potent the magic, one cannot bring the dead back to life. Since that day, Zain has detested magic. It will be fascinating to see if Bocchan tries to persuade his companion to utilise magic or not at this point. There would surely be significant repercussions if he does.
Our Team DCS includes 5 different writers proficient in English and research based Content Writing. We allow them and encourage them to follow the Entertainment news all day long. Our posts, listicles and even the exclusives are a result of their hard work.