Damián Szifron's crime drama "To Catch a Killer" follows two law enforcement officers as they look into a mass massacre. An ordinary beat cop named Eleanor catches the attention of FBI Special Agent Lammark after a random but precise sniper attack in Baltimore on New Year's Eve. After collaborating, the two look into the incident, with Eleanor attempting to understand the psychology of the criminal. The stakes for the cop team are raised as the shooter's presence and departmental pressure grow.
Eleanor and Lammark, played by Shailene Woodley and Ben Mendelsohn, are the story's main characters. The film gets to examine themes of mental trauma and other concerns together with the intricate details of the internal politics of police investigations through their different tales. Viewers may be interested to learn if the characters played by Woodley and Mendelsohn have any real-life ties because of their riveting performances and the topicality of the movie. Let's investigate!
Are Lammark and Eleanor Based on Real People?
Eleanor and Lammark are not based on actual police officers. The fictional book "To Catch a Killer" was written by Damián Szifron and Jonathan Wakeham. All of the plot's characters and events are also made-up and have no genuine connection to reality.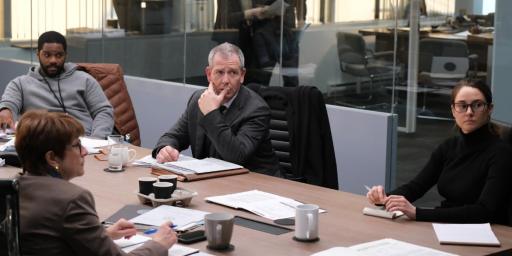 Eleanor and Lammarlk's chemistry takes centre stage throughout the story as they discuss ideas and try to figure out who the mystery mass shooter is. In his interactions with Eleanor, Lammark frequently adopts the role of a mentor, helping her through the complexities and challenges of the position.
From the roles played by Denzel Washington and Angelina Jolie in "The Bone Collector" to the iconic buddy-cop film "Lethal Weapon" from 1987. This mentor/mentee dynamic, seen in "To Catch a Killer," is a typical cliche used frequently in films and television programmes of many genres. Eleanor and Lammark's characters may thus serve as an ex ample of this well-known cliche to viewers.
In a similar vein, Eleanor's character likewise has a number of salient similarities to a figure from a beloved work of popular culture. In 1991's "The Silence of the Lambs," played by Jodie Foster, Clarice Starling sets out on a quest to comprehend the motivations behind the antagonist. Eleanor's participation in the FBI inquiry has the same result as the first, mirroring the first.
Eleanor distinguishes herself from Starling by doing her investigation utilising personal trauma and experiences. Eleanor's experience gives her persona even more authenticity. Eleanor's early trauma and propensity for self-harm are not fully explored, but they do give a realistic representation of mental health issues without making them seem insignificant.
Regarding Lammark's persona, his depiction of a fact-driven agent who has had enough of the political and restrictive aspects of law enforcement represents a less exciting and glamorous aspect of the profession. The actor Mendelsohn remarked of Lammark in an interview when discussing the subject, "The other thing about Lammark is he's a man of capabilities who has been shunted to a fairly minor field office."
"Baltimore is obviously a really hard-core city in terms of local police crime, but from what was told to me regarding federal crimes and the kinds of those, this [Lammark] is a person that's not going to…Mendelsohn went on to say that the man was "a guy who is really dissatisfied, depressed, and outraged by the machine of the bureaucracy that he is in.
Additionally, Lammark's character seamlessly integrates gay representation into the narrative, which may be relatable to many viewers. The movie engages in effortless portrayal that comes across as authentic by making Lammark's sexual orientation an incidental aspect of his character that has no bearing on his plot.
Therefore, each of Lammark's characteristics and Eleanor's details distinguish them from one another and endear them to readers in general. Many people might be able to identify themselves with one of the characters, making it simple for them to relate to them. Additionally, both characters offer a novel, if frightening, perspective on such risky investigations thanks to their intensely bureaucratic workplace grievances. However, neither of the characters is an actual police officer.