It's always fun to see a movie or two where the only thing you want is to have your head blown by bizarre, hallucinogenic, and surreal images. These films have a special quality that will transport you on a deeply spiritual and ecstatic journey. They may be bizarre, unusual, take place in surrealistic settings, or alter the truth as we know it. However, they can also be forceful, pristine, and spotless in their core. In either case, these films will blow your mind and stay with you forever. So let's move forward if you're ready for this experience.
ARQ (2016)
The Tony Elliott-directed science fiction thriller takes place in a world where there is a serious energy crisis. Corporations are vying with one another for the last of the energy supplies, and an engineer named Renton is being pursued because he has created a technology that might be able to end the current problem. Soon later, he finds himself in a time loop where he and his pals repeatedly live the same day. This complicates his life even more.
Awake (2021)
When an unknown tragedy steals humanity's sleep and causes devices to malfunction all across the world, the world is overtaken by an existential dilemma. The scientists are working against the clock to find a treatment because they have little to no free time, but they encounter unexpected obstacles. However, a soldier is faced with a difficult decision when she learns that her daughter might carry the solution to humanity's existential issue. Will the previous U.S. Army medic prefers his daughter to global extinction, though? Or will she risk losing her child for the benefit of others?
Bardo (2022)
The most intimate film by Mexican director Alejandro González Iárritu to date, "Bardo, False Chronicle of a Handful of Truths," depicts the tale of Silverio Gama (Daniel Giménez Cacho), a seasoned journalist turned documentary filmmaker who serves as Iárritu's stand-in. After living in Los Angeles for the last 15 years, Silverio goes home to celebrate the publication of his most current and introspective work shortly before he becomes the first Latin American to win a prominent award for his work in America.
Through Silverio's perspective, which is incredibly surrealistic and not necessarily grounded in reality, the movie's story is presented. Although "Bardo" is a fictionalised version of some facts, it is not necessarily an autobiography. Iárritu has been able to explore topics like identity, immigration, mortality, memories, and dreams in a highly independent and free-flowing way because to the surrealistic and fictionalised elements of the story.
Bird Box (2018)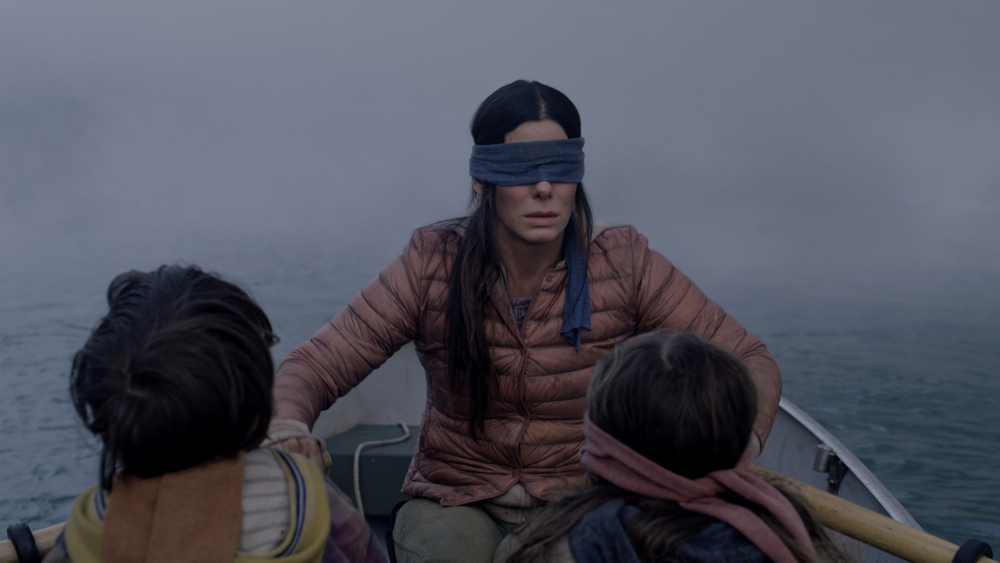 The enigmatic thing that has destroyed human civilisation by taking the forms of people's darkest nightmares is the focus of the post-apocalyptic horror-thriller movie. Those who have survived now have to go through life blinded and look for a safe haven. But is survival really conceivable given the constant threat posed by the monster that pursues them? The suspenseful picture, directed by Susanne Bier, is based on the same-titled book by Josh Malerman, and it captivates audiences and keeps them on the edge of their seats.
Black Mirror: Bandersnatch (2018)
One of the greatest and most creative television programmes ever produced is Netflix's "Black Mirror," which is originally a Channel 4 original series. We have always been pleasantly delighted by Charlie Brooker and his team's fresh and thought-provoking material, which has addressed a wide range of themes while adhering to the show's guiding principles. When the showrunners went on to produce the first feature film based on the series, titled "Black Mirror: Bandersnatch," they really outdid themselves.
The narrative is based on the experiences of a video game designer who aspires to create a decision-based, interactive game. The finest part of this movie is that it also has an interactive component. As a result, both the audience and the main character themselves get a two-way experience. "Bandersnatch" is not only a turning point in modern filmmaking, but it also has the power to fight piracy and provide a fresh style to the marketplace. You'll realise you've never been here as the main character's traumas intersect with your own and the line between fiction and truth becomes increasingly hazy.
Cargo (2018)
'Cargo' is a post-apocalyptic horror drama movie that tells a touching tale of survival and fatherhood and stars Martin Freeman, Simone Landers, and Anthony Hayes in outstanding performances. A pandemic forces humanity into survival mode, as a poor infected father anxiously searches for a safe haven for his small child. Sadly, as time goes on, he becomes more and more aware of his changing personality, which may endanger the life of his child. Will the troubled father be able to resolve his current situation?
Circle (2015)
What would you do if you and 50 other individuals woke up in a pitch-black room to find that someone was dying every few minutes? In reality, what would you do if you discovered that everyone in the group actually makes the decisions and determines who lives and who dies? Scary, huh? Circular pulls the human psyche to the fore in a very impactful and visceral way, which is exactly what occurs in the movie. This premise makes for one mind-boggling movie. Additionally, you can see yourself as a member of this unfortunate group, which will increase your level of investment.
I Am Mother (2019)
There is no doubt that the mother-daughter bond is significant. However, 'I Am Mother' takes it to a totally new level. When an extinction event occurs, Clara Rugaard plays a girl named Daughter who lives with a robot that helps repopulate the planet. Mother is the name given to it. Daughter encounters Woman (Hilary Swank), an android hater to say the least, when she leaves the bunker one day out of curiosity. The tension between Mother and Daughter that develops is what keeps you watching for the movie's suspenseful psychological thrills.
iBOY (2017)
Tom Harvey, a young adult who struggles to make ends meet, is persuaded to pursue his crush on Lucy by one of his friends. Tom is looking forward to the surprises the future has in store for him as the two decide to study together. When he visits Lucy's home, he regrettably discovers her brother comatose and Lucy having been sexually raped. Tom gets shot in the head by the perpetrators as he attempts to alert the law enforcement authorities. After being released from the hospital where he later awakens, he discovers that he now has the peculiar ability to see digital signals and hear phone transmissions. Now that Tom has his newly discovered powers at his disposal, he chooses to pursue each of the attackers one by one.
In the Shadow of the Moon (2019)
Boyd Holbrook, Cleopatra Coleman, and Michael C. Hall are among the cast members of the science fiction thriller "In the Shadow of the Moon," which was written by Gregory Weidman and Geoff Tock. The story centres on Thomas Lockhart, a Philadelphia investigator whose life is turned upside down when he starts looking into the hemorrhagic deaths of numerous persons who appeared to have no connection to one another. The drama that ensues, however, makes the murder mystery much more challenging because the Philadelphia detective becomes fixated on the time-traveling series killer even though he encounters the offender very quickly.
Io (2019)
'Io,' another science fiction movie directed by Jonathan Helpert, examines life after a catastrophic occurrence, which, let's be honest, has started to feel like a possibility recently. In essence, because the air on Earth has turned poisonous, most people have fled to Jupiter's moon Io. Sam Walden, portrayed by Margaret Qualley, is still holding out hope. Micah shows up after she broadcasts a radio signal to locate other nearby individuals.
The characters' choices to remain on Earth or leave it are then shown to us. 'Io' is primarily a movie about how people define what home means to them. But it is also a piece that makes you think. Even while it won't force you to reconsider your priorities or fundamentally alter your way of life, it deserves a spot on this list.
Mirage (2018)
It appears that other universes are quite dangerous places to visit. You risk being trapped in limbo if you succeed in creating a new world or making your way to one where you don't belong. 'Mirage' by Oriol Paulo has this as its central theme. A little boy named Nico is featured in the story's opening. He rushes to the neighbor's house after seeing a murder to find out what actually happened. Nico exits the building as soon as the offender recognises him. He is killed, though, when a car runs into him. Additionally, a 72-hour electrical storm was occurring around this time.
A woman by the name of Vera enters into Nico's home precisely 25 years after this tragedy and finds out about the terrible fate the youngster endured. She learns that a space-time anomaly can be produced on an ancient television. She therefore uses it to travel 25 years in the past and warn Nico of his fatal fate. What effects will time travel have on Vera, though? The movie aims to provide an answer to this query. Despite being expertly constructed, the plot is not particularly original. But 'Mirage' manages to be compelling enough to keep one interested all the way through.
Mute (2018)
The plot of the film centres on the adventures of Leo, a mute barman searching for his vanished girlfriend. He gets drawn more and deeper into the sordid underbelly of a dystopian future Berlin as a result of his hunt. The picture particularly stands out because of the cinematography and the noir undertones. The story also explores the themes of parenthood, loneliness, solitude, and love in great detail. Alexander Skarsgrd, Paul Rudd, Justin Theroux, Robert Sheehan, Noel Clarke, Florence Kasumba, and Dominic Monaghan round out the ensemble cast for "Mute." If you like Duncan Jones' "Moon," you'll be pleased to know that "Mute" is a follow-up.
Oxygen (2021)
'Oxygen' is a science fiction drama film starring Malik Zidi and Melanie Laurent Mathieu Amalric. Liz Hansen is a naive lady who awakens in an air-sealed cryogenic unit with a rapidly dwindling oxygen supply in the Alexandre Aja film. Hanse is unable to recall how she got there and finds it difficult to comprehend her current predicament. She uses the state-of-the-art A.I. in the pod to try to escape her cramped nightmare after realising that the oxygen in the unit will soon run out. Will she have enough time, though?
Stowaway (2021)
In this sci-fi thriller directed by Joe Penna, which stars Anna Kendrick, Toni Collette, and Daniel Dae Kim, we embark on a two-year trip to Mars through the terrible immensity of space. Michael Adams, a launch support engineer, gets unintentionally trapped inside, and the crew must deal with a potentially fatal lack of oxygen. The crew faces tough choices and impending sacrifices as they wrestle with issues that call into question what it means to be human and how to survive. Stowaway easily earns a spot on this distinguished list by blending the vastness of space with compelling human drama.
Synchronic (2019)
The mind-bending sci-fi thriller "Synchronic," directed by Justin Benson and Aaron Moorhead, centres on Steve Denube (Anthony Mackie) and Dennis Dannelly (Jamie Dornan), two paramedic partners in New Orleans, Louisiana, who learn about a number of incidents in which people have either died in peculiar circumstances or the stories told to them don't really make sense. Steve learns that the incidents are linked to the named substance, which, depending on the environment in which it is consumed, appears to transport its user to different historical eras. Dennis' daughter Brianna vanishes, and Steve receives a cancer diagnosis. Steve discovers that Brianna's abrupt disappearance and the growth of Synchronic in the market might be related as he starts utilising the product. Dennis' marriage also starts to deteriorate as a result of his daughter going missing.
The Cloverfield Paradox (2018)
The 'Cloverfield' franchise's third episode centres on an energy crisis on Earth in 2028. At the Cloverfield space station, a team of researchers is getting ready to test a particle accelerator that has the potential to provide the world with endless energy. But when Earth appears to disappear, they must cooperate to get out of this predicament. This movie compares the plot to the franchise's earlier entries while also exploring the ideas of a parallel reality and a multiverse. We think that the third production in the trilogy packs a punch and is worth your time, despite the fact that it is generally regarded as the worst of the three.
The Coldest Game (2019)
Polish spy-thriller "The Coldest Game" is helmed by Ukasz Komicki. Joshua Mansky, an American, and his Soviet opponent play a foggy grandmaster chess match as the Cold War and the Cuban Missile Crisis rumble on in the background. Mansky, a former chess champion and mathematical prodigy, is pushed into the centre of this geopolitical war when the intended American contestant inexplicably passes away from alleged Soviet poisoning. His troubled past, characterised by alcoholism, serves as both a support and a blessing. However, the game he is playing is much more complex than chess and involves espionage, betrayal, and trust. Squares on a chessboard conceal information that goes far further than movements and countermoves. By fusing political tensions with personal drama, this movie flawlessly evokes the stress of the Cold War era.
The Discovery (2017)
'The Discovery' won't let you down if you're looking for science fiction romance. When Dr. Thomas Harbour (Robert Redford) claims that there is an afterlife, suicide rates soar because people are desperate for a fresh start. He is responsible for this in the eyes of his son Will (played by Jason Segel). Isla is a character played by Rooney Mara who Will recently met on a ship. They visit Dr. Harbor's property where they learn more about his research and develop feelings for one another. This film, which explores the themes of mortality, second chances, and love, will stay with you long after it has ended.
The Midnight Sky (2020)
The Midnight Sky, a science fiction movie directed by George Clooney, is based on Lily Brooks-Dalton's first book. Augustine Lofthouse, a recluse academic who has survived a worldwide calamity and is now dealing with its aftereffects, is the main character of the film. The scientist who lives in the Arctic must assume responsibility for preventing the return of an ignorant crew of astronauts to the planet since their houses are no longer secure.
The Platform (2019)
The Platform is a movie that will shock you just because of how current it is. Goreng is a man imprisoned in a vertical structure known as "the pit," and the inmates are fed by a system where plenty of food is placed on a platform that gradually descends to everyone. The higher floors feast as expected, and by the time it gets to the lower levels, the locals are barely getting by on leftovers.
Unjustices and unhappiness are certain to result from such a system. This movie makes a strong argument against blatant capitalism and materialism, and what makes it so perplexing is that, if nothing changes, it might apply to our society for many more decades.
The Wandering Earth (2019)
A bold future vision for Earth is presented in the Chinese science fiction film "The Wandering Earth," which was directed by Frant Gwo. The countries of Earth get together in the face of an impending apocalyptic catastrophe to carry out a grandiose plan: utilise enormous engines to move Earth away from a growing sun. Liu Qi sets out on a risky expedition to revive dormant thrusters as civilization retreats underground to avoid the icy surface. At the same time, in the expanse of space, astronaut Liu Peiqiang deals with a broken AI on a space station. As Earth starts its perilous journey through space, the entwined fates of father and son play out against a backdrop of global survival and solidarity.
The Wonder (2022)
Sebastián Lelio's psychological drama film "The Wonder" is set in post-famine Ireland. Elizabeth Lib Wright, a nurse from England, is dispatched to keep an eye on Anna O'Donnell, a young girl who is fasting and claims to be sustained by supernatural intervention. Wright takes drastic measures after learning distressing truths about the neighbourhood and the mysterious Anna as the layers are peeled back. The Great Famine's agony adds complexity to the story's complicated character dynamics by casting a menacing shadow over it. Wright explores the enigma of Anna's fast while the movie deals with faith, trauma, and atonement. The film expertly weaves together historical events with personal emotions in a compelling narrative set against the bleak landscape of rural Ireland.
Time Trap (2017)
Andrew Wilson and Cassidy Giffordi play key roles in the action-adventure sci-fi movie that Mark Dennis and Ben Foster co-directed. It takes the reader on a perplexing journey through a secret subterranean network where time moves differently than it does above ground. A group of students, including Taylor, Jackie, and others, set out to discover the missing archaeology professor Hopper when he vanishes while looking for long-lost hippies from the 1960s. As they work to unravel the mysteries of the cave, they encounter cavemen, spacemen, and terrifying obstacles as well as time anomalies. The movie stands out among the others on this list due to its original narrative and examination of time dilation.
Velvet Buzzsaw (2019)
Dan Gilroy's satirical thriller film delves deeply into Miami's upscale art scene. Critic Morf Vandewalt and his friend Josephina happen upon Vetril Dease's intriguing works. Those who want to profit from Dease's works are surrounded by mysterious circumstances as these works capture the industry. Elites in the art world who benefited financially from Dease's work quickly come to understand that greed has a supernatural and lethal price. Velvet Buzzsaw is an intriguing addition to any list of trippy films thanks to its bizarre graphics and gripping story, which blurs the lines between art and retribution.