In order to give the viewer a hallucinogenic experience, stoner films make extensive use of surrealism and psychedelic lighting. Drug usage has always had an impact on society. The literary and poetic works of the Beat Generation paint a picture of how drug use shaped their worldview. The hippie movement even promoted drug usage as a way to increase consciousness. This phenomena most likely resulted from young people's disillusionment with society and the government during the Vietnam War. Stoner films have grown into their own subgenre over time. For those looking for entertaining psychedelic films, Prime Video's extensive library of titles offers a tonne of fantastic choices.
Green is Gold (2016)
"Green is Gold," a film written and directed by Ryon Baxter, tells the tale of two brothers whose lives become more complicated when one of them has support a risky enterprise. The main character, Cameron, played by Baxter himself, is left to care for his 13-year-old brother Mason after their father is detained and subsequently imprisoned. Cameron, on the other hand, grows marijuana in his home and sells it. Cameron is too busy with his business to take care of his brother. Mason's interest in understanding the ins and outs of growing marijuana is what ultimately sparks the brothers' reunion. Here's where you can view "Green is Gold."
Reefer Madness (1938)
When viewed through a modern viewpoint, the propaganda film "Reefer Madness," which warns about the dangers of marijuana, strangely takes on a hilarious twist. The movie is funny because of its overblown assertions that marijuana can cause murderous tendencies and other evils. In the 1970s, "Reefer Madness," despite being meant to be a morality tale, became a cult favourite because of its campy aesthetic and dramatic message. With a joint in hand, it promises an even more fun experience despite being frequently referred to be "the worst movie ever made." Watch it right here.
Sunshine Hotel (2001)
The eponymous flophouse located at 245 Bowery in Manhattan, New York City, is referenced in the title of the documentary. The documentary by filmmaker Michael Dominic delves into Sunshine's past and the lives of its residents. Dominic had a personal connection to Sunshine from his time spent working there, which enabled him to delve deeply into the subject matter of his project. The documentary won multiple accolades and was well-received by critics when it was first released. The project's narrator is Nathan Smith, the 16-year-old manager of the motel. In 2002, he succumbed to cancer. Here's where you can see "Sunshine Hotel."
The Doors (1991)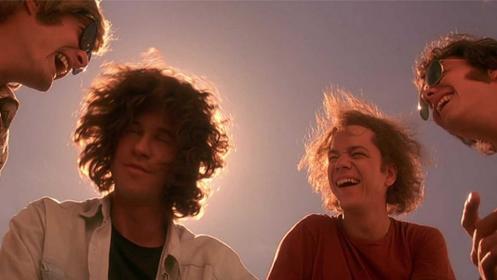 The Doors, directed by Oliver Stone in 1991, is a film that focuses on the life and career of Jim Morrison, the band's charismatic lead vocalist. The movie opens with Morrison idly strolling around Venice Beach, California, where he meets his bandmate Ray Manzarek, who would change his life forever, and his girlfriend Pamela Courson. They start a band and quickly gain local notoriety in Los Angeles. After thereafter, the movie chronicles the band's ascent to the pinnacles of popularity until Morrison passed away in Paris in 1971.
Although the film is about the band, its main focus is Morrison's drug-fueled, hedonistic life. We witness him experimenting with a variety of substances, from alcohol and marijuana to hallucinogenics like LSD and peyote, among others. When performing the songs live, Val Kilmer sounded just like the artist, and he looks flawless as Morrison. The hippie culture of the 1960s, when drugs were seen as a way to escape this materialistic society, is brilliantly captured in this video. You may view it right here.
The Electrical Life of Louis Wain (2021)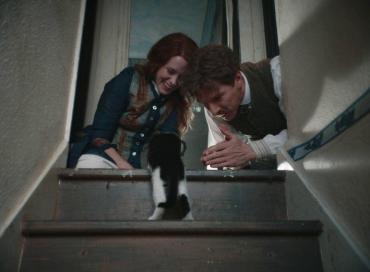 The biographical film "The Electrical Life of Louis Wain" narrates the life story of artist Louis Wain (played by Benedict Cumberbatch). After his father dies, Louis must take up the burden of providing for his family. He abandons his failed attempts at playwriting and music to work full-time as an illustrator for The Illustrated London News, where he reports to editor Sir William Ingram. He appoints Claire Foy's character Emily Richardson to be his sisters' new governess. Despite the fact that she is ten years his senior, Louis develops romantic affections for her, and she returns the favour. But after a few months, she receives a breast cancer diagnosis. At this point, Louis begins to paint portraits of Peter, the family cat. The anthropomorphic shift in Louis' paintings corresponds with Emily's declining health. You may see the movie online here.
The Honor Farm (2017)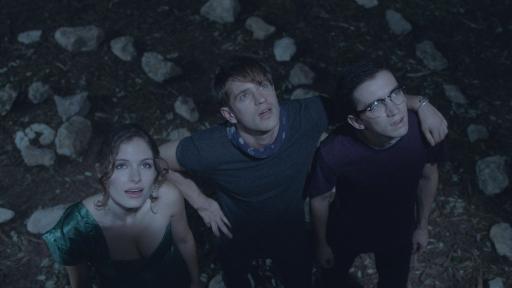 "The Honour Farm," a film directed by Karen Skloss, is about two best friends named Lucy and Anne who planned a lavish prom. However, during the prom, their dates get so wasted that the girls are forced to call off their plans. At this point, Lucy and Anne are persuaded to join their classmate Laila, who is arriving with Shanti and Zoe, so they can spend a memorable evening together. Three boys, JD, Liam, and Jesse, soon join them. The eponymous Honour Farm is an ancient, run-down prison that is said to be haunted. Their plans for the evening include ingesting some mushrooms and having a séance there. You may watch the movie right here.
The Mandela Effect (2019)
The title of the movie alludes to a psychiatric condition in which an individual believes they have a false memory of an event that never occurred. In the film, Sam, the daughter of computer game designer Brendan (Charlie Hofheimer) and his wife Claire (Aleksa Palladino), is lost. After realising they are both suffering from false memories (also known as the Mandela Effect) regarding Sam, Brendan and his brother-in-law Matt (Robin Lord Taylor) come to the conclusion that what they saw was a glimpse of a parallel universe in which Sam still exists. Brendan contacts Dr. Roland Fuchs, who has conducted in-depth research on the topic and has been shunned by the scientific world as a result, in spite of Claire and Matt's protests. You are welcome to see the film here.
The Wave (2020)
'The Wave,' directed by Gille Klabin, is a hallucinogenic investigation of time and consciousness. An insurance lawyer named Frank has discovered a defect in a firefighter's $4 million insurance policy that led to his death from a heart attack. Frank and his coworker Jeff head to El Madrid, a club, to celebrate after a fight with his wife. It's there that they meet Natalie and Theresa. After that, the four of them go to a house party where they buy narcotics from a man going by the name Aeolus. Frank starts a crazy trip where his consciousness jumps around in time while Theresa helps him get the drug into his system. You may view the movie right here.