The idea of the end of the world as we know it is quite enticing to us. Think of yourself as Will Smith from "I Am Legend," one of the few survivors left on the surface of the planet. What would you do if you were humanity's sole remaining religion? You can't deny that having the last person on Earth would have advantages, such as the freedom to do whatever the hell you want. But it really is difficult to be confined to your home since there are all kinds of strange monsters out there, as well as individuals who are no longer quite human; these are the walking dead.
Some films, such as "Zombieland" and "Shawn of the Dead," take a fairly humorous approach to this not-so-funny predicament, helping us to realise that, despite the presence of half-dead, murderous humans all around us, the world may not be that horrible. Others provide us with a glimpse of the gloomy realities of a post-apocalyptic world. Movies like "10 Cloverfield Lane," "2012," and "World War Z" fall under this category. Therefore, we've compiled a list of every type of movie that is now streaming on Netflix. Some of them can be enjoyed on a fun night out with your pals, while others can be enjoyed only for the thrills and chills. Whatever your motivation, simply scroll down and select your preferred option. Here is a list of some of Netflix's top post-apocalyptic films that are currently streaming.
#Alive (2020)
It's possible that this South Korean zombie movie is the most relatable one about quarantine you'll watch in 2020. The film "#Alive" tells the tale of Joon-woo (Yoo Ah-in), a live streamer of video games, and how he manages to survive a zombie apocalypse by staying alone in his flat. Not just the quarantining protocol but also the heavy reliance on social media and technology makes this movie even more realistic. The importance of sharing information—which can potentially be life-saving—will be reinforced by this movie. The movie is based on Matt Naylor's screenplay for "Alone," which he co-wrote with Cho Il-Hyung.
Army of the Dead (2021)
Zack Snyder's post-apocalyptic zombie heist movie "Army of the Dead" is set in a quarantined Las Vegas following a zombie pandemic. In order to rescue $200 million from a vault before the city is destroyed, casino owner Bly Tanaka meets Scott Ward (Dave Bautista) and assembles a diverse team that includes some of his former associates, a helicopter pilot, a safe-cracker, a sharpshooter, and others. The party encounters a hierarchy of more intelligent, well-organized zombies known as Alphas as they explore the zombie-infested city. The expedition quickly turns into a struggle for survival due to betrayals, hidden agendas, and the approaching nuclear attack. The movie features a combination of tense action scenes, moving scenes, and Snyder's distinctive visual aesthetic.
ARQ (2016)

In a lab, a couple becomes trapped in a temporal loop where they are constantly being attacked by masked raiders. They need to change and learn how to repel these raiders while also creating technology that can serve as a power source to prevent the world from facing its Judgement Day. The movie presents a fresh plot surprise that will keep you interested and on the edge of your seat each time the pair wakes up to discover themselves back at the start of the time loop. This is one of those films that does to its themes, even though the subject of time loops has been discussed extensively.
Awake (2021)
The setting of Awake is a future in which every electronic item that humanity has access to has been destroyed by a global calamity. Along with it, people also lose their capacity for sleep and become incapable of falling asleep, which inevitably results in death. Jill Adams, a mother of two, learns that Matilda, her youngest child, is still able to sleep despite the crisis. The revelation naturally stirs up the neighbourhood, and although some people want to send Matilda to a clinic for additional examinations, religious extremists think that sacrificing the girl will ease the situation. The remainder of the film follows Jill as she fights desperately to protect her young daughter from people of all kinds.
Black Crab (2022)
The Swedish action-thriller movie "Black Crab," which was directed by Adam Berg, is available on Netflix. In the movie "Edh," Noomi Rapace plays a speed skater named Edh who is assigned a perilous task: sneaking inside enemy lines to deliver a mysterious box that might put an end to a war. The story alternates between nail-biting chases, brutal warfare, and the moral dilemmas of war. Edh is pulled between morality and duty when she learns that the shipment might contain a possible bioweapon. The movie is a compelling examination of conflict, sacrifice, and the lengths people will go to protect those they love.
Bird Box (2018)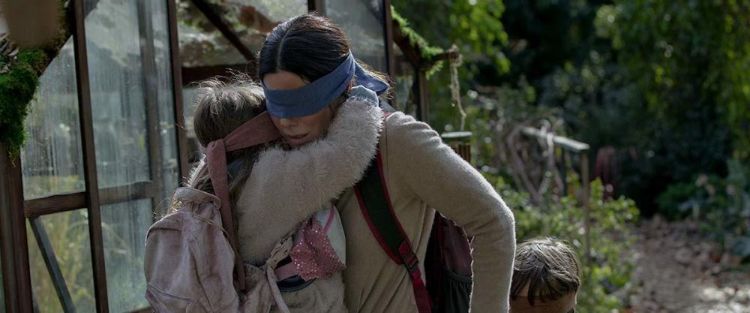 After being made available on Netflix, this movie became a hit, receiving close to 45 million views. However, there have been some conflicting and inconsistent reviews of the film. In "Bird Box," Sandra Bullock, an Academy Award winner, portrays a single mother who must cross a perilous river with her two children. The biggest obstacle they must overcome while doing so is that they must do it all while wearing a blindfold. The storyline seems a little cliche, don't you think?
who's because it reminds me a lot of the movie "A Quiet Place," which is about a family trapped in a post-apocalyptic world where creatures who are sensitive to sound are drawn to even the slightest disturbance. The movie has received a lot of conflicting reviews, and many critics appear to have an issue with its unclear conclusion. Some people, however, truly loved this thriller for its brilliant idea as well as the passages where too many details were left out since they gave us a peek into the protagonist's head as she attempted to solve the mysteries all around her.
Blame! (2017)
'Blame!' depicts a dystopian society in which humanity are totally dependent on cybertechnology. However, a terrible virus gradually spreads, causing all technology to malfunction and eventually beginning to exterminate everyone on the planet. The anime is based on a really innovative and original idea that has also been really nicely implemented. If you're unfamiliar with such flicks, make sure you have access to Google because certain severe sci-fi concepts are left unexplained in the video.
Cadaver (2020)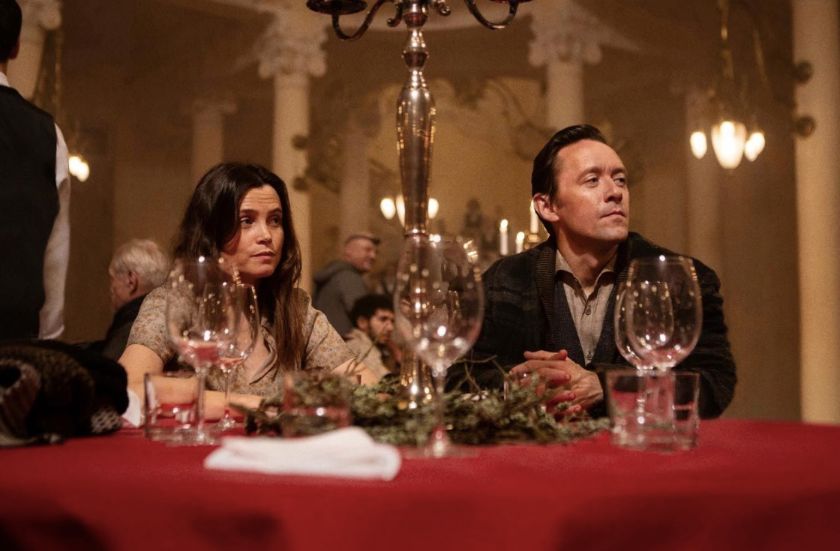 The Norwegian movie "Cadaver" is set in a devastated metropolis where hardship is the norm after a nuclear explosion. Without food, people go hungry, violence increases, and it's common to see dead bodies decomposing on the streets. Being a team is necessary to survive in such environment. Alice (Tuva Olivia Remman) is the only child that Leonora (Gitte Witt) and Jacob (Thomas Gullestad) have, and they adore and adore her. Unexpectedly, a renowned theatrical director named Mathias Vinterberg (Thorborm Harr) announces a special performance called "The Hotel," promising a satisfying supper. They choose to go for the performance because they view this as a chance to escape reality. Chaos results when fact and fantasy mix, exposing the reality of surviving in a society that adheres to the maxim "eat or be eaten."
Cargo (2017)
A dad who discovers that he could only have a few hours before becoming infected by a growing virus searches for a new home for his newborn daughter in this incredibly moving zombie apocalypse tale. There aren't many zombie flicks with heart, but this one does an excellent job of adding a lot of thrills and emotions to it. Even while I wouldn't say the film is Oscar-worthy, it is undoubtedly a breath of fresh air.
End of Evangelion (1997)
This Japanese animation sci-fi film, directed by Hideaki Anno and Kazuya Tsurumaki, serves as the dramatic conclusion to the "Neon Genesis Evangelion" TV series. Hideaki Anno's story delves deeply into post-apocalyptic situations while also incorporating philosophical and psychological reflection. Shinji, Rei, and Asuka, three teenagers, command Evangelion mechs that protect humanity against beings known as Angels. Shinji is involved in the Human Instrumentality Project, which aims to bring all of mankind together into a single organism, in the midst of this conflict. Despite initial criticisms for its abstract style, the movie received praise and won several prizes, cementing its reputation as a significant piece of animation.
Extinction (2018)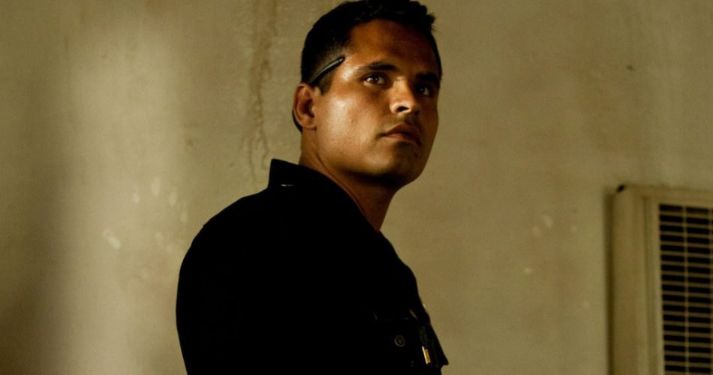 Dreams of a post-apocalyptic world plague a guy. After a while, these dreams become so genuine that he actually begins to think of them as prophecies. Even his own family begins to question his sanity at this point, but he subsequently proves everyone wrong and becomes a hero when all the events that used to haunt him begin to come true, but he is well prepared for them. The plot of "Extinction" is on a guy who follows his gut instinct and later uses it to save his family against an army of extraterrestrial beings attempting to attack Earth. The movie is so excellent and so expertly made that it actually serves as a model for all other alien invasion and post-apocalyptic films. The movie's twisty ending may leave you disappointed or make you fall in love with it, but Micheal Pena does a fantastic job as the hero.
How it Ends (2018)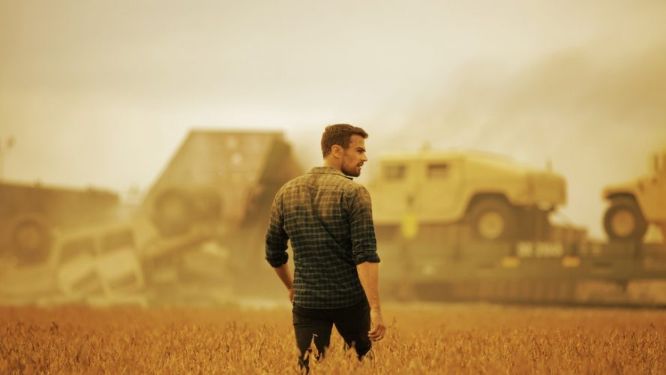 In a post-apocalyptic world, a young man must navigate his way back to his pregnant wife. This is the story of the young man in the film. The world has changed, and it is now filled with chaos. Will he be able to find his wife at home? The beginning of this film is excellent, and it seems to be pretty engaging. However, it gradually fades into monotony and loses sight of the plot from where it had begun. You will question where the film is going and why it is even going in that direction after watching a number of moments and decisions made during the film. But because it does contain some excellent action scenes, it is still a fantastic way to pass the time.
I Am Mother (2019)
Another science-fiction thriller with a post-apocalyptic setting is "I Am Mother." A robot named Mother (Rose Byrne's voice), who is assisting in the repopulation of the Earth and imparting the necessary skills and values that a person must have in order to exist on the planet, is raising a girl named Daughter (Clara Rugaard), who lives in a bunker. A Woman (Hillary Swank) enters the mother and daughter's world and delivers some startling news. This movie takes a unique stance on morality, accountability, parenthood, and what it means to live in the real world. On January 25, 2019, this movie had its world debut at the Sundance Film Festival.
IO (2019)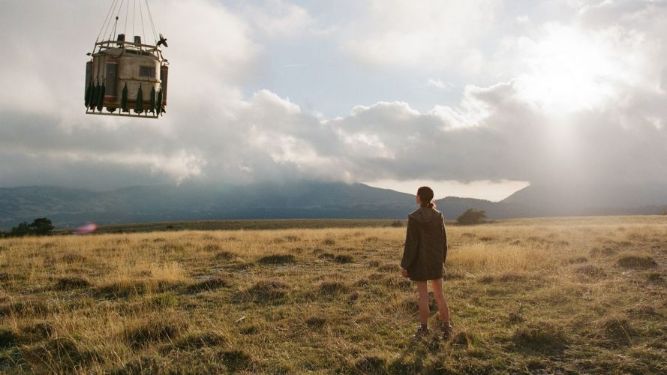 "IO" depicts a post-apocalyptic future in which people are unable to exist on Earth due to its total destruction. The majority of people have left the planet and relocated to IO, a moon of Jupiter. But Sam, a young girl who studies science, thinks the planet can still be rescued. A guy named Micah, who is also in route to boarding the final spacecraft to IO, comes and greets her when she broadcasts a message on a common frequency to attract the attention of the remaining humans.
Sam must choose whether she wants to stay or move to IO like other humans, while Micah will need to get quickly to the ship. 'I Am Legend' and this movie are very similar, with the exception of the fact that this one doesn't feature zombies. But regrettably, it falls short of 'I am Legend' and, in a sense, wastes a very brilliant idea. You can still watch it once because it does have that post-apocalyptic vibe. The only thing missing is some crucial story information.
Jung_E (2023)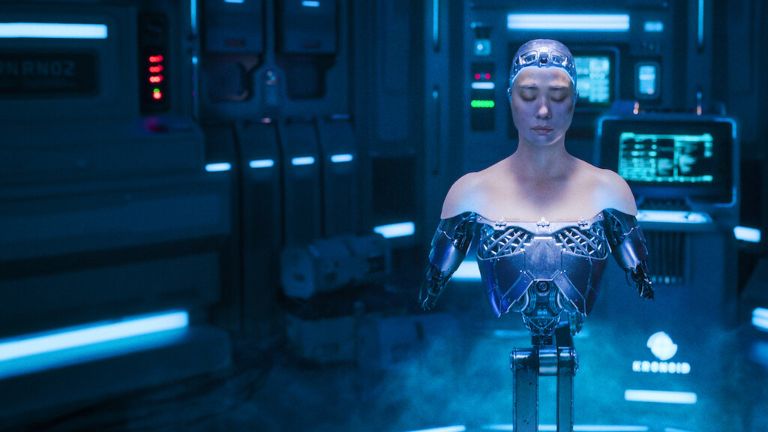 This South Korean science fiction movie, which was directed by Yeon Sang-ho, is set in a post-apocalyptic 22nd-century Earth where people live in spacecraft that have been built by mankind. When three shelters join forces to form the Adrian Republic and take on the Allied Forces, a civil war breaks out. A well-known mercenary named Captain Yun Jung-yi fights for the Allied Forces to pay for her daughter's medical care. A mission gone wrong results in Jung-yi being placed into a coma. In the year 2194, a tech company called Kronoid copies Jung-yi's brain to produce the fighting AI known as "Jung_E." The project, which is being overseen by Dr. Yun Seo-hyun, Jung-yi's grown-up daughter, intends to preserve Jung-yi's legacy. Seo-hyun finds herself in a race against time, protecting the AI's integrity and her own life from unexpected opponents as peace approaches and corporate goals change.
Last Man Down (2021)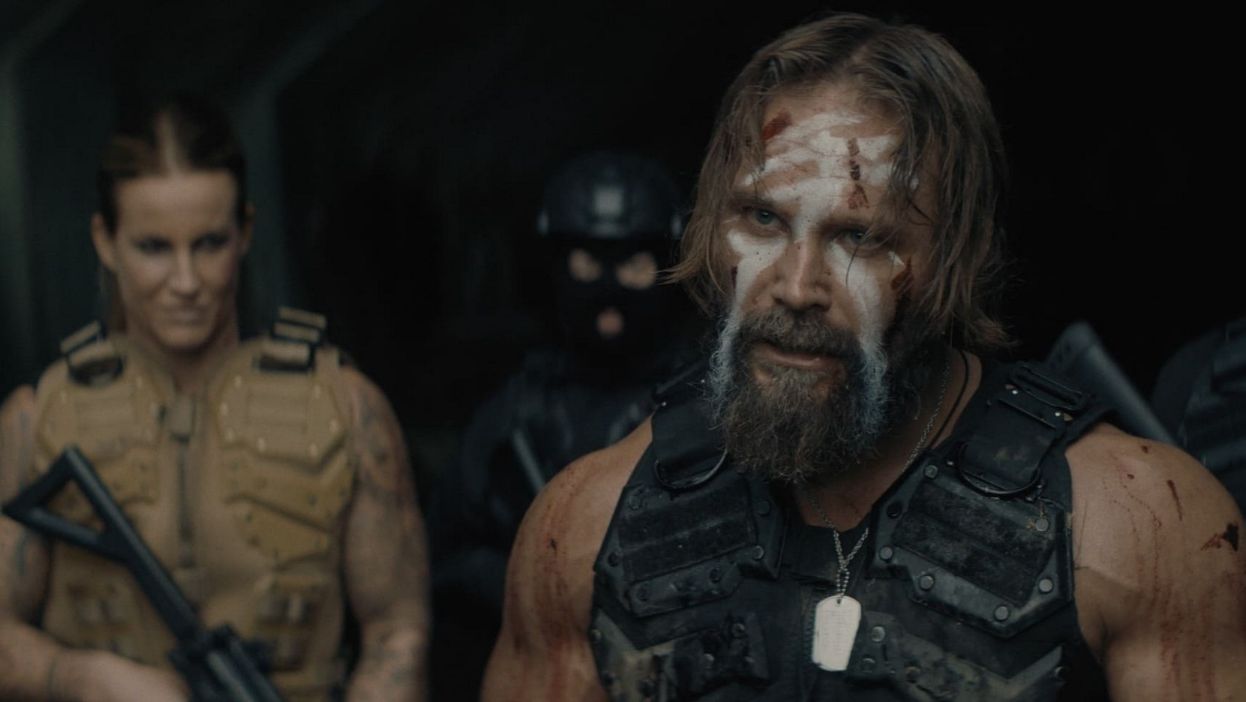 The movie "Last Man Down" imagines a world in which a devastating disease has nearly wiped out all of humanity. Even though John Wood, a member of the special forces, is constantly reminded of how Commander Stone killed his wife at the start of the epidemic, the crisis forces him to abandon his job and retire to a life in the Nordic wilderness. Years later, a hurt woman comes to John in the wilderness and begs for his assistance, telling him that she managed to escape from her captors who were using her blood in experiments to find a pandemic cure. While John initially rejects the woman's claims, he quickly learns that the man in charge of her captors is none other than Commander Stone, and he sees this as the ideal chance for retaliation.
Rim of the World (2019)
Zack Stentz wrote the script for this science fiction action movie, which Joseph McGinty Nichol (McG) is directing. Socially reticent Alex develops an odd partnership with fellow campers Zhen Zhen, Dariush, and Gabriel at the "Rim of the World" summer camp in southern California. When alien ships invade, their routine camp life takes a turn for the worse, leaving them among the few survivors. These youthful misfits set out on a risky quest to deliver a key that contains the key to stopping the invaders to NASA's Jet Propulsion Lab after receiving it from a dead astronaut. They encounter a variety of difficulties along the road, such as aggressive grownups and tenacious aliens. As they struggle to ensure humanity's existence, the group's ties and resiliency are put to the test.
Spectral (2016)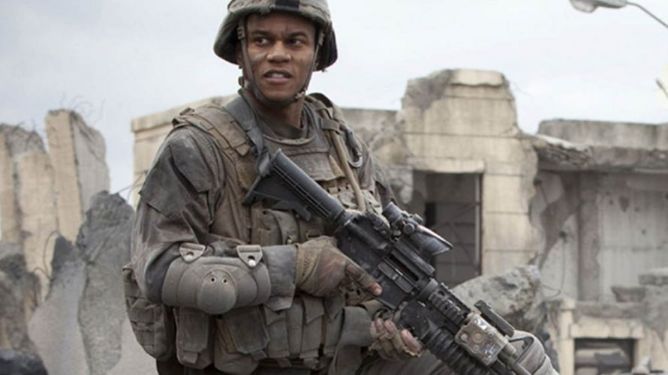 Supernatural creatures that are invisible to the human sight and annihilate everyone who comes in contact with them pose a threat to the world. The main focus of the film is on a special ops unit that fights against these unidentified beings, who could be ghosts from the war or a botched government armaments experiment. Spectral features excellent amazing effects, a compelling story, and passable performances. Although it is not perfect, the movie is good enough for a single entertaining viewing.
The Cloverfield Paradox (2018)
One of the three films in the Cloverfield trilogy, "The Cloverfield Paradox," reveals where the weird monsters in "Cloverfield" and "10 Cloverfield Lane" came from. A group of scientists are working within a space station that orbits the Earth at the beginning of the story. Their objective is to develop an energy source that can supply the Earth with limitless energy. But the entire experiment goes horribly wrong, opening doors to an other reality that will hasten the end of the Earth.
The Colony (2021)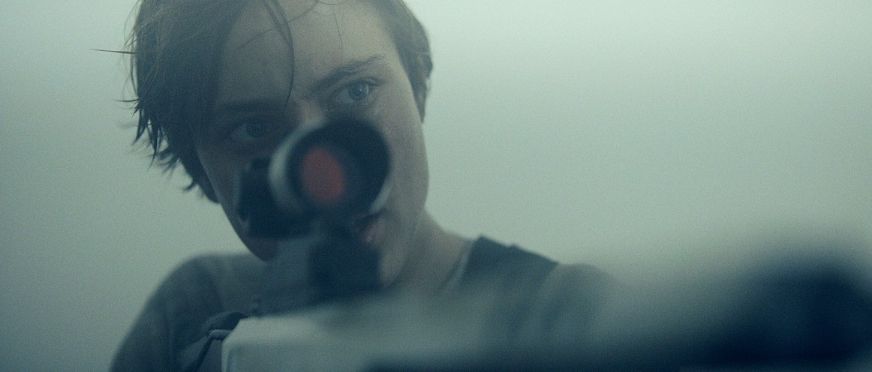 The future shown in "The Colony," which is set on Earth after a major disaster, shows how most people leave Earth and move to the Kepler-209 space colony. However, due to radiation making those aboard the space station infertile, humanity is in danger of going extinct. In such a situation, astronauts Louise Blake, Tucker, and Holden travel to Earth to determine whether the planet is habitable. But when the Muds, a group of humans, attack them, things don't go as planned and Tucker and Holden are killed. As a result, Blake must decide the future of humanity. Although at first she thinks it would be simple, she quickly realises she is fertile and learns about a forced breeding programme, which gives her the will to fight for what is left of humanity.
The Midnight Sky (2020)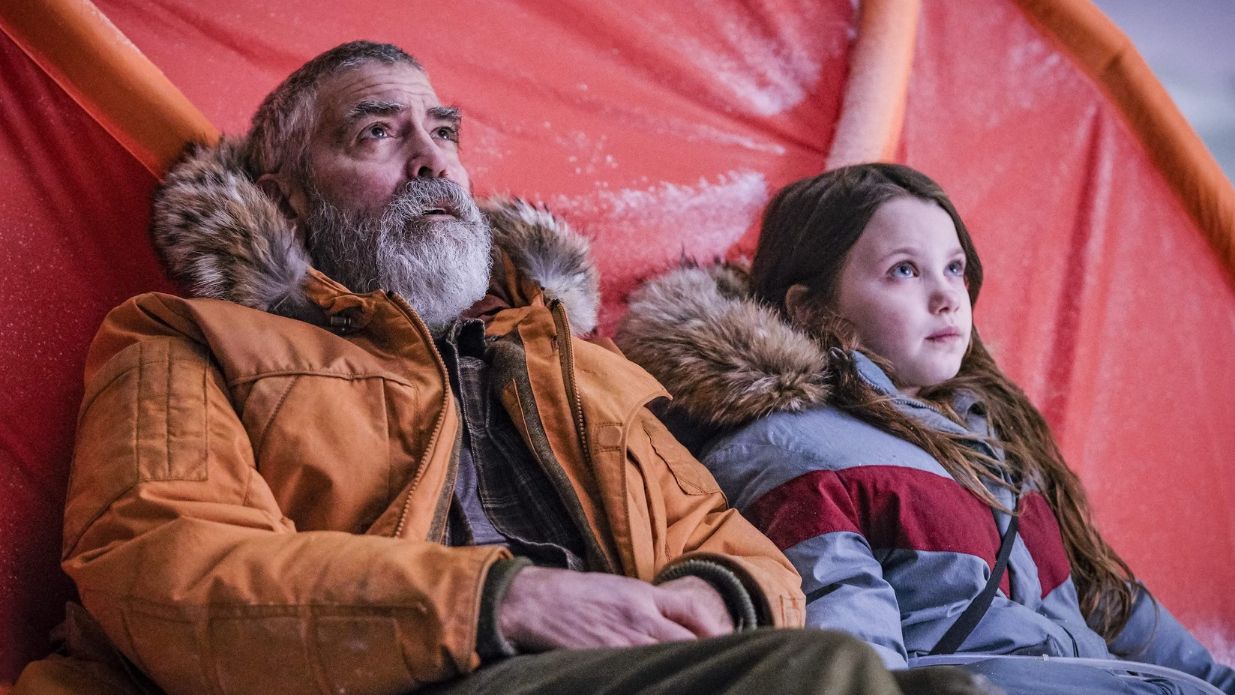 'The Midnight Sky' is a fantastic film that follows academic Augustine Lofthouse, the lone survivor within an Arctic station committed to discovering additional livable planets, in a post-apocalyptic reality where a catastrophe has killed off most of civilization. While Lofthouse is aware that he only has a few days left to live, he soon meets the crew of the starship Aether, who are returning to Earth but are unaware of the situation there. The academic attempts to notify the crew of the oncoming danger right away but quickly realises that the antenna is insufficient.
He also encounters a young child who appears to be unable to talk in the interim. Lofthouse takes the girl to a nearby station with a stronger antenna despite the fact that he can feel death encroaching around him. The distinction between reality and delusion, however, starts to become increasingly hazy, and the film's tragic conclusion occurs when it is revealed who the young girl really is.
The Silence (2019)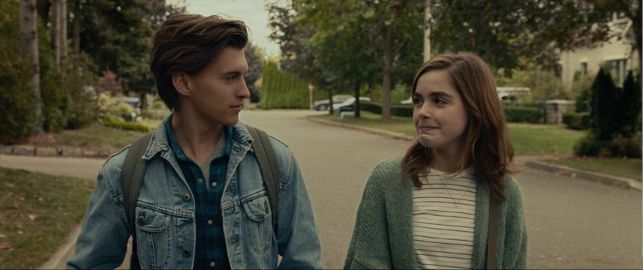 The Silence is a terrifying post-apocalyptic survival horror movie that depicts a world where the Earth is overrun by monsters that attack at the slightest sound. Ally Andrews, a teenager whose hearing was lost in a vehicle accident, decides to move to the country with her family as the condition requires humans to adjust to a soundless life. Despite losing Glenn, the family dog, and Ally's father's closest friend during the trip, the gang is eventually able to find safety in a modest shelter. The family learns that the creatures aren't the biggest danger to their survival since a nearby cult is trying to use Ally's enhanced senses.
The Worthy (2016)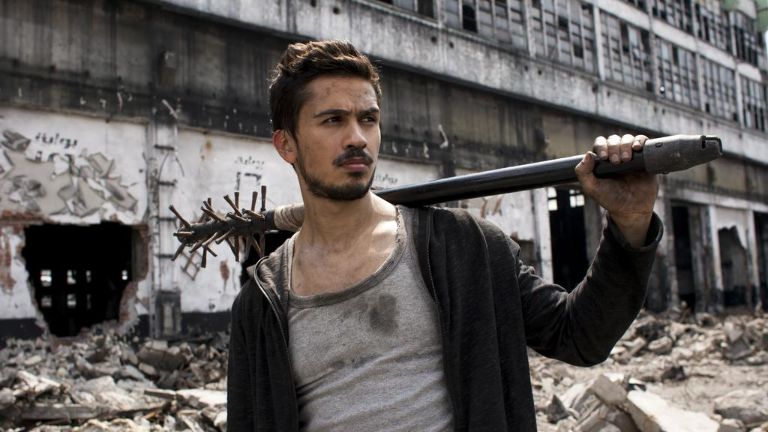 Considering that it originates from a region where the movie industry isn't very strong, "The Worthy" is truly a respectable film. The majority of the world's population is utterly wiped off in the film as deadly viruses pollute water sources. The only few survivors reside close to a reliable source of clean water that is later compromised by individuals with less than honourable motives. When the last few humans fight for control of the sole body of water that can keep them alive, everything turns into a bloody game of survival.
What Happened to Monday (2017)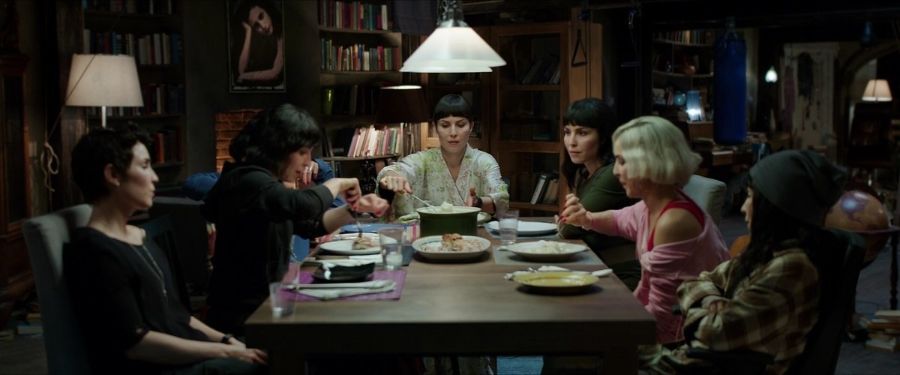 In the year 2043, there is a one-child restriction because of population growth, and all children besides the firstborn are placed in cryosleep machines. An electronic bracelet that tracks each person makes sure of this. During this time, a mother gave birth to seven identical septuplet sisters before passing away. They were carefully educated to assume a single identity while under their grandfather's care, and communication was the key to that. They would perish if the government discovered more than one of them. However, when one of the sisters is arrested and her communication is cut off, chaos ensues. Is there any prospect for life under such a strict rule?
White Noise (2022)
'White Noise' is a film by Noah Baumbach that is an absurdist comedy-drama based on the 1985 Don DeLillo novel. The 1980s-set movie, which stars Adam Driver, Greta Gerwig, and Don Cheadle, depicts the life of Jack Gladney, a professor of "Hitler studies," his fourth wife Babette, and their blended family. After a railway accident causes a "Airborne Toxic Event" and ensuing evacuation, their lives—which were already characterised by Jack's fears regarding his impending death and Babette's covert use of the narcotic Dylar—spiral out of control. As the situation develops, Jack confronts Babette about using Dylar and ultimately finds himself involved in a violent altercation with the enigmatic Mr. Grey. The story explores contemporary concerns, such as the fear of dying and the need to find purpose in the face of chaos.