The comedy-drama series "The Upshaws" on Netflix focuses on the highs and lows of the life of the titular family. The Upshaw family's humour and conflict are the main themes of the sitcom, which stars Mike Epps, Kim Fields, and Wanda Sykes. Epps portrays Bennie Upshaw, a garage owner who is attempting to mend fences with Fields' portrayal of his wife Regina. Bennie has a history of making things worse. He does, however, adore his family and would sacrifice anything for them.
Sykes portrays Regina's older sister, Lucretia Turner, who is wealthier than the Upshaws and has a dislike for Bennie that he shares. One of the more enjoyable aspects of the episode is the banter between Bennie and Lucretia. Bennie frequently teases Lucretia and her walking cane in his jokes. You might be curious in Lucretia's past and the reason she walks with a cane. What you should know about it is as follows. Spoilers follow.
Why Does Lucretia Use a Cane?
Wanda Sykes and Regina Y. Hicks jointly produced "The Upshaws." To highlight the challenges and lives of working-class families, they intended to create a show about them. Sykes observed that most television programmes with Black characters either focus on the idea that "we have all arrived" or on a difficult aspect of the characters' lives.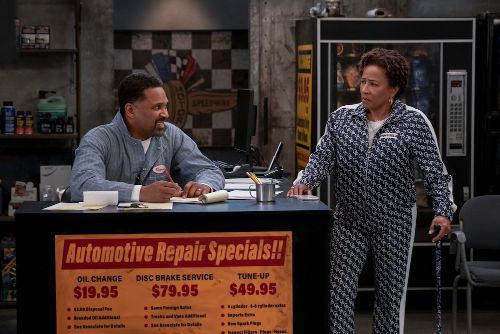 You know, this family is basically a working-class family; you never see them on TV. Either we have all arrived or not. We're slaves, you know, and there's some black suffering going on, whether we're wealthy or struggling. But we wanted to create a show that accurately reflected how the majority of Americans—not just those of color—are actually living. You know, it's like families, just trying to get by and love one another. Therefore, that was incredibly important to us," Sykes added.
The authors of the show aimed to make the characters as relatable as possible when creating them. Herein lies the significance of Lucretia's situation. Sykes was keen to portray her character as having a disability of some kind. I want her to use something like a cane or crutch, and it also expressed how many families, particularly working-class families. Everyone has a relative who, say, was involved in a job accident, a car accident, was struck by a bus, or something. You know, that was the struggle and I wanted to touch on that, but also, as you mentioned, to represent and let people with disabilities see themselves as well.
Another goal of Sykes's was to avoid portraying Lucretia's infirmity as a hindrance. Sykes hoped that through her persona, viewers might "see themselves living a full life and loving." This is the reason the show skips over the specifics of Lucretia's cane. Although it is an aspect of her life, her storyline and character development in "The Upshaws" are not defined by it. The character is the only thing that is served, not the story.