Stanford Blatch, who is portrayed by Willie Garson, is a pivotal figure in the "Sex and the City" series. Beyond the three members of her clique, Stanford is Carrie Bradshaw's (Sarah Jessica Parker) closest friend. According to the original series, Stanford and Carrie have known each other since the 1980s, when they first started going out to clubs in New York together. The film "Sex and the City" was created at a time when Hollywood executives were hesitant to depict anything other than heterosexual relationships. Despite this, Stanford is the only non-four protagonist character in the show to have his own plot. 'Sex and the City' (2008) and 'Sex and the City 2' (2010), both of which are sequels, also include him. He only appears in the first three episodes of "And Just Like That…" What you need to know if you're wondering what actually happened is this.
What Happened to Stanford Blatch?
Prior to "And Just Like That…", Stanford is the only ancillary figure to have a standalone plot, as was already mentioned. He is with Broadway dancer Marcus Adente when the original series comes to an end. But in the 2008 movie, he finds himself alone by himself when he goes to a New Year's party and kisses his competitor Anthony Marentino (Mario Cantone). They get married in the 2010 movie.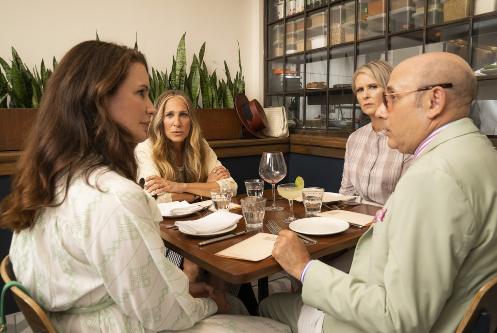 One of the key characters in the series and an early participant in the story of "And Just Like That…" is Stanford. In episode 4, it is revealed in a letter that Stanford has relocated to Japan in order to work with his sole client, Ashley, a well-known TikTok singer who is touring the nation at the time. Stanford wants a divorce, Anthony admits. Carrie gets praise for the kimono Stanford gave her from Japan in the season 2 debut.
Did Willie Garson Leave And Just Like That…?
Willie Garson, an actor best known for his roles in "Sex and the City" and "White Collar," died on September 21, 2021, at the age of 57, at his home in Los Angeles, California, following a brief illness. He had pancreatic cancer, according to Nina Tassler, his sister-in-law. Nathan, his adoptive son, shared the sad news of his passing on Instagram. He wrote, "I love you so much papa." "Rest In Peace, and I'm so happy we got to experience all your travels and success with one another. I'm really pleased with you. Although I will always adore you, I believe it is time for you to embark on a journey of your own. You'll always be in my company. I adore you more than you can possibly imagine, and I'm delighted you may finally find peace. You've always been the most resilient, hilarious, and intelligent person I've met. I appreciate you sharing your love with me. I won't ever lose it or forget about it.
Following Garson's passing, messages of sorrow and condolences came in from her fellow actors. "I couldn't have had a more brilliant TV partner," Cantone wrote on the same site. "I'm crushed and simply overcome with sadness. very soon be taken from all of us. Willie, you were a gift from the gods. I love you; go to sleep.
View this post on Instagram
Parker, who had a strong relationship with Garson on- and off-screen, reportedly said on Instagram that she wasn't ready to talk about it while the other cast members voiced their sorrow over losing such a beloved castmate. Garson was ill during the early stages of the production of the latter programme, but he still gave it his all, according to Michael Patrick King, the executive producer of "Sex and the City" and "And Just Like That."
"The Sex and the City family has lost one of its own," the statement said. Our wonderful Willie Garson. Every day that And Just Like That was being filmed, his spirit and commitment to his profession could be felt. Even though he was ill, he was there, giving it his best for us. Everyone will miss his many talents as an actor and as a person.
Garson promoted adoption among the public. After his passing, his family asked the supporters to make any contributions they could to the Alliance for Children's Rights in his memory. He was cremated, and it is said that a lifelong friend received his remains.