11 years have gone since the events of the 2010 movie "Sex and the City 2" when "And Just Like That…" starts, and Carrie Bradshaw (Sarah Jessica Parker) and her pals are at a very different place in their lives. However, unexpected setbacks are a common occurrence in life. For Carrie, it manifests in the passing of Mr. Big, also known as John James Presto. Due to her relocation to London, Samantha Jones (Kim Cattrall) is conspicuously absent. Miranda Hobbes (Cynthia Nixon), a married woman who has fallen in love with a non-binary comedian, chooses to leave her marriage to Charlotte York Goldenblatt (Kristin Davis), a mother of two great children. The "Sex and the City" universe is more diverse than ever thanks to the new characters that make their debut in "And Just Like That…"
In the first episode of season 2, Carrie and her pals in New York get ready for their performance at the Met ball, and Miranda starts to regret coming to Los Angeles. In episode 2, Charlotte must accept the fact that her children are growing up as Carrie attempts to promote a wellness product for women's intimate areas. Miranda joins an environmental club and cleans a neighbouring beach in Los Angeles after becoming bored. Here is all the information you might need regarding the conclusion of "And Just Like That" season 2 episode 2. Spoilers follow.
And Just Like That…Season 2 Ep 1 and 2 Recap
Predictably, the first episode starts with some sex. Sex occurs between various partners for Carrie, Charlotte, Miranda, Seema Patel (Sarita Choudhury), and Lisa Todd Wexley (Nicole Ari Parker). Then there is Dr. Nya Wallace (Karen Pittman), who is compelled to indulge in pornographic videos because she is alone at home. Carrie and Franklyn (Ivan Hernandez) had a conversation about cooking during their post-sex ecstasy, and Carrie confesses that she has always wished she knew how to poach an egg. She can give it a try right away, Franklyn says. The following morning, Carrie's attempts to poach eggs don't turn out as she had hoped. Charlotte appears as Franklyn is about to leave, and Carrie's two worlds come together.
As Lisa gets ready to acquire funding for her upcoming project, Charlotte enthusiastically grills her pal about Franklyn. The suggestion to finance it by her husband Herbert is not favourably received. Che is fitting costumes for their next TV show while Miranda is celebrating the greatest part of herself in Los Angeles. They become upset by a casual comment that implies they are overweight. This is interpreted by Miranda as a sign of their growing indifference in her. But towards the episode's conclusion, Che and Miranda both admit to having insecurities.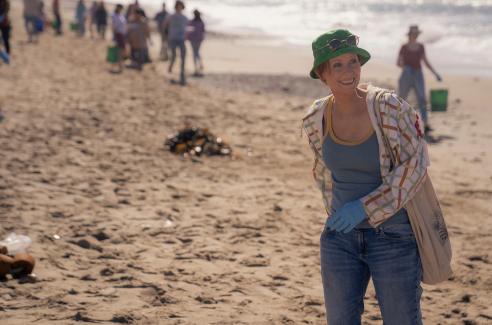 The women get ready to go to the Met ball. Seema is Carrie's companion; Charlotte is intended to accompany Anthony Marentino (Mario Cantone). Seema, however, must cancel on Carrie because she has been invited to dinner with Zed, his son, and his ex-wife. In the meantime, Charlotte's husband, Harry (Evan Handler), expresses his wish to attend the Met gala because he mistakenly thinks he will be able to climb the steps and meet celebrities. Anthony protests about the unfairness of being replaced when he discovers it, but the women reassure him that he can leave with Carrie.
However, Seema abruptly departs the dinner when she learns that Zed still lives with his ex-wife. She gives Carrie a call to inform her that their plan has been reinstated. Anthony is once again the outlier in this situation. Fortunately, Harry decides not to go when he finds out he won't get to talk to Rihanna, thus Anthony Charlotte is once more Anthony Charlotte's plus one. In the meantime, Herbert and Lisa are forced to walk to the gala as the latter forgets to reserve a van. Carrie's last-minute outfit mishap leaves her with little choice but to put on the only headpiece-compatible dress she owns, which is her wedding gown from the 2008 film "Sex and the City," in which Mr. Big abandoned her at the altar.
In episode 2, Carrie learns that she needs to figure out a method to get used to the concept of endorsing a product for vaginal wellness. Herbert learns that in some situations, despite his privilege of wealth, he is just as susceptible as any member of a minority group. Lily disposes of her gowns to get a keyboard, forcing Charlotte to acknowledge that her kids are getting older. Nya feels enraged when her ex-husband Andre advises that they try surrogacy to salvage their marriage and that he might cheat on her in the future. Seema briefly catches up with Zed in the meantime, but when he asks her to join him as an equal partner in a club in Manhattan, she rejects him once more. Che meets Tony Danza, who will play their father in their self-titled series, and Miranda learns that Che was once married to a man.
And Just Like That…Season 2 Episode 2 Ending: Do Carrie and Franklyn Break Up?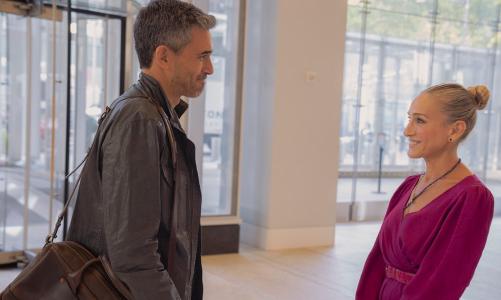 Yes, towards the end of season two episode 2 of the show, Carrie and Franklyn do split up. Season 1 ended with Carrie losing Mr. Big, therefore in her eyes, her relationship with Franklyn was always intended to be informal. Every Thursday, they had sex after recording their podcasts. With this arrangement, Carrie was content. She appears to realise, however, that she is not yet in a psychological or emotional state to commit to a relationship when Franklyn invites her to go with him on a Tuesday to a meeting with his friends. She informs Franklyn right away, and he appears to support her choice. However, he admits towards the end of the show that he can't stay in a relationship with no prospects for the future. The two adjourn peacefully, with Carrie noting that she has suddenly freed up her entire week.
Is the Sex and the City Podcast Canceled?
The "Sex and the City" podcast has indeed terminated. Although they had a prosperous first season, business in this always changing industry changes quickly. Before choosing the phrases she feels most comfortable using to promote a vaginal wellness product, Carrie must first get over her reluctance. When she does that and brings Franklyn back to the studio, the studios have already been sold to Apple or another major firm. After that, Carrie makes the earlier-made suggestion by Franklyn that they sell the podcast to third parties. It's difficult to predict something that has already been cancelled, he explains to her. Both their personal and professional ties come to an end.