The Netflix Spanish-language Colombian series "Fake Profile" or "Perfil Falso" centres on exotic dancer Camila Román (Carolina Miranda), who works in Las Vegas. On a dating app, she encounters Fernando Castell, who introduces himself as a plastic surgeon from Cartagena, Colombia. When Camila visits Fernando a few months after they begin dating, she is shocked to learn that he has catfished her. He is an engineer by the name of Miguel Estévez (Rodolfo Salas), and he works for his father-in-law's business. Camila moved into the home next to Miguel in the gated community with the stated goal of preventing him from targeting other women. The hot thriller "Fake Profile" is loaded with drama and sex. What you need to know about the show's sex scenes is provided below. Spoilers follow.
Before the Tragedy (Camila and Miguel, S1E9)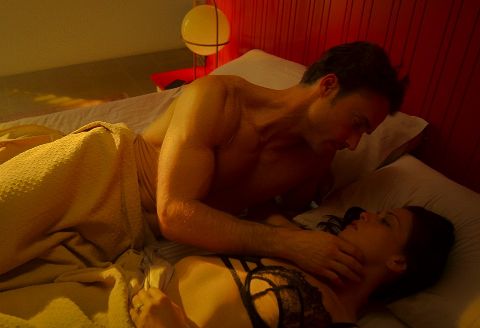 Although Camila has a good understanding of the kind of man Miguel is, she has little control over her feelings for him. Miguel, meantime, has started to suspect Pedro was involved in Camila's arrival in Colombia, and that it wasn't entirely accidental. This specific sexual experience takes place after Angela requests a divorce, therefore it doesn't necessarily bear the same weight of Miguel's adultery as the other ones. But the next morning, Miguel questions Camila about whether or not she is employed by Pedro. After Camila tries to confess the truth about her father later in the episode, ngela appears to kill her.
Diving Lessons (Adrian and Inti, S1E5)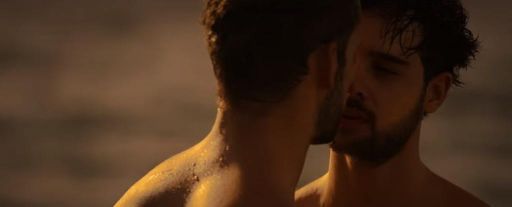 Pansexual Inti was recruited by Pedro to cause friction between Adrian and his fiance Cris, as was later revealed on the programme. In the fifth episode, Inti takes his restaurant boss Adrian diving lessons. Since the beginning of the series, they have been making out because Adrian, understandably, is unaware of his father's intentions. The gestures become fairly provocative as Inti instructs Adrian. They begin kissing and taking off their clothes, but Adrian stops when he suddenly thinks about Cris.
Doomed Affair (Miguel and Ximena, S1E6)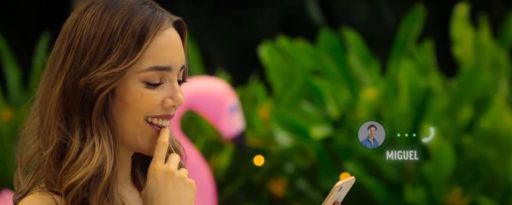 Camila concludes that there must be more women like her based on Miguel's actions and eventually locates Ximena, who formerly resided in the same home as her and her family. Similar to Camila, Miguel also met Ximena on a dating app while he was also using the Fernando Castell fictitious profile. But as soon as Miguel realised the woman he had been talking to was actually his neighbour, he got in touch with her. Ximena was unconcerned that Miguel was utilising a false profile. Additionally, it made no difference that they were both married and had kids. Eventually, Miguel was able to persuade her to leave her family, but on the day they were meant to depart together, he was absent. Instead, he sent a letter in which he claimed to have changed his mind after seeing the faces of his kids.
First Date (Camila and Fernando/Miguel, S1E1)
The series' opening sex scene likely makes the largest impression since it expertly establishes the mood. When Miguel and Camila first meet in person, they are both pleasantly shocked by how attractive one other is. She is amazed that he is even more gorgeous in person, while he is surprised that she looks just like her profile photo. They dine, dance, and take in the breathtaking splendour of Las Vegas at night before ascending to Miguel's room. Miguel and Camila set off on separate journeys to get to know one another and discover their loves and dislikes, both of which are framed by the Las Vegas skyline. Unbeknownst to them, Camila's controlling ex is using a drone to observe them through the window.
Late Night Togetherness (Miguel and Ángela, S1E3)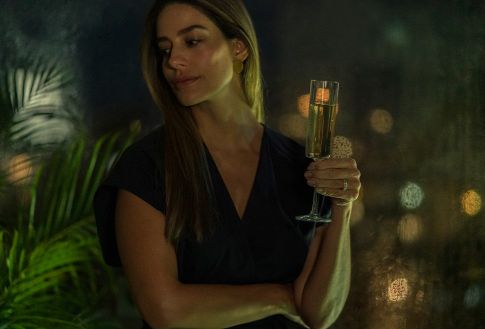 Lucas and Eva's parents, Miguel and Angela Ferrer (Manuela González), have been wed for a long. Whatever they had at the beginning of their relationship has boiled down over time to a fairly subdued coexistence. Miguel has become a serial cheater because he feels smothered by his wife and father-in-law, while ngela meets up with Inti, a former escort, for regular sessions. This sex scene illustrates how Miguel and Ngela's intimacy is largely motivated by responsibility.
Secret Rendezvous (Ángela and Inti, S1E4)

In episode 4, Angela takes a short break from her life after discovering about her husband's most recent mistress and calming down her son after he saw Miguel having sex with Camila. She routinely meets with Inti for sessions, and it is made clear that this particular one took place in a pool.
Three is a Party Part I (Adrian, Inti, and Cris, S1E8)

Cris worries about the growing closeness between Adrian and Inti and resolves to step in before it's too late, albeit his method of doing so is extremely unusual. He invites Inti to their house and bed one night. Adrian is initially apprehensive about this, but he quickly warms up to the idea.
Three is a Party Part II (Adrian, Inti, and Cris, S1E9)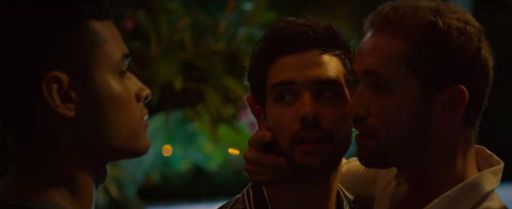 Cris believed that involving Inti in his connection with Adrian would help to resolve the conflict; nevertheless, he soon learns that the other two are spending time together without him. He challenges Adrian and Inti about it, reminding them of the guidelines they committed to follow. The second trio is started by Adrian, and Cris feels excluded the entire time.
Tropical Paradise (Camila and Fernando/Miguel, S1E1)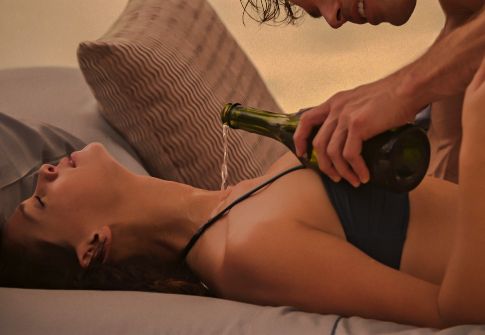 Miguel doesn't reveal to Camila that she lied in her dating profile when they first match on the dating app. She hides the fact that she dances as an exotic dancer at the Golden Lips club under the alias Red Velvet by claiming to be a nurse on the dating app. After some time, though, Camila finally tells Miguel the truth after being tormented by her guilt. When Miguel responds favourably to the news, her feelings of rejection are allayed. They are on vacation, and the action takes place on a tropical beach. The two continue their passionate act outside in the warm summer sun. Before drinking from her skin, Miguel covers his sweetheart in wine.
Unfriendly Neighborhood Voyeur (Camila and Miguel, S1E3)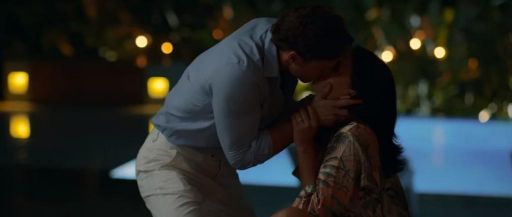 Even after finding that Miguel has a family, Camila still had sex with him a short time after moving into the gated community where he lives to stop him from harming other women. Lucas is discreetly keeping an eye on her and Miguel through the cameras installed inside Camila's home, which they are unaware of. He subsequently tells his mother about it and develops a growing bitterness towards his father. He even starts aiding Pedro in his attempts to exclude Miguel from the household.
Our Team DCS includes 5 different writers proficient in English and research based Content Writing. We allow them and encourage them to follow the Entertainment news all day long. Our posts, listicles and even the exclusives are a result of their hard work.