Ten contestants are placed in the most difficult locations on Earth in the History Channel's "Alone," which is surrounded by a harsh winter and predators. Ten contestants are followed by the survival programme as they travel into the wilderness in an effort to see who can last the longest. The competitors are forced to scavenge for nourishment in the most hostile locations with few tools, no food, and no water. Season 6 of the reality TV programme, which debuted in 2019, has a similarly challenging premise. So, if you're also interested in knowing where the candidates are, look no further since we have all the information right here!
Where is Jordan Jonas Now?
The jack-of-all-trades eventually won the enormous cash prize of $500,000 after spending over 80 days in the bitter Arctic weather. Jordan has kept up a life of dependability and resiliency since winning season 6. Despite the challenges of his time on the show, his long list of wounds had equipped him to see through everything. Jordan had seen his fair share of travesty in nature before he defeated his opponents.
View this post on Instagram
Jordan's extraordinary experiences, which included breaking his ribs by a reindeer and plunging through the ice into a frozen river in Siberia, helped him navigate the difficulties of the environment with ease. Along with his wife, Janahlee, and their three children, Illana, Altai, and Zaya, he resides in Virginia. Jordan conducts wilderness classes in Selway-Bitterroot and has a range of goods.
The 40-year-old reality star who faced a wolverine on the show is also a YouTube creator and publishes content on cabin building, hunting, fishing, and many other topics in addition to offering adventure classes. Jordan is a podcast guest as well as a public speaker who has appeared on various shows.
Where is Woniya Dawn Thibeault Now?
California-born and raised Woniya was finally defeated by Jordan on season 6. She nevertheless made a comeback in "Alone" season 11 because of her unbowed attitude. Woniya became the first woman to take home the top prize in season 11 after enduring more than 70 days in the freezing weather. She has established herself as a YouTube and Cameo maker outside of reality television and provides online classes.
View this post on Instagram
Woniya uses her social media to advertise various products. Along with her memoir, "Never Alone: A Solo Arctic Survival Journey," the reality star also published a book. The 48-year-old Californian is also a fierce advocate for practical concerns. Woniya is an activist who keeps bringing attention to racism and soliciting funds. The artist, who also teaches ancestral skills, is dating Taylor Donovan and has been a guest on the podcast "The Moth."
Where is Nathan Donnelly Now?
Nathan Donnelly, a scientist, carpenter, and homesteader who lives off the coast of Washington with his partner and family, continues to succeed outside of the show. He became well known for his keen sense of nature and survival skills, and from there he applied his skills and continued to develop rapidly. Since his days as a crew leader for the neighbourhood youth conservation corps, the expert has changed.
Nathan's company provides assistance with connecting with nature, emergency planning, and outdoor survival. He lives in Washington and is now in his forties. He likes to go on new adventures. In addition, Nathan is dedicated to expanding his permaculture work and constructing his own home, for which he has even launched a GoFundMe campaign.
Where is Bary Karcher Now?
The Fort Collins-based actor, who endured 69 days in the icy Arctic, rose to prominence throughout the series as a result of his survival. After the programme ended, Bary widened the scope of his professional endeavours. He has taken up public speaking and acting in addition to working as a woodsman and mentoring others in the backcountry. The self-defense instructor and reality star in his 40s continues to achieve new milestones with his wife and their four kids in addition to teaching martial arts.
Where is Nikki van Schyndel Now?
Nikki was naturally inclined towards naturalist studies, and her life was focused on wilderness and survival. She spent two years embracing the nature after living on a barren island in British Columbia's Broughton Archipelago without any conveniences. Nikki has kept a travel map that aligns with nature even after leaving "Alone."
View this post on Instagram
The reality TV star, who is still an explorer and forager, is getting close to 50 years old. Nikki nonetheless keeps on experiencing new things and shares her most recent successes on social media and her blog, The Chronicles of Daisy Crocket. The former "Alone" finalist now lives off the grid in a small community in Echo Bay, British Columbia, and has written the book "Becoming Wild."
Where is Michelle Anne Wohlberg Now?
Michelle, who is based in Mullingar, Saskatchewan, has lived alone for the majority of her life. Her tenacity helped her succeed on the show despite having grown up on a farm. Michelle has continued to lead a self-sufficient and sustainable life since leaving "Alone." The reality personality, who is in her 30s, has launched her Legacy Survival Training company using her expertise. She also works as a guide, assisting visitors as they navigate British Columbia's difficult terrain. Michelle continues to expand her career as a homesteader and outdoor survivor educator alongside her husband, Dan, and their son, Lars.
View this post on Instagram
Where is Brady Nicholls Now?

Brady, a SERE (Survival, Evasion, Resistance, and Escape) Specialist with the United States Air Force, had a variety of abilities that helped him navigate challenging situations. Since leaving the programme, he has concentrated on completing his education in order to start his career as a clinical social worker. The 40-year-old celebrity resides in San Antonio, Texas, with his wife Chelsea and their four adorable kids. Brady's family has also encountered its share of difficulties, such as coping with Chelsea's rheumatoid arthritis, but the family perseveres in the face of difficulties.
Where is Ray Livingston Now?
View this post on Instagram

Ray's love in hunting and hiking, which he developed as a bowhunter and K9 trainer, equipped him to withstand the Arctic's bitter cold and deal with the enormous game they would finally encounter. Ray was able to make it through his time on the show because to his ability to adapt to the outdoors and his receiving the "K9 and Handler of the Year" title in Oregon. Ray left the programme and went back to his wife Angie and their two sons, Marcellus and Dezmon.
Since then, the celebrity has gained fame on social media. Ray frequently documents his survival abilities using both traditional techniques and contemporary means on YouTube and Instagram. Ray, who is in his 40s, is a cast member of History's "Mountain Men" in season 12. Along with reality television, the celebrity still resides in Oregon with his family and pursues new outdoor activities.
Where is Donny Dust Now?
View this post on Instagram

Donny had the ideal skill set to survive the harsh Arctic circumstances thanks to his experience in the military, travel, and running Paleo Tracks Survival, a wilderness survival and primitive living school. In addition to this, the technocrat had written a book titled "Scavenger" before appearing on the programme. Donny has also had his knowledge and opinions published in television programmes, podcasts, and magazines devoted to wilderness living.
Donny looked into a career in the entertainment industry after the show finished. He is currently a consultant for television and film in his 40s. Despite once experiencing a heart attack, Donny has advanced significantly in his survival skills. He teaches self-reliance and speaks in public as well. Donny continues to establish new milestones in Colorado through his business and other endeavours, together with his wife and two sons, Will and Alden.
Where is Tim Backus Now?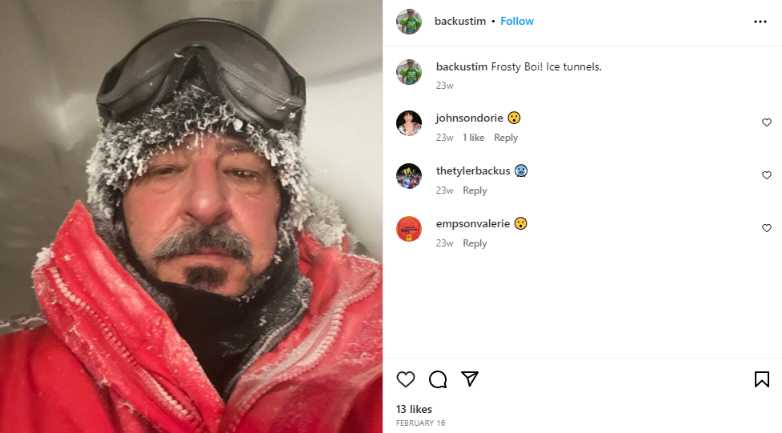 Despite leaving the job early, the hunting guide from Texas nevertheless gains fresh experiences. The father of two, who is in his mid-60s, spends his summers exploring West Texas and spends his winters hunting big game in New Mexico, Colorado, and Virginia. Tim spends time with his grandchildren and extended family in addition to writing a book on his hunting and camping adventures. Even after having knee surgery, the reality star continues his travels and adventures despite the obstacles in his path. The most recent investigation of the star included time spent at the South Pole.