"Alone" follows ten individuals as they brave the bitter cold and make due with the bare necessities while travelling through uncharted territory. Contestants on the survival show use numbered tools to live in the woods. They continue to face challenges from nature and wild creatures as they scavenge for food and try to survive. The participants from previous seasons' losing seasons are included in Season 5. Season 5 of the reality television series, which debuted in 2018, offers scenarios that are just as tense and intense. Therefore, if you're also interested in learning more about the participants' whereabouts, look no further since we have all the information you need right here!
Where is Sam Larson Now?
Sam, a bushcraft instructor, author, and speaker from Nebraska, had returned to "Alone" despite the physical difficulties that hindered him during his initial appearance. He proceeded to undergo a number of adjustments in his personal and professional life after becoming the youngest series winner. Sam, who is now in his 30s, is the founder and chief instructor of Woodson outdoor Education, a business that offers consultation and outdoor skill training. Even publications, such as "To Tread in Wild Places: An Introductory Guide to Wilderness Living Skills," have been written by him.
View this post on Instagram
The 30-year-old is the pastor at Redemption Hill Bible Church, which is based in Nebraska right now. In addition to his job and speaking engagements, Sam is a devoted husband and father to his wife, Sydney. He has nevertheless experienced his share of hardships. Alaska, the reality star's oldest son, has been identified as having CLN3 batten disease, a hereditary neurological condition that causes blindness. But Sam and his family keep working hard and overcoming obstacles.
Where is Larry Roberts Now?
Larry returned to "Alone" for season 5 after a successful run in season 2. Even though his fortitude prevented him from winning, he has nonetheless made significant strides. Larry, who is in his fifties, currently works as a teacher at a renowned survival school in Minnesota. The empty nester has also made the decision to find new activities to keep himself active now that his children are both adults.
View this post on Instagram
Larry uses a YouTube account to broadcast his travels online and even enrols in online classes for camping and outdoor survival. In addition to instructing others in wilderness survival techniques, he is a loving husband. After spending more than 30 years together, Larry and his wife are still creating new experiences with Winston, their dog. He enjoys spending time with his kids fishing and foraging in addition to travelling.
Where is Nicole Apelian Now?
Dr. Nicole Apelian's work in ethnobotany, herbology, and anthropology has provided her with substantial growth over the years, from working as a game warden in the U.S. Peace Corps to working as a field biologist in Botswana. Although receiving a multiple sclerosis diagnosis at the beginning of the millennium altered her perspective and worldview, the celebrity has yet continued to set new records. Nicole has continued to expand her work with nature after making appearances in seasons 4 and 5 of History's "Alone."
View this post on Instagram
The 52-year-old, who lives in South West Washington with her boys, has added four organic gardens to her home, where she grows food and medicinal plants. Nicole lives in a meadow that is surrounded by greenery, allowing her to go food foraging every day. The reality personality actively promotes awareness of issues like MS and autoimmune awareness through her work. She has used her knowledge of biology and herbology to produce natural tinctures and salves that she sells through her online pharmacy.
The Lost Book of Herbal Remedies: The Healing Power of Plant Medicine and A Reference Guide to Surviving Nature: Outdoor Preparation and Remedies are two of Nicole's most recent books. The 'Alone' alum provides consultation for numerous productions. 'Surviving the Stone Age: Adventure In The Wild,' a brand-new miniseries documentary, is among Nicole's most recent creations.
Where is Randy Champagne Now?
Randy returned to the show to demonstrate his resiliency and perseverance after facing challenges that eventually caused him to leave in season 3. The celebrity, who is in his late 30s, works as a Survivor Expert at the Boulder Outdoor Survivor School. Based in Utah, he and his companion Callie Blue, who made an appearance in season 3 of "Alone," started a joint venture called The Forest Folks in 2019 to display their talents and skills. The couple welcomed their daughter Rivers in 2021, and they are currently sharing new life milestones together.
View this post on Instagram
Where is Carleigh Fairchild Now?
Carleigh's journey has changed considerably because she has spent the majority of her life tending to and changing with the land. Carleigh originally appeared in season 3 of History's "Alone" with experience in ethnobotany, basketry, and hunting. Since her return and departure from the series, Carleigh has developed her skills in NIASZIIH Healing.
View this post on Instagram
Carleigh runs Nature Reconnection Retreats and gives classes in earth skills using her physical prowess and understanding of the land. Carleigh keeps advancing her goal of owning land as a public speaker and LT Wright Handcrafted Knives ambassador. The reality personality, who currently resides in Western North Carolina, is a nanny and likes to go hiking.
Where is Dave Nessia Now?
Dave has been learning about eatable plants and camping ever since he can remember, when he was just eight years old and first discovered his love for the outdoors. He worked as a Survival Instructor at Boulder Outdoor Survival School prior to joining the third season. BOSS, Dave's involvement with the group had caused him to reside on a stone shelter on a felted yurt from Kazakhstan. He stopped working as a bushcraft instructor after season 3 and started working as a television and fly fishing consultant. With his friends and coworkers, Dave, who is now in his fifties, goes on new experiences while working as a teacher at Aspiro Adventure Therapy.
View this post on Instagram
Where is Britt Ahart Now?
Britt, who was born and raised in Virginia's suburbs, travelled to Ohio and soon discovered himself in the middle of a natural wilderness. Although he had taken the necessary preparations in season 3 thanks to his passion in primitive living and study of bushcraft, he ultimately walked away from the top spot. Season 5 also had its share of difficulties for Britt, who had advanced significantly. Nevertheless, he continues to succeed in things besides reality TV.
View this post on Instagram
Britt, who is in his mid-fifties, makes memories with his wife Lauren Hart and their son Campbell. In addition to spending time with his family, he continues to support society in various ways as a philanthropist. Additionally, Britt frequently makes appearances on "The Alone Podcast."
Where is Brooke Whipple Now?
Her lifelong fascination with the outdoors led Brooke to "Alone" for two straight seasons, where she navigated the uncharted wilderness pathways. She has emphasised her love of the nature ever since her time in Mongolia. Brooke now spends time with her husband, Dave Whipple, and their two children, Belle and Mick, after gaining experience as a ski lift operator, wilderness firefighter, and homestead builder.
View this post on Instagram
The Alaska-based reality personality has been on "Yukon River Run" from National Geographic. In addition, Brooke has a 'Girl in the Woods' YouTube channel with more than 500,000 subscribers. Even more, she participated in "The US of YouTube" in 2021 and represented Alaska in the YouTube creative economy. Now in her fifties, she still enjoys going on new adventures with her friends, family, and dogs.
Where is Jesse Bosdell Now?
Jesse, who is the eighth kid in a family of ten, decided to watch season four of "Alone" after his older brother Shannon encouraged him to. His hunting and foraging expertise had set him apart from his fellow competitors since he had acquired survival skills out of need. Beyond this, Jesse's experience in the battle helped him develop a number of skills. He participated in Operations Iraqi Freedom and Enduring Freedom throughout his nine years of service in the U.S. Army before transitioning to the entertainment industry. Jesse left the fifth season to finish his biomedical engineering degree at the University of Maine.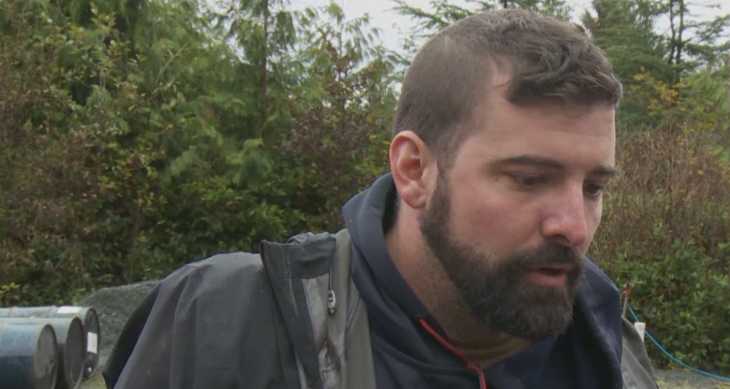 Jesse invests his efforts in bringing about major change with the goal of improving prostheses for combat veterans. Additionally, he finishes wood, and he takes part in community theatre. Jesse, who resides in Maine, nevertheless likes to spend time with his family and friends while living in the woods. The celebrity, who is in his late 30s, prefers to keep his personal life private and provide little information. He nevertheless continues to take part in neighbourhood celebrations in Maine and spend time in the wilderness.
Where is Brad Richardson Now?
Even though Brad's journey on "Alone" was brief, the reality star continues to go on new excursions with his friends, family, and dog Churchill. He founded his shop and art gallery, "Compass Rose Outpost," in Michigan where he is currently based. Brad, who is also a good blacksmith, uses his understanding of tools and blades to produce instructional YouTube videos on bushcraft and blacksmithing.
View this post on Instagram

In addition to making Richardson Forge knives, Brad also wrote a book titled "Making Your Own Bush Knife: A Beginner's Guide for the Backyard Knifemaker" on the subject. He is in his early 30s, owns the Ambush Candle Co. candle company, and enjoys posting pictures of his artwork on Instagram.