The HBO drama series "And Just Like That" is a continuation and rebirth of the series "Sex and the City" and its related films. It starts off 11 years after "Sex and the City 2's" (2010) events. Samantha is conspicuously absent, but Carrie Bradshaw (Sarah Jessica Parker), Miranda Hobbes (Cynthia Nixon), and Charlotte York Goldenblatt (Kristin Davis) are all there. Even though the world has significantly altered since they were young, these legendary ladies are still discovering love, life, and New York City. Lisa (Nicole Ari Parker) struggles in season 2 episode 10 with the reality that she became pregnant right before her career was about to take off. While Miranda is present at the comedy club, Che (Sara Ramirez) does a stand-up routine based on their connection with her. The future plans for Carrie and Aidan (John Corbett) encounter some difficulties when Steve (David Eigenberg) turns over a new leaf. Here is all the information you might need on the conclusion of "And Just Like That" season 2 episode 10. Spoilers follow.
And Just Like That… Season 2 Episode 10 Recap
Aidan and Carrie arrive in Coney Island, where Steve has put up his new cold beer/fries/cotton candy/ice cream store on the shore, to start the episode. He recounts that once his relationship with Miranda started to fall apart, he frequently came here, a spot connected to his childhood memories, and eventually made the decision to create the shop with Aidan providing the finance. Aidan receives a call from his son Wyatt during Carrie and Steve's conversation. Wyatt bemoans the restrictions he is subject to at his mother's house and begs his father to return home, but Aidan is in New York for two days to spend time with Carrie, so he politely but firmly declines.
Seema (Sarita Choudhury), who is having sex with Marvel director Ravi Gordi, accidentally spooks herself when she declares her love for him. She worries about how naturally she said those words to him, even though he replies that he loves her. Seema, who freely admits she has never experienced a truly great love, looks bothered by it, and she immediately shares her worries to Carrie. It's unclear where this will finally go, but it's clear that Seema has discovered something exceptional and should savour every second of it.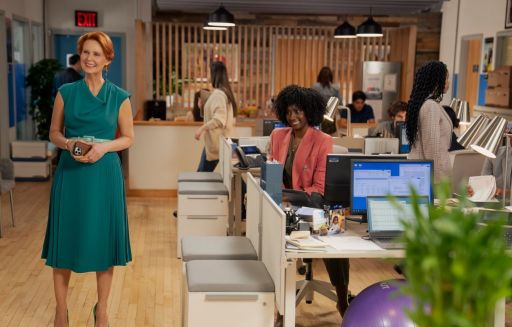 Charlotte's clients Sam Smith and Jeffrey make cameo appearances. Although her family originally supported her ambitions to return to work, they unintentionally revert to their desire for her to be the primary carer. Charlotte and her colleagues go out to celebrate their successful sale to Sam Smith and Jeffrey. When she gets home, Harry and her kids interrogate her about her whereabouts, which causes a very inebriated Charlotte to stand up for herself. When Anthony refuses to be the "woman" during sex, Giuseppe and Anthony have a discussion about the generational differences in their relationship.
Miranda annoys other interns, but she excels at her new job and goes to the UN with her new boss. Che's efforts to reconstruct their lives go on in halting increments in the meanwhile. They receive the opportunity to perform in a small club, but they are not overly excited about it. Additionally, many struggle with more intimate difficulties and recall their actions from when they identified as women. Che often makes jokes about Miranda and their relationship at the club. They are raw, unvarnished, and inevitably cruel. Che doesn't realise that Miranda is watching the jokes with Aidan and Carrie in the crowd, and every joke causes her to experience new anguish. She eventually goes away because she can't handle it any longer. Che notices her, which disrupts their routine. They face each other for the first time after their breakup when they follow Miranda outside. Che says they were going to talk about their personal problems when Miranda questions why they weren't.
And Just Like That… Season 2 Episode 10 Ending: Does Lisa Have a Miscarriage?
And it was that simple. Is Lisa Having a Miscarriage in the Final Scene of Season 2 Episode 10?
In the prior episode, Lisa learns she is pregnant. As PBS has agreed to turn her documentary into a ten-part series, she believes that now is the worst possible time for her to become pregnant once more. She is unsure of how she will manage to have a kid and make a TV show at the same time. Although Charlotte and Herbert reassure her that they have complete faith in her ability to balance the two, Lisa has her concerns. She accuses Herbert at one point of refusing to have a vasectomy after she told him to. He explains that since she had just given birth, he reasoned that following the postpartum period, she might have changed her mind.
Lisa resists Herbert's suggestion that she have an abortion even though it is ultimately her decision. Herbert is awakened by Lisa that night to let him know she is bleeding. Herbert informs her that they need to get to a hospital right now after realising what this entails. Lisa nods in agreement and adds that she might already be too late, implying that she thinks she had a miscarriage.
Will Aidan End Things with Carrie?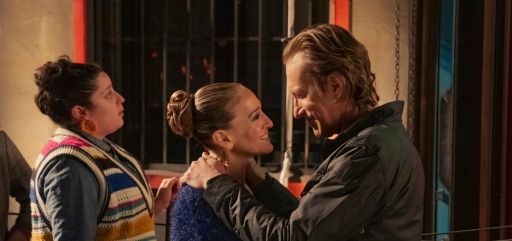 The episode ends with Aidan learning some horrible news from his ex-wife, Kathy. Wyatt had been operating Aidan's truck when he had a collision. This makes him decide to go back home right away. Later, he phones Carrie and sobs while telling her that Wyatt went back to the farm, had a few beers, and then tried to go back to his mother's house with his father's vehicle but hit a tree. Now that he has broken both his collar bone and leg, he is in the hospital. Carrie admits that she is concerned as an inconsolable Aidan keeps saying that he should have been there to stop this from occurring. Although things between her and Aidan have been going wonderfully well, she is aware that if necessary, he will forgo his own happiness in order to protect his children.