Ah! the thrill of watching a horror movie, always sounds exciting isn't it? Watching a horror movie is mood often spoiled by bad recommendations. Everyone comes back to The Conjuring and believe me, we all love it, but the movie has run it's scary course. That's why we handpicked these best Horror movies on Netflix.
From haunted houses to possessed people, each of these essential Netflix horror movies contains a terrifying surprise. Some of your favourite scary movies are mixed in with some newer fare you've probably never seen (or some you've seen but want to watch again with your eyes open this time). If you're concerned about disturbing your neighbours with your horrified screams, or if you're looking for something to watch on family movie night, consider watching one of our favourite kid-friendly scary movies instead. Let's check out the list :
Best Horror Movies On Netflix
Truth or Dare (2017)
Every adolescent has played this game and is aware that it is frequently accompanied by tall tales. However, when a group of friends rents a house and begins to play, they may discover that an old story about a deadly game of truth or dare is true. True or False! You, uh, despise this game. But you might enjoy the horror adaptation of the slumber party pastime that even your adolescent self despised, which begins with a bunch of kids drinking beers around the campfire and ends with them bloodied, crying, and, of course, playing the titular game.
Death Note (2017)
Sure, Netflix's Death Note didn't quite match the greatness of the anime on which it is based, which sees a young boy inherit a book that grants him the ability to kill people. However, Willem Dafoe plays the towering, snivelling demon who haunts this boy in the film adaptation. That alone is worth watching. This film, based on a hugely popular Japanese manga, has a brilliant premise: a high school boy inherits a supernatural notebook that can kill whoever's name is written in its pages. But what are you going to do with that power? It is one of the best anime inspired horror movies on Netflix.
Hubie Halloween
Hubie's friends, countrymen, and Sandlerites: Halloween was a lot of fun. In the first five minutes, there's a piss joke, several vomit-inducing images will be burned into your brain, and Steve Buscemi plays a werewolf. Nonetheless. That's pretty good.
Malevolent
Florence Pugh is a must-see in almost every role she takes on these days, but in a horror film? She's quickly becoming one of the genre's best players, thanks to her tortured, weirder-than-hell performance in Midsommar. Catch Pugh in Malevolent, a film about a group of con artists who stage hauntings in order to be paid to exorcise the bogus ghosts. Then they meet the real thing.
The Strangers (2008)
It's a simple but effective premise: a couple goes on a romantic getaway to a remote vacation home, and everything is fine until a trio of mysterious (and eventually murderous) strangers arrive. If you looking for a suspenseful horror movie on Netflix, this might be IT for you(pun intended).
Deep Blue Sea (1999)
What if sharks were genetically modified to outperform humans? This is the central question in this campy but entertaining film starring LL Cool J, Samuel L. Jackson, and Saffron Burrows. One of the classic horror movies on Netflix, if you haven't seen this one, you can't call yourself a fan of the genre.
The Binding (2020)
Unknown forces, supernatural curses, and the Italian countryside? This under-the-radar film is about a mother who believes her daughter is cursed and tries to protect her from ominous threats.
Crimson Peak (2015)
If you like Guillermo del Toro's lush cinematography, decaying British manor houses, and doomed romance, you'll enjoy this gothic horror film. It's not your typical scary movie, but it'll still creep you out. If creepy horror movies on Netflix is what you're looking for, look no further.
Army of the Dead (2021)
If you're in the mood for a zombie movie, watch this Zack Snyder-directed action film about a group of mercenaries who fight off the undead while attempting a dangerous heist. It is one of the latest horror movies on Netflix
In the Tall Grass (2019)
This film wrings a lot of horror from a very simple premise: There are scary things lurking in places you can't see. It begins with adult siblings Becky and Cal rescuing a young boy from a field of tall grass, based on a novella by Stephen King and Joe Hill (King's son). The Tall Grass, the latest in Stephen King's story-to-screen adaptations, is basically everyone's pumpkin patch nightmare come to life: two siblings dive into the titular grass in search of a lost boy, where shady business ensues.
1922 (2017)
Based on a Stephen King story, a farmer persuades his son to assist him in murdering his wife — but that's just the beginning of this deeply disturbing tale. What's a good horror movie list if it doesn't include a Stephen King adaptation? Begin your marathon of stories by the horror master with 1922, which follows a murderous rancher who enlists the help of his son in his evil deeds. When you're finished, read the novella on which it is based. Or read the novella before watching the movie. Can't go wrong either way.
His House (2020)
This film, which is in the running for the number one scariest movie on Netflix, follows a couple who flees South Sudan for asylum in England, only to discover that they may have brought a presence with them. It wonders if people, rather than houses, can be haunted. Don't let His House slip through the cracks. His House, one of Netflix's best horror originals, is as terrifying as it is clever, telling a refugee story through the eyes of a South Sudanese couple who seek asylum in England.
Death of Me (2020)
Things begin innocently enough: a couple goes on vacation and consumes far too many alcoholic beverages. The next day, however, they are shown a video that neither of them remembers making in which one of them murders the other. Is it a hoax or a warning? The couple is played by Maggie Q and Luke Hemsworth.
Eli (2019)
If you're afraid of hospitals, avoid Eli, a film about an 11-year-old boy with a debilitating illness who checks into a clinic that claims to be able to help him. Is the experimental therapy, however, all that it's cracked up to be?
Fractured (2019)
Sam Worthington plays a father whose daughter breaks her arm while travelling in a psychological thriller. He falls asleep in the hospital… and when he wakes up, his wife and daughter are nowhere to be found.
Creep (2014)
During this suspenseful thriller, a videographer who accepts an unusual Craigslist job gradually realises that his client is not who he claims to be. It stars Mark Duplass, a well-known everyman in horror films. Aaron, a videographer (played by director Patrick Brice), responds to an ad to work for a mysterious man named Josef (Mark Duplass), whose awkward and uneasy behaviour immediately makes Aaron uneasy. His erratic behaviour, however, becomes increasingly bizarre in this indie psychological thriller.
In the Shadow of the Moon (2019)
Nothing is more terrifying than a serial killer — except a serial killer on the loose who reappears every nine years to kill again. This film is about a Philadelphia detective who sets out to solve one of these cases and discover why the killer's crimes appear to defy science.
Insidious (2011)
In Insidious, a family (led by Patrick Wilson and Rose Byrne) discovers that their eldest son is the one to fear. There are now four Insidious films in the series, but only the first is available on Netflix. If you want to see Insidious—a.k.a. one of the best horror films of the century—you'd better hurry. It will be removed from Netflix on September 30, which may be for the best. Our hearts can only take so many viewings of this one.
Hush (2016)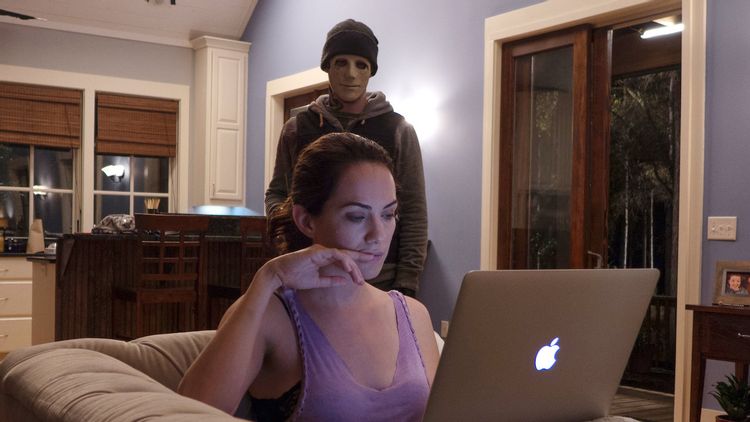 If you like the Quiet Place series, you'll enjoy this film, which uses silence as a creepy plot device. In it, a deaf writer who lives alone in the woods must fight for her life when a murderer appears out of nowhere. This disturbing slasher film follows a deaf writer (Kate Siegel) who lives alone in the woods. But her peaceful retreat is shattered when a masked killer appears, forcing her to fight for her life in silence.
Eerie (2019)
One of the students at an all-girls Catholic school commits suicide, prompting the school to hire a psychic to figure out why. Secrets from the convent's past are unearthed, as are a few spirits.
Cam (2018)
A cam girl is plagued by a look-alike who takes over her account — and the rest of her life. But who — or what — could be at the root of it all? If you weren't already concerned about how much power the internet has over your life, you will be after this one. In this Internet-inspired horror thriller and Netflix original, Madeline Brewer plays an enterprising camgirl who discovers she's been replicated in various videos uploaded to her own website.
Things Heard and Seen (2021)
Based on Elizabeth Brundage's novel All Things Cease to Appear, this film follows a family who relocates from the city to a farmhouse in upstate New York. Catherine (Amanda Seyfried) begins to feel increasingly lonely and isolated in her role as wife and mother, and she begins to notice strange things in the house, which may be related to its previous (and deceased) owners.
Fear Street (2021)
Based on the R.L. Stine books of the same name, this horror film trilogy reveals how an evil witch has tormented a small town in Ohio for decades. Fear Street 1994, Fear Street 1978, and Fear Street 1666 all take place in different time periods. Fans of the slasher genre, rejoice: Netflix's Fear Street trilogy is for you. Fun, fast-paced, and appropriately bloody, it might fill the Jason Vorhees-sized hole in your life. Plus, if you're missing Stranger Things right about now, Fear Street features Sadie Sink and Maya Hawke in its ensemble.
Veronica
This acclaimed Spanish film, inspired by a true story (as the best horror films always are), follows 15-year-old Veronica as she conducts a séance with a Ouija board—an already perilous situation that is exacerbated by the fact that she does it during a solar eclipse. Naturally, things do not go well for her after that.
The Perfection
The Perfection is the age-old story of two world-class cellists who obsess over their craft to the point of insanity. By the end, there are six lost limbs, hallucinations, three pant suits, and one of the scariest horror rides in Netflix's history.
Under the Shadow
Set in post-revolutionary Tehran in the 1980s, a mother must protect her daughter from a demonic possession in their home while a war rages outside, leaving them fighting for safety from both manmade and supernatural evils. The story of the movie makes it one of the most different horror movies on Netflix.
The Ritual (2017)
This British horror film follows four friends as they explore the Swedish wilderness. Outside of their tents, no one is safe from supernatural forces. This is an excellent read for anyone who has ever wondered what lurks in the woods. Never venture into the woods. Ever. There's simply no reason for it. In The Ritual, four friends go into the woods to remember a friend who died, but the Norse legends that live there aren't as welcoming as they'd hoped. Basically, there's nothing wrong with just… getting a cake and honouring your friend that way.
Bird Box
Sandra Bullock, Sarah Paulson, Trevante Rhodes, and John Malkovich star in this dystopian thriller (and Netflix original film) about a woman who must travel blindfolded with her children to safety as an unseen force pursues them. This one is by far the most popular horror movie on Netflix.
The 3rd Eye (2017)
Haley Joel Osment wasn't the only adolescent who saw dead people. In this Indonesian thriller, a young woman's little sister witnesses ghosts and embarks on a mission to learn more about the spirits who haunt their home.
The Babysitter (2017)
It's difficult to be babysat when you're 12 and believe you're too old. It's even more difficult when your babysitter is a member of a Satanic cult that wishes to keep you quiet. This film was directed by McG, who is best known for his work on Charlie's Angels with Cameron Diaz, Drew Barrymore, and Lucy Liu, and if you enjoy it, there is a sequel available on Netflix: The Babysitter: Killer Queen. Nothing scares me more than a pubescent boy coming of age and discovering he has a crush on his babysitter. Unless, of course, the babysitter is a member of a demonic cult that sacrifices random dudes in your parents' kitchen.
Gerald's Game (2017)
Gerald's Game is directed by the same person who directed The Haunting of Hill House. It's a psychological horror film based on Stephen King's book about a woman who finds herself in an unusual situation when her husband dies suddenly while she's still handcuffed to their bed. Gerald's Game is one of Stephen King's underappreciated novels due to its lack of supernatural fights, but it still packs a powerful psychological punch. Gerald handcuffs his wife Jessie to a bed, only for her to have a heart attack, leaving her imprisoned in both a remote cabin and her own delusional mind.
Alive (2020)
This South Korean horror film, a pandemic-related film released in 2020, comes at an interesting time: It's about a virus that turns people into zombie-like creatures, and it's about a video game streamer who is alone in his apartment, looking for help. Audiences suffering from pandemic cabin fever may find it difficult to relate.
Malevolent (2018)
In this film, a brother and sister duo make a living by faking paranormal investigations. When their scheme for some extra cash goes horribly wrong, they find themselves fighting for their lives.
It Comes at Night (2017)
In this story, you won't know who to believe. A desperate young couple seeks refuge at the home of a secure and well-armed family in a post-apocalyptic world. Suspicions abound, but are any of them founded on anything real? If you've seen an A24 scream fest before, you know what to expect from It Comes at Night. An A-list cast (including Joel Edgarton and Carmen Ejogo), a claustrophobic thriller about a slowly disintegrating family, and scares that will stick with you for a week. At the very least.
Before I Wake (2016)
When a couple adopts Cody, played by Wonder's Jacob Tremblay, they face unexpected challenges. Cody's dreams, it turns out, come true — and, unfortunately, so do his nightmares.
Demonic (2015)
These ghostbusters aren't funny at all. When a group visits an abandoned house and there is a bloodbath, a detective and a psychologist must investigate what happened.
Sinister 2 (2015)
The sequel to Sinister, which is strangely not available on Netflix, follows a family who is haunted by children who have been abducted by a demonic inhabitant of their home. But are the ghostly children there to assist?
The Guest (2014)
Adam Wingard, who directed Godzilla vs. Kong, directs this creepy slow-burn thriller. Dan Stevens plays a man who introduces himself to the family of a fallen soldier in the film. The family invites him in, thinking he is a close friend, but the story soon unravels.
Unfriended (2014)
This film is part of a genre known as "screenlife" films, in which the only thing you see as an audience member is someone's computer screen. In it, five teenagers are video chatting when an uninvited guest appears and attempts to persuade them to admit their role in a girl's suicide a year earlier. Unfriended: Dark Web, the sequel, is not available on Netflix. Sure, 2017's Unfriended—a story about social media gone wrong told primarily through webcam—is already dated. That's exciting! Laugh at these teenagers' pre-AirPodding predicaments.
A Classic Horror Story
If the title didn't give it away, A Classic Horror Story is the kind of scary movie you want to keep in your pocket until a rainy night during the Halloween season. It's eerie, but not too eerie. It involves a cabin in the woods and a group of stranded campers. You know, a traditional horror story.
As Above, So Below
If you can stomach a found-footage horror film in 2020, you could do a lot worse than this. As in the sky, so in the earth. It follows an archaeologist as he searches for an artefact in Paris's creepy Catacombs. And she… discovers a little more than she expected.
Velvet Buzzsaw
Nightcrawler director Dan Gilroy's horror satire is a cross between The Square and Eyes of Laura Mars, with Jake Gyllenhaal starring as an art critic who discovers that mysterious paintings by an unknown artist have supernatural abilities—and take revenge on anyone attempting to profit from them.
Prom Night
Which is scarier: your senior prom night or the actual horror film Prom Night?
I Am the Pretty Thing That Lives in the House
Osgood Perkins (son of Psycho star Anthony Perkins) directs this psychological thriller about a live-in nurse, Lily (Ruth Wilson), who moves into the remote New England mansion owned by her patient, an elderly horror novelist suffering from dementia. Soon, Lily begins to wonder if the strange events taking place in this house are straight out of one of her patients' books.
The Conjuring 2 (2016)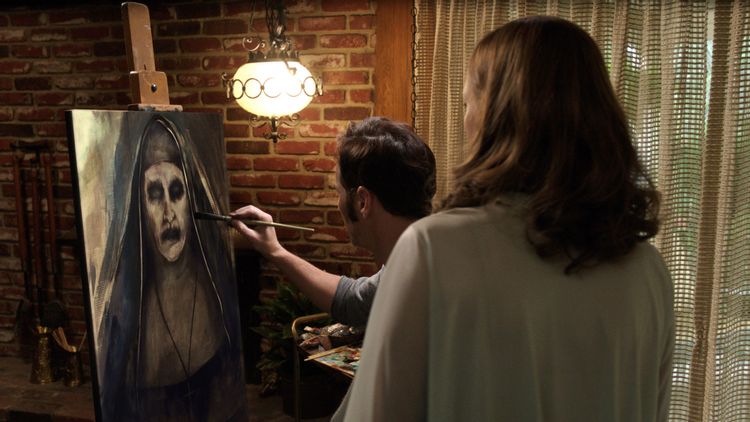 With The Conjuring: The Devil Made Me Do It, the third instalment, now available on VOD, is it time for a reboot of the series? In this chapter, paranormal investigators Ed and Lorraine Warren — based on real people — investigate a possible haunting in Enfield, England, which is also based on a true story. One, Another! You're missing out if you go into The Conjuring: The Devil Made Me Do It without first knowing everything that the franchise's leading demonologists have gotten themselves into. Lorraine and Ed Warren travel to north London to investigate —what else?— a haunted house in The Conjuring 2. It's never old.
We cover all genre and pick the best movies and tv series on Netflix for you, so keep watching this space. If you liked this list, maybe you'd be interested in our other lists too. Check out our OTT category for more such articles.