The remarkable Skarsgrd family is where Bill Skarsgrd is from. Bill Skarsgrd, the son of renowned Swedish actor Stellan Skarsgrd and actress My Skarsgrd, has recently emerged as something of a dark horse in terms of star ratings. The actor, who is only 32 years old, has a remarkable body of work after appearing in a number of films like IT and John Wick. These are some of Bill Skarsgrd's best performances, which prove that he could very well be the next big thing in Hollywood.
Kane – Nine Days (2020)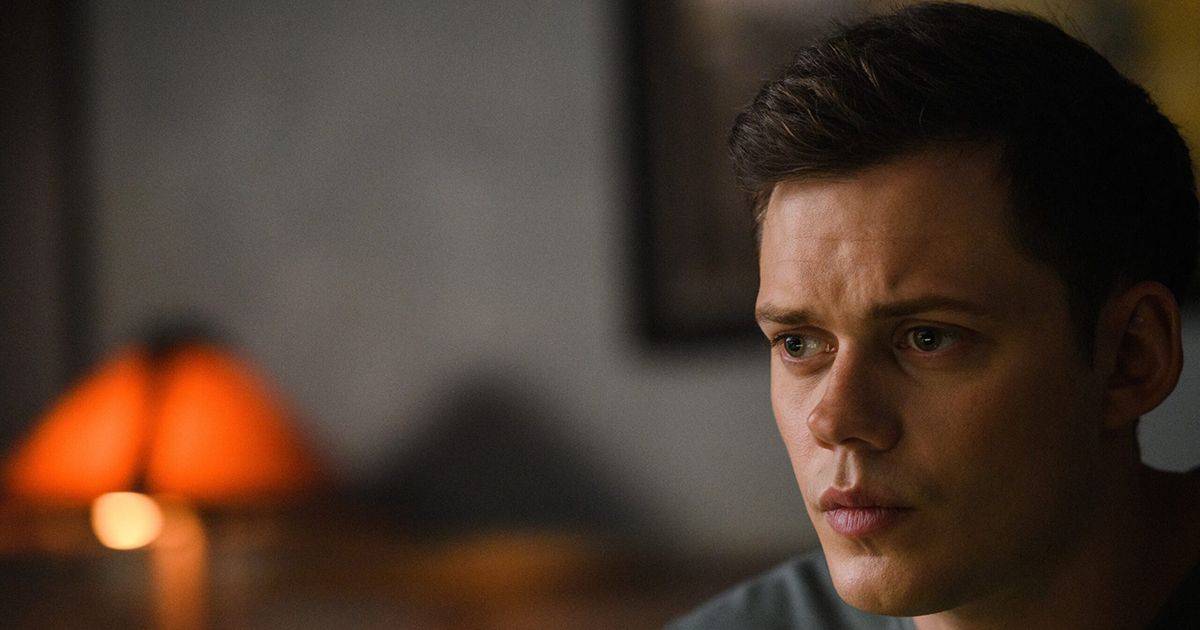 The feature film debut of Edson Oda features a large ensemble cast and raises important issues on existentialism and the purpose of life. In the philosophical film Nine Days, Will (Winston Duke) and his helper live in a remote cottage as Will conducts interviews with souls who are aspiring to be born on Earth. Skarsgrd, who plays one of the souls awaiting birth, admitted in an interview that it was difficult for him to picture his part because there was no background information available.
Keith – Barbarian (2022)
The ability of Bill Skarsgrd to play characters that are both good and bad during the course of a scene is a fantastic part of his acting repertoire. To prove this point, the Barbarian trailer portrayed Skarsgrd negatively and in a frightening, provocative way. Furthermore, although appearing poised and collected throughout the movie, Keith's character actually has his internal gears turning, leaving the spectator wondering if he'll turn on the heroine.
Makhotin – Anna Karenina (2012)
The sad love story between a wealthy socialite and a cavalry commander is the focus of Anna Karenina, a novel by Leo Tolstoy that became a literary sensation in the 19th century. The movie tackles themes of love, faith, and treachery within the confines of Imperial Russian culture. Skarsgrd manages to carve out a spot for himself among a cast of major hitters, including Keira Knightley, Jude Law, and Alicia Vikander, despite having a small role as a military captain named Makhotin.
Mark – Assassination Nation (2018)
Four friends struggle to survive in Sam Levinson's self-described retelling of the 17th-century witch trials once their secrets are become public. What happens next is a massacre of mayhem and carnage, reminiscent of The Purge. Despite the fact that this is yet another case of Skarsgrd appearing criminally underutilised, t he actor manages to establish himself within the movie's setting.
Marquis – John Wick Chapter 4 (2023)
Bill Skarsgrd received the chance of a lifetime in 2023 when he was cast as John Wick's adversary in the same-titled franchise by Chad Stahelski. Skarsgrd aced the test, by the way. With a spooky sense of guile and scheming, the young actor performs the character of Marquis Vincent de Gramont, competing head-to-head with Keanu Reeves.
Merkel – Atomic Blonde (2017)
Atomic Blonde is another movie where Skarsgrd isn't given much of the focus but absolutely nails every moment he's in. The young actor performs the part of a German contact for Charlize Theron's MI6 agent in the movie. Skarsgrd plays Merkel with a resilient feeling of maturity despite the little role, which is impressive for a performer his age.
Mickey – Villains (2019)
In a shot from the film Villains: Gunpowder & Sky, Skarsgrd and Maika Monroe portray a toned-down Bonnie and Clyde. The two decide to seek sanctuary in the home of another couple while on the run with the intention of stealing them and escaping. As the story goes on, Skarsgrd's Mickey and Monroe's Jules come to terms with their enemies and the true antagonists of the picture are exposed. Monroe wins the award for best girl-next-door charm, but Skarsgrd's performance is measured and mature in tone, demonstrating that he can perform admirably without commanding the audience's attention.
Pennywise – IT (2017)
In order to avoid following Tim Curry's well-worn path, Skarsgrd plays Pennywise, masking the monster under a clown's costume. By using his voice, his dance routines, and his spooky eye tricks, the young actor goes above and above and displays his acting prowess by physically portraying Pennywise.
Willard Russell – The Devil All The Time (2020)
Bill Skarsgrd portrays Marine Willard Russell in one of his more recent roles as he makes his way back to the United States after serving in the Solomon Islands. Russell is met with confusion and turbulence, and in the context of a post-war community that is still suffering from the effects of WWII, he resorts to heinous tactics to survive.
Zeitgeist – Deadpool 2 (2018)
Deadpool 2 is renowned for its self-aware ethos of cutting humour and bloodshed, and Zeitgeist is just one of its quirky characters. Zeitgeist is an essential member of Deadpool's X-Force team, and one of his special abilities allows him to surround his enemies in acidic vomit. Although though the humorous mutant met a horrific end, Bill Skarsgrd's portrayal of him is warmly recalled, proving that he has a talent for choosing intriguing characters.
Being a binge-watcher himself, finding Content to write about comes naturally to Divesh. From Anime to Trending Netflix Series and Celebrity News, he covers every detail and always find the right sources for his research.